Ivette Aldana, Guatemalan activist and entrepreneur, addressed UCCS faculty and students, and members of the community at several campus events on May 5-10.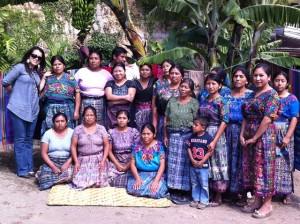 Aldana discussed principles of her organization, the Casa de Cervantes, and her efforts aimed at improving the living and working conditions of Guatemalan women and disadvantaged populations through ethical business practices. Her center includes a café, rooms for art exhibitions and presentations, as well as a store that sells fair trade products such as coffee, foodstuffs and crafts, most of them provided by cooperatives of indigenous and peasant women who organize to improve producer wages and living conditions.
Aldana's work is a model of how gender-based organizations in Guatemala are contributing to the transformation of the social fabric of the country by developing and implementing economic, cultural, and social support networks that effectively grant agency to women of diverse backgrounds. Aldana also visited courses in the MBA program, Spanish, geography, and history, where she shared her experiences and requested ideas from students on how to move her project forward.
Fernando Feliu-Moggi, associate professor, Department of Languages and Cultures, arranged her visit and introduced her at key events.
"Aldana's visit provided audiences with an opportunity to learn about how consumer awareness and buying practices can support social and cultural initiatives that improve the living conditions of producers and sellers," Feliu-Moggi said. "She stated that her efforts and initiatives emerged from her awareness that transforming the abusive social and economic conditions that plague her country required a radical transformation of the way goods are produced and consumed within Guatemala. She uses cultural events, such as lectures, art exhibits, and educational activities, to teach Guatemalans about fair trade and about solidary consumer practices."