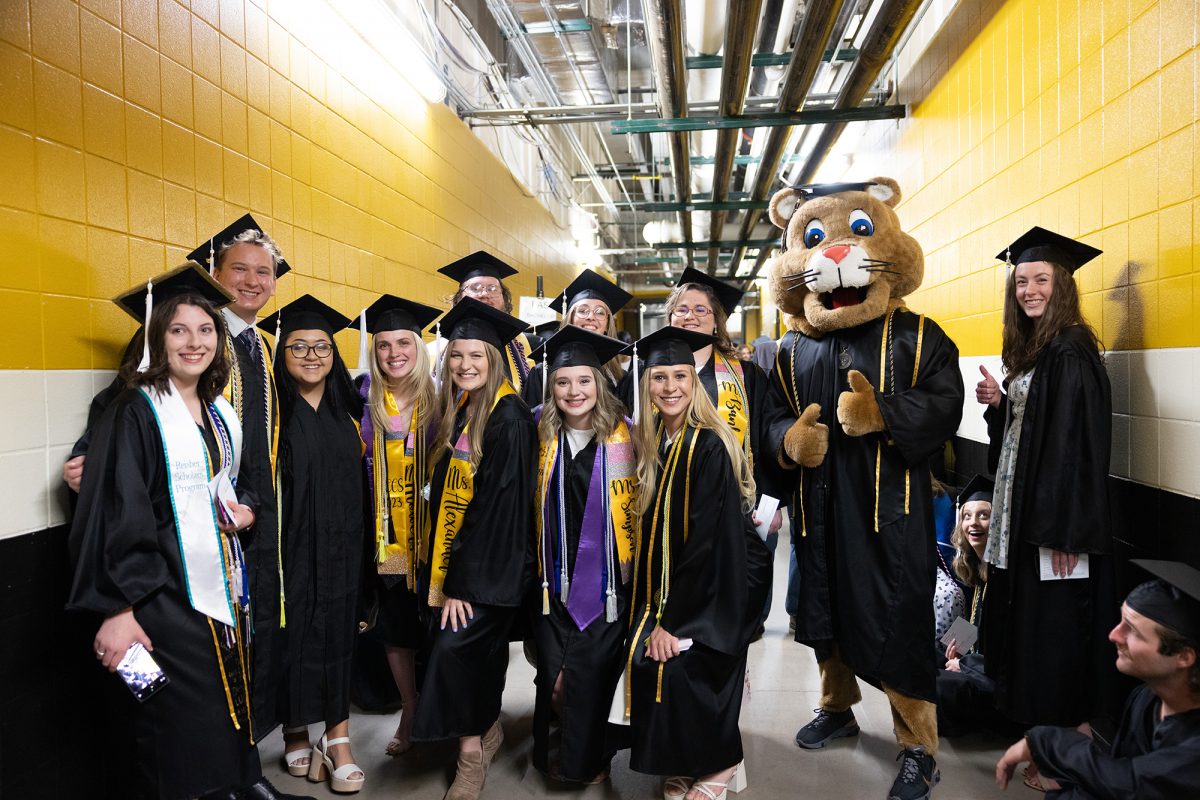 UCCS conferred more than 1,500 degrees to students from the Class of 2023 during the spring 2023 Commencement ceremonies, held at the Broadmoor World Arena.
UCCS awarded 26 doctoral degrees, 274 master's degrees and 1,026 bachelor's degrees to graduates of the spring 2023 semester during the May 12 event. More than 1,300 graduates and their families celebrated alongside UCCS faculty, staff and students.
Venkat Reddy, Chancellor of UCCS; Todd Saliman, President of the University of Colorado system; and the recipients of the 2023 Student Achievement Awards, Seth Lindsey and Aja Zamundu, addressed graduates during the day's ceremonies.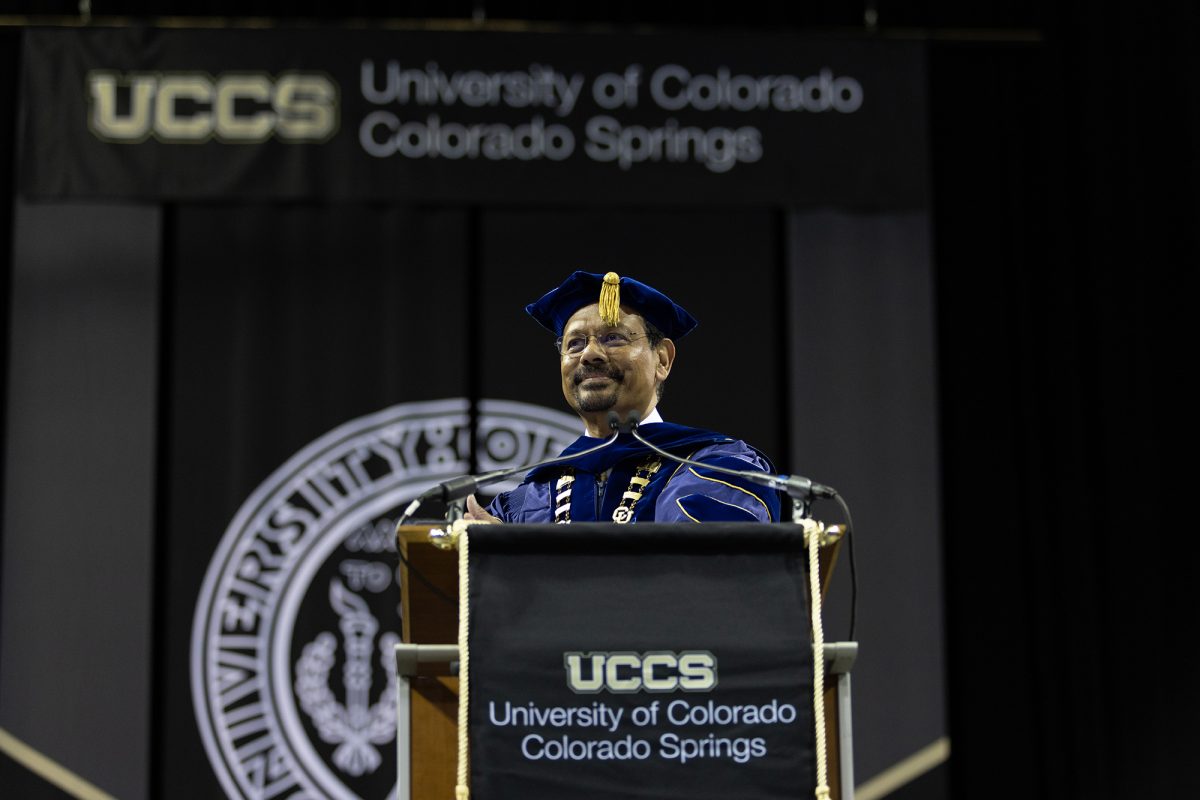 "As you graduate today, you will go back out into the world – using the work of your hands and your hearts to make it a better place," Reddy said in his address.
"The challenges of the world are ever-present," he continued. "In response, we must commit to being outstanding citizens who stand up for what is right and good. We must commit to compassion, patience, and respect. We must be willing to serve – to give our time and talent to the communities in which we live. We must engage in respectful discourse that protects the right of all people to express themselves freely, leading to new knowledge and new ideas. As we respect each other's differences, we must also seek out what unites us – using both to advance our community, our nation, and the world."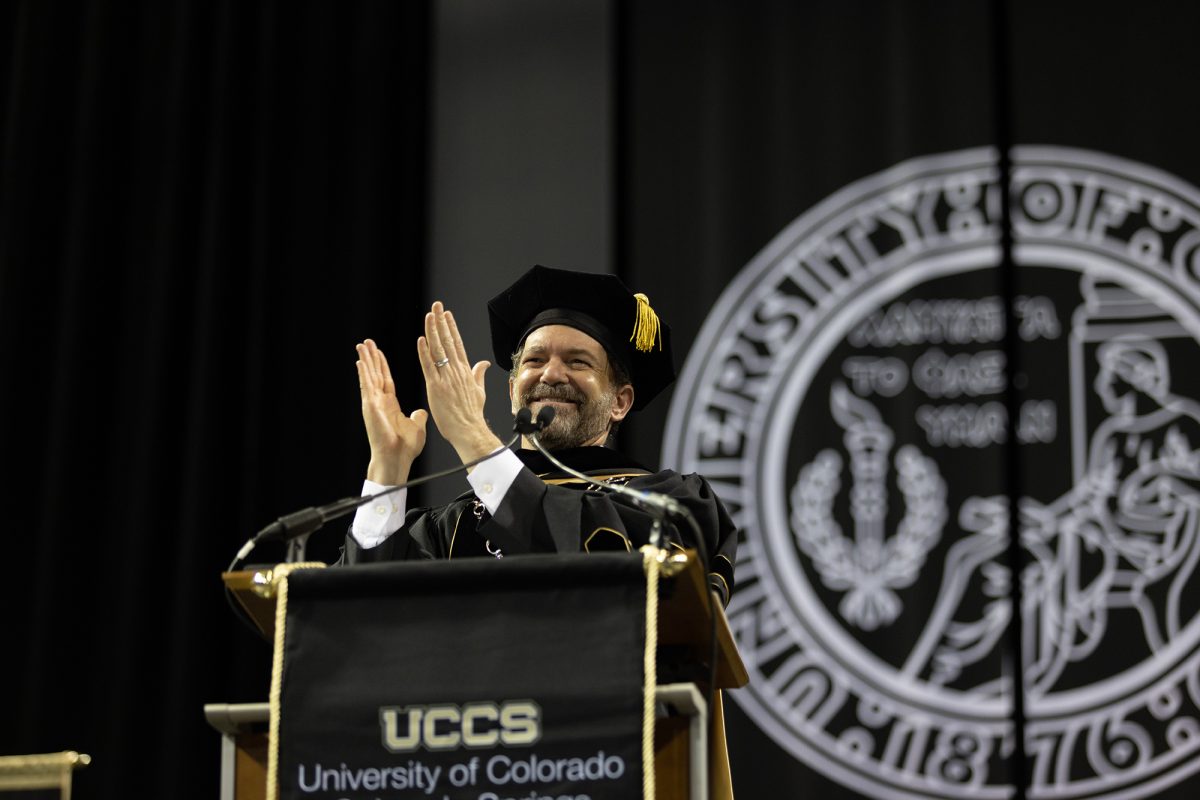 "You all have big goals and if you're clear on how to reach them, you're a step ahead of where I was when I graduated from CU in 1989," said Todd Saliman, President of the CU System. "If you're a little fuzzy about your future, I can relate. I was fuzzy about my future too. But don't worry: How you approach your journey is just as important as where you're headed."
"Make plans. Work hard. Grab opportunities when you see them. Be brave and hold on tight to good luck when it comes your way because it might just change your life," Saliman continued. "I can't wait to see what you bring to your corners of the world."
During the morning ceremony Aja Zamundu, graduating with a degree in psychology, spoke about the value of hard work and pushing yourself – but also the importance of learning from failure.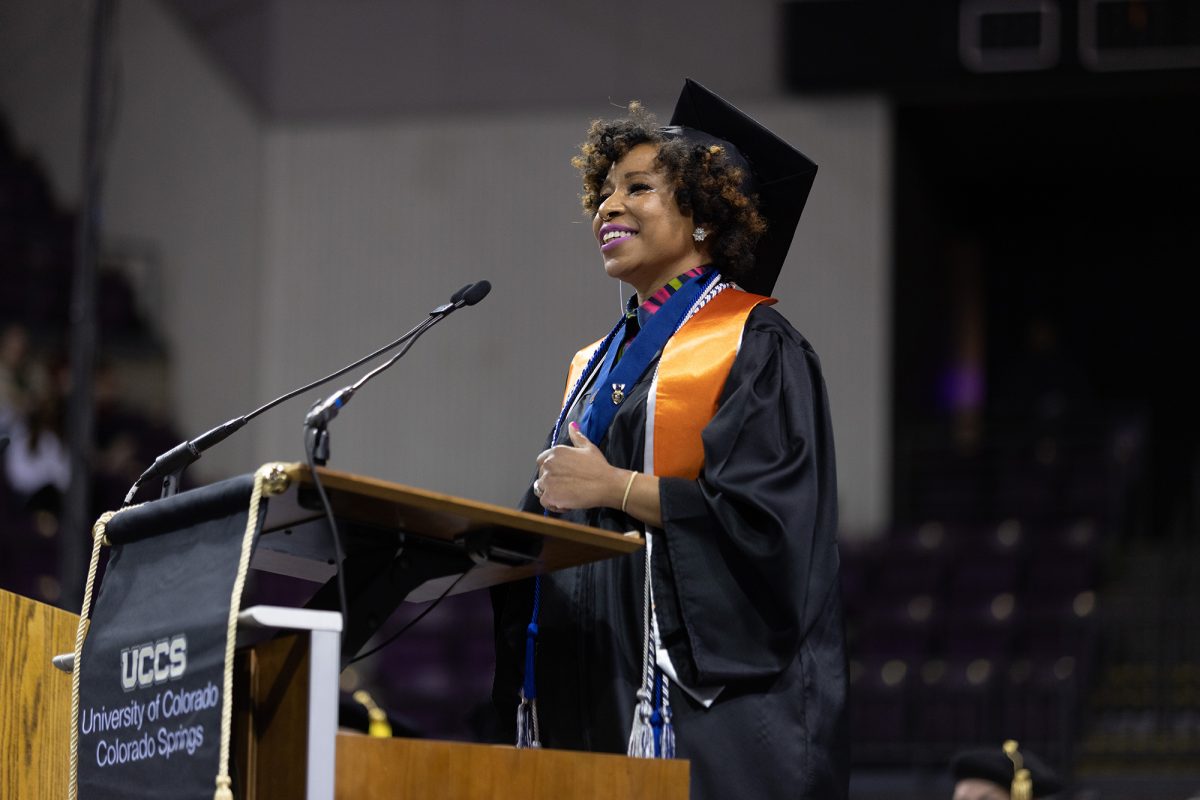 "I stand here today not only because of my achievements, but also because I had the luxury of failure and the mercy of a second chance," she said. "Failure taught me that even though you work long and hard, you may not always succeed, but you will survive. Let us not see our failures as representations of our abilities, but as indicators of our capacity to persevere."
During the afternoon ceremony Seth Lindsey, graduating with a degree in visual and performing arts, expressed gratitude to each of his fellow graduates for sharing in the college experience with him.
"What this moment marks is the manifestation of our collective victories, the culmination of our most arduous efforts, and the sort of finish line that exists only at the end of a daring adventure shared by close friends and dedicated colleagues," he said.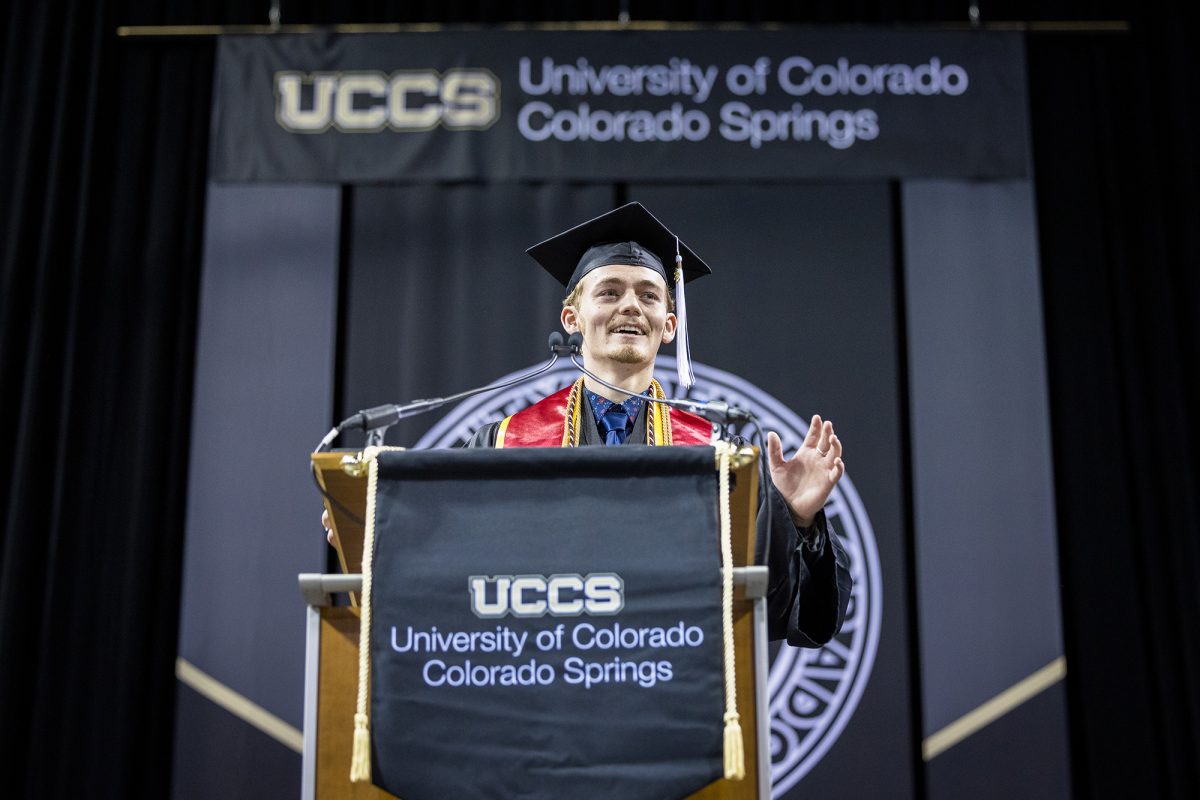 "The perpetual change that permeates our lives may feel like chaos at times, but I urge you to see it also as a possibility of good fortune," he continued. "Never forget that luck comes when opportunity meets preparation. We have prepared. We have done the work, and now we must go and seek the opportunities that only lie beyond the doors of this building."
The ceremony included the traditional celebration of Golden Graduates, alums who celebrated 50 years since their own UCCS graduation. Eleven members of the Class of 1973 were in attendance.
This year's events also incorporated the first readings of the UCCS Land Acknowledgement by the Office of the Vice Chancellor for DEI.
"Land acknowledgments do not exist in the past or as historical context," the acknowledgement reads in part. "Colonialism is a current and ongoing practice, and thus we remain mindful of its present impacts. As an institution of higher education, we share the responsibility to actively listen, reflect, and center the histories and lived experiences of Indigenous Peoples. In community, we will work to dismantle the tragic and oppressive systems that displaced Native Peoples and commit to promoting Indigenous visibility and re-indigenizing our spaces."
This year's commencement also recognized Hewlett-Packard for their longstanding partnership with UCCS and honored the role they played in making the university what it is today.
"We are deeply honored by your recognition in today's celebrations," Hewlett-Packard said in a statement. Even after moving to California, the organization explained, Colorado native and company co-founder David Packard always held Colorado close to his heart.
"As the Hewlett-Packard Company expanded to Colorado Springs, he was passionate about supporting this campus because he believed that the success of the technology industry would be built in great part on the advances coming out of university-based science and engineering programs," Hewlett-Packard stated. "It was no secret that he loved everything about science and engineering — from the practical, hands-on nature of the work harking back to his own childhood days, to the promise it held society and our future. He would be delighted today to see the graduating students and would likely encourage each of you to take risks and be innovative so that you can make a difference in the world. Congratulations to the class of 2023."
To close the ceremonies, CU Regents Ken Montera and Glen Gallegos delivered the traditional Norlin Charge to graduates. The charge dates back to CU Boulder president George Norlin's delivery of the June 1935 Commencement ceremony. The words of the Norlin Charge are now read to the graduating class each year at each of the four CU campuses, as a reminder that graduates will carry their experiences at the university with them forever.
"Commencement does not mean, as many wrongly think, the breaking of ties and the beginning of life apart," reads the charge. "Rather, it marks your initiation in the fullest sense into the fellowship of the university, as bearers of her torch, as centers of her influence, as promoters of her spirit."
"The university consists of all who come into and go forth from her halls, who are touched by her influence and who carry on her spirit. Wherever you go, the university goes with you. Wherever you are at work, there is the university at work."
View the photos from the morning ceremony here. View the photos from the afternoon ceremony here.
About the UCCS Spring 2023 Commencement Ceremonies
The UCCS spring 2023 Commencement ceremonies celebrated degrees conferred to nearly 1,600 graduates. More than 1,300 attended the morning and afternoon ceremonies at the Broadmoor World Arena on May 12, 2023, along with family and friends. See the full Commencement program online. View the livestreamed ceremony on YouTube.