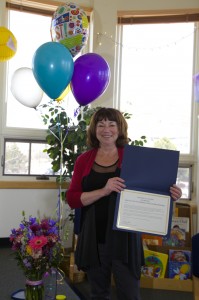 Ida Bauer's generosity, knowledge, emotional support, and caring attitude make the UCCS Family Development Center a destination for families throughout Colorado Springs, according to her colleagues.
Bauer, director, Family Development Center, was recently selected as the UCCS Outstanding Staff Member of the Year. She'll accept her award during a 4 p.m. May 7 campus award ceremony in Berger Hall. She will also receive a $1,000 bonus.
"Ida Bauer, simply put, is the best supervisor I have ever had," Sally Ziegler, supervising teacher, Family Development Center, wrote in her nomination letter. "[She] works directly with the families of the children in our center, supporting them when they are face with challenging behaviors from their child and offering insight and suggestions."
According to Bauer, her greatest accomplishment during her 20 years at UCCS has been implementing Conscious Discipline at the Family Development Center.
Conscious Discipline is a teaching technique that integrates social-emotional learning, discipline and self-regulation so teachers spend less time policing behaviors and more time teaching vital life skills.
Bauer is the only certified Conscious Discipline instructor in Colorado Springs and regularly hosts workshops for Colorado Springs teachers and parents.
"Conscious Discipline teaches us to change our approach to discipline from something we do to children to something we develop within them," Bauer said. "This gives the children coping sills they can take with them for their whole lives."
While working with the children is one of Bauer's most favorite things about working at the Family Development Center, one of the most fulfilling aspects came as a surprise.
"Unlike most centers, at the FDC I have had the opportunity to work with college students and they have enriched my life in ways I never anticipated. They keep me young by exposing me to all of the latest trends," Bauer said. "It gives me hope for the future to see the young frightened freshman coming in and the mature adults they become as their bright minds and skills are honed by our wonderful campus."
Students, faculty, staff, alumni and Colorado Springs community members may all send their children to the FDC, which runs full-time programs for 1 to 5 year-olds, and a full-day summer camp for 6-11 year-olds.
— Photo by Philip Denman