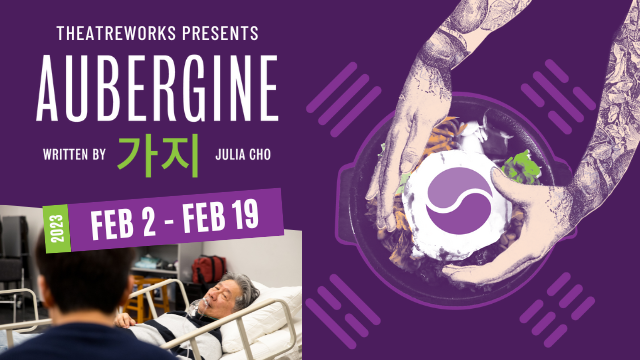 Beginning Thursday, February 2, Theatreworks Colorado Springs presents Korean-American play "Aubergine." This poignant play explores a father-son relationship nearing its end and how food provides nourishment for their family in unexpected ways. Audiences will join Korean-American Chef Ray as he tries to bond with his dying father, who never truly understood his life's calling in the kitchen. Aided by the unannounced arrival of his uncle from Korea, Ray reconnects with food, family and, ultimately, himself.
"I love this play and I have been in love with it since I first saw it around 2016," said Director Lisa-Marie Rollins. "Caitlin [the Artistic Director of Theatreworks] and I had a conversation about Aubergine pre-pandemic and again after we returned from isolation and spoke about this play being significant today because of how much we have lost as communities, as a country, and in relationships with one another. So, a moment to collectively process grief in relationship to an individual story of grief is, I think, an opportunity for us to figure out ways to talk to each other."
Local restauranteur James Park, owner of American Seoul Food, will be onsite with his food truck to enrich the experience by offering foods similar to what audiences will hear about in Aubergine. Find James and the American Seoul Food truck outside of the Ent Center for the Arts surrounding each performance.
The most unique theatre experience available in Colorado Springs this winter, Aubergine is your chance to see live theatre performed in two languages. Both Korean and English will be subtitled so that everyone in the community can fully immerse themselves in Ray's story.
If you are interested in exploring Korean-American culture and food, building on your working knowledge of the Korean language, planning an unforgettable date night, or simply enjoying an uplifting experience centered on familial bonds through shared humanity, add Aubergine to your winter calendar!
Aubergine opens Thursday, February 2 and runs through Sunday, February 19 in the Dusty Loo Bon Vivant Theater at the Ent Center for the Arts. Tickets on sale and available at tickets.entcenterforthearts.org or by calling the Box Office at (719) 255-8181. Tickets start at $10 and go up to $43.75. Show times are Thursday-Sunday at 7:30 p.m., Saturday at 2 p.m., and Sunday at 4 p.m.
Take your experience with Aubergine to the next level with these exciting (and free!) conversations with cast, crew, scholars, designers, community members and more:
Opening Sunday Prologue Framing Panel

Sunday, February 5, 2:30 – 3:30 p.m. in the Dusty Loo Bon Vivant Theater

Community Conversations

Saturday matinees following the show on February 4, 11, and 18

Thursday Pre-Show Scholar Chats

Thursdays from 6:45-7:15 p.m. in the Murray and Betty Ross Lobby

Feb. 2: Designer Chat
Feb. 9: Scholar Chat
Feb. 16: Scholar Chat
Artist Talks

Stay after the 2nd Sunday matinee on Feb. 12 to hear from our actors about their artistic process and the experience of working on Aubergine.
About Theatreworks
Theatreworks Colorado Springs connects, empowers, and delights our communities through diverse performances and educational experiences that are mirrors for ourselves and windows into others. We create in service to our audiences, our staff and artists, the UCCS students and community, and the people of Southern Colorado to envision a better world. Founded in 1975 by artistic director Murray Ross, costume designer Betty Ross, and an ensemble of passionate artists, today the program is led by artistic director Caitlin Lowans, who was appointed in 2018 – the same year the Ent Center of the Arts opened its doors to the community. Learn more at entcenterforthearts.org/theatreworks.
About the Ent Center for the Arts
This first-class arts facility, located on the University of Colorado Colorado Springs campus serves the community as a hub for the arts and an inspiration in academics. The vision for the facility was and is to foster a creative environment to house arts that will serve the Pikes Peak region, allowing artists to inspire and amplify one another rather than compete against one another. Art brings together diverse peoples and ideas in ways no other discipline can, and the Ent Center will be a pillar of the arts community within Colorado Springs. Learn more at entcenterforthearts.org.