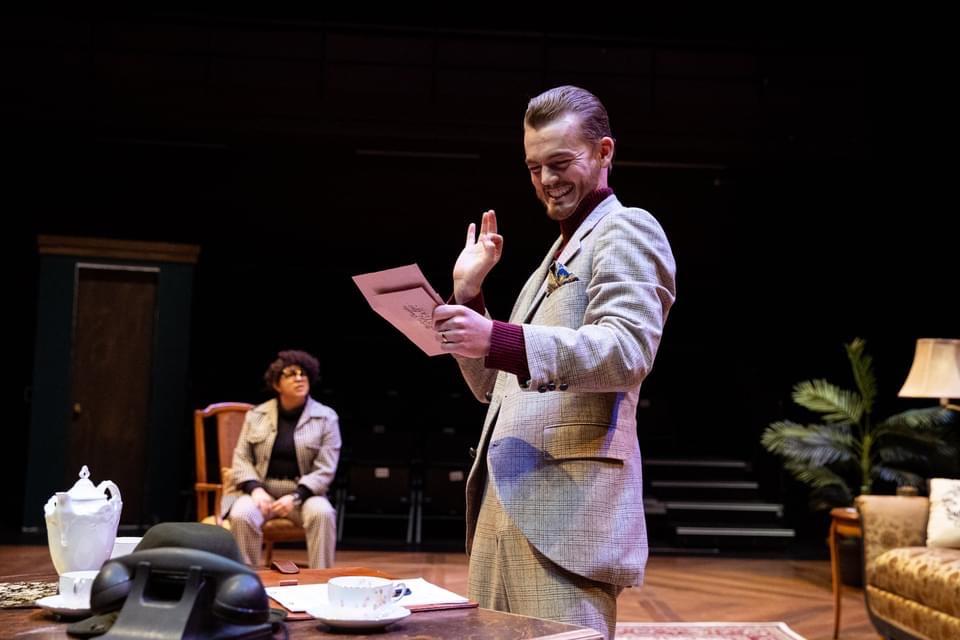 For Visual and Performing Arts student and Chancellor's Leadership Class scholar Seth Lindsey, one visit to the Ent Center of the Arts was enough for him to realize UCCS was the school he wanted to attend.
"When I was going to tour campus, I had a work shift and had to miss the campus tour, so I reached out to Kevin Landis, the head of Theater and Dance, and asked if I could get a tour of the Ent Center. He said yes, so I got to come on down and tour it, and decided 'I'm going to UCCS.' My first time seeing the rest of campus was my first day as a student," Lindsey said.
After settling on UCCS, Lindsey began looking into scholarship opportunities as a freshman and first learned about the Chancellor's Leadership Class (CLC) program while doing so.
"I applied for CLC because it offered a collection of benefits, outside of the scholarship funds, that I was interested in. Especially coming from a theatre background, I know the advantage there is in surrounding yourself with people who are hardworking, dedicated, and passionate about what they do. Even just from the CLC website, I determined that it was a group of top-notch people who wanted to give their all to their academics, their service, and each other," explained Lindsey.
Lindsey applied for CLC both freshman and sophomore year and unfortunately was declined, but persistence paid off as he tried one more time during his junior year and was chosen.
"You have to keep chasing what you want. Even when you are denied, you have to keep your chin up and try again," Lindsey said.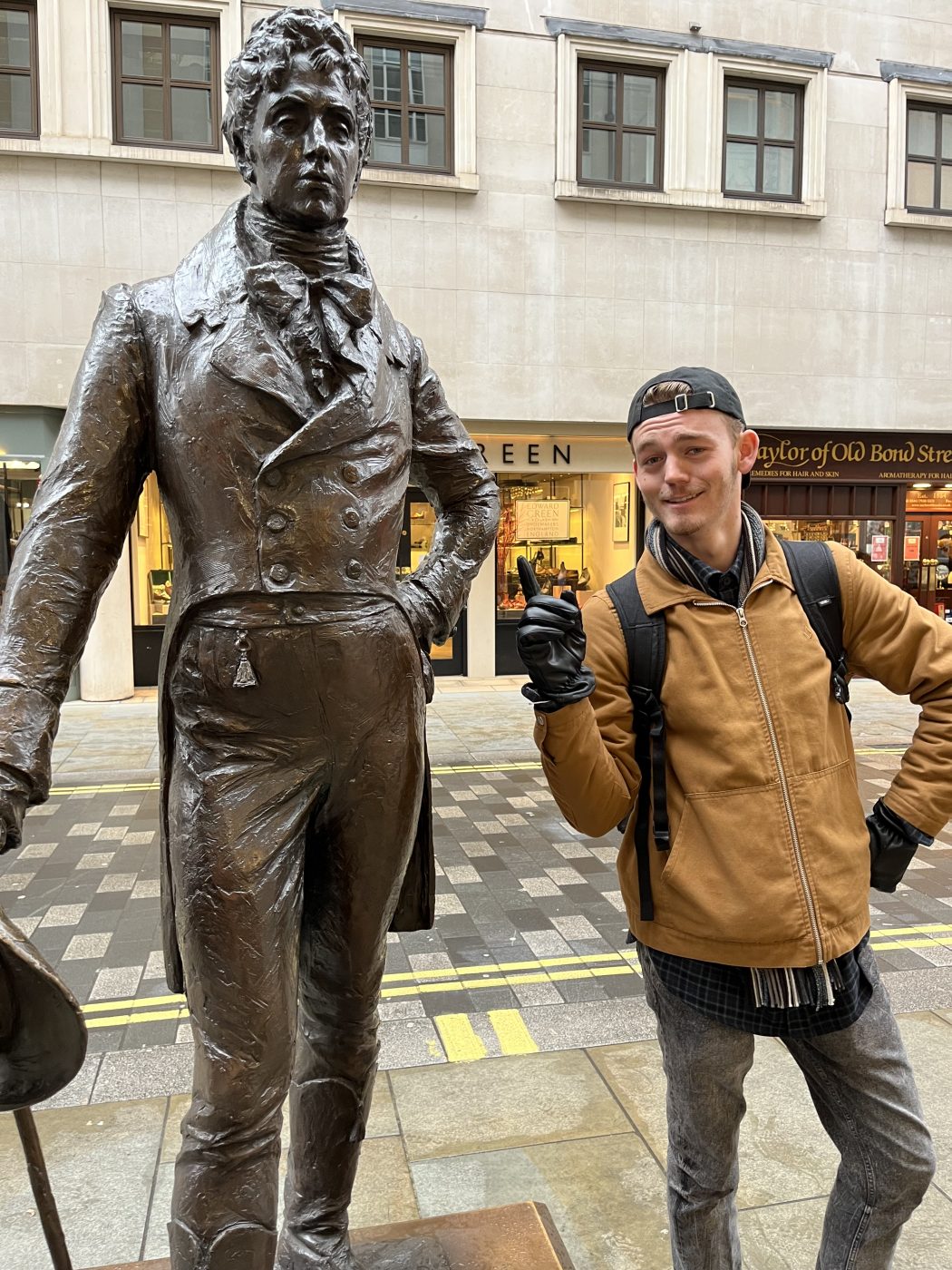 Joining CLC had a significant effect on Lindsey's college trajectory as it led to other opportunities and connections, introducing him to supportive, like-minded people and giving him the option to attend CLC seminars and volunteering at local organizations including the Cheyenne Mountain Zoo, UCCSlead, Gifts Unlimited and more.
"Every single week there was an avenue for us to go out and help the local organizations that help make Colorado Springs such a fantastic place to live. Then, there were the CLC seminars themselves. Many of the seminars hosted speakers who changed the way I view the world. We got to hear the stories of those who forged their own way and made a positive impact no matter the obstacles. All of it is the perfect brain food and fuel for us to see the issues in the world and devise solutions for them," said Lindsey.
"I am incredibly grateful for all the service-based opportunities that I have been allowed to participate in through CLC. Boo at the Zoo falls into the sheer fun category of service that one can partake in through CLC. For two years in a row, I dressed up as a gorilla and helped hand out candy to little ones and even worked in the haunted house at the Zoo. That event highlighted the magical moments that you can cherish when you get to watch the community come together," he said.
"For Gifts Unlimited, CLC got to go down to their toy warehouse and help organize toys and hear about their mission and vision. I even had the chance to hear from one of their program directors about his passion for giving children the toys, school supplies, and gifts that they would not receive without the organization's help. It just goes to show that there are so many people working behind the stage to make the world a better place."
Lindsey has been in an involved student in many ways alongside CLC, helping speak at donor events and serving as the student representative for both the VAPA (Visual and Performing Arts) Council and Theaterworks, showing his dedication to the performing arts.
This dedication goes all the way back to Lindsey's first experience in theater while growing up in Lone Tree, CO, when he played the Mad Hatter in a KidStage production of "Alice in Wonderland" in third grade. After this foray he continued to take part in KidStage events through middle school and high school, performing his first primary role in eighth grade and deciding during his senior year that he wanted to pursue theater in college.
"Theater has been in my life for a very long time," Lindsey laughed.
Lindsey's UCCS theater debut was in the student show "Gaslight," where he played a small part with three lines. His roles have expanded to leading parts since then, his favorites being Jason in Euripides's tragedy "Medea" and dual roles, as Victor-Emmanuel Chandebise and Poche, in the farce "A Flea in Her Ear," showing Lindsey's range as a performer.
While Lindsey loves the Ent Center as a whole, his favorite place in it is Osborne Black Box Theater.
"It's such a wonderful place and it's also always open. We go in there and we rehearse for scenes, so it's not just a place that I associate with shows or class and academics, but also a place that is open and there for us. It's a home," explained Lindsey.
Outside of VAPA, Lindsey has also taken the stage speaking at donor events as a CLC recipient and student representative.
As part of his leadership minor, Lindsey completed a leadership capstone project last semester that involved creating an event for a nonprofit organization that required him to do the bulk of the planning and logistics, a task he found both arduous and fulfilling.
"It was such an enlightening experience to create that – to do all the communication and put up the posters and reserve the room. It's all up to you. It's certainly work, but you get to the end of it, and you realize this has only happened because of the stuff that I put forth. So, the amount of impact and change you can make via the opportunities here, that's really motivating," he said. "I think the benefit that UCCS is that they give you experiences of doing things so then you know the habits and the behaviors you need. Then when you graduate, it's not your first time doing it."
That time is nearing for Lindsey, as he graduates this spring. The semester will be a busy one for him until then, including directing the final student theater show "Circle Mirror Transformation" at Osborne Theater before graduating just six days later. After that he plans to stay in Colorado for a few years and continue working in performing arts, possibly in Denver's burgeoning theater scene. He hopes to combine his performance and leadership skills in some way, considering careers such as production manager, artistic manager or director alongside acting.
"Denver is a really remarkable theater community that doesn't really get as much spotlight, so staying here, testing the waters and proving myself in a local market where I have more connections, and then deciding from there if I want to stay in Colorado or move to another market, or even an international market, has always been an interest of mine," said Lindsey.
Unsurprisingly, Lindsey enjoys performance art as a spectator as well, with true crime podcasts being a favorite of his. He also enjoys Colorado's natural beauty and outdoors often through hiking, mountain biking and cliff diving when he's not busy with school.
Being such an involved student, he has great advice for others in their college career.
"Get out and do things. This is your time to be selfish," urged Lindsey. "A quote that I think everyone should know is, 'nothing ventured, nothing gained.' That's how I try to live my life. These are the experiences that you will remember, so go out and steal up as many as you can."
About the Chancellor's Leadership Class
Chancellor's Leadership Class is a four-year undergraduate leadership development program at UCCS initiated in 1997. The program is designed to engage scholars with the members of the Colorado Springs community to nourish positive community impact through leadership and training. CLC strives to empower students to become leaders by facilitating opportunities for self-reflection, community service, and professional development. Scholars also prepare and develop to be advocates for their personal passion and purpose in life. Learn more about the Chancellor's Leadership Class online.
About the UCCS College of Letters, Arts & Sciences
The College of Letters, Arts & Sciences at UCCS is the university's largest college, enrolling nearly 6,000 students across 21 departments and programs. The college offers 19 majors and 53 minors in the arts, humanities, social sciences and natural sciences. Students can also choose from five accelerated bachelor's and master's degrees, nine full master's degrees and three Ph.D. degrees, as well as pre-medical and pre-law programs. The mission of the college is to position graduates for success in their personal and professional lives, with a focus on thinking, creating and communicating — skills vital to employers and graduate and professional schools. Learn more about the College of Letters, Arts & Sciences at UCCS.
About the Ent Center for the Arts at UCCS
The Ent Center opened in 2018 and fosters a creative environment that allows artists to inspire and amplify one another. Community members and the students and faculty of UCCS engage with the Ent Center's artistic programming, including impactful performances, free gallery exhibitions, direct access to professional artists, educational opportunities and more. In addition, the center provides space for local organizations to present their own programming by providing access to theaters and/or auditoriums.
Find out more about the Ent Center for the Arts, including current productions, gallery exhibitions and other opportunities to engage with the arts and professional artists, at www.entcenterforthearts.org.