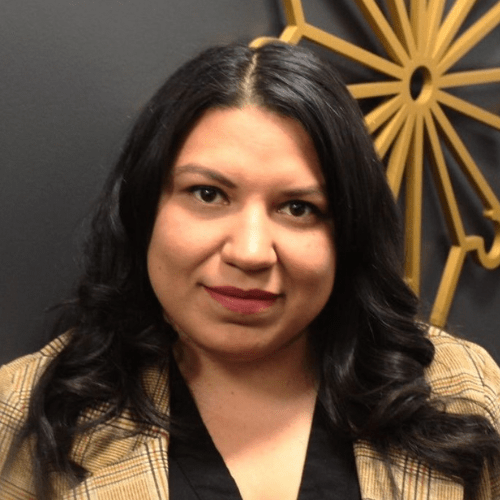 Sloan Gonzales has been named UCCS's first Director of Diversity, Equity and Inclusion (DEI) Education and Outreach.
This new role reports to Rame Hanna, Vice Chancellor of DEI (VCDEI), and is vital in developing, coordinating, and assessing DEI educational initiatives and resources to help promote social responsibility and agency around DEI at UCCS. The position also collaborates with DEI-centered offices to support the VCDEI in fostering partnerships with key stakeholders, along with developing innovative outreach communications to enhance DEI impacts at UCCS.
While this position is new for Gonzales, she has served UCCS and the community in many campus roles over the years. She is a UCCS alum and graduated in 2016 with a degree in sociology and a master's in communication with an emphasis on leadership. Soon after, Gonzales returned to UCCS as an adjunct instructor in the department of Communication and the Gateway Program Seminar before also becoming program director for The Chancellor's Leadership Class and UCCSlead program, where she worked before taking on this new role as director. Gonzales is "committed to creating communities of collaboration that craft opportunities for all people to be seen and known."
"I have spent almost 15 years on this campus as a student, alum, faculty, and staff member and I am honored to be a Mountain Lion. I am ready to use that experience and passion to see what the future holds for our campus, and to be a part of the work that will ensure that the future is an equitable one for all," said Gonzales.
Hanna formed the Division of Diversity, Equity, and Inclusion soon after starting in their inaugural role as Vice Chancellor for DEI in Spring 2022. "The Division is committed to sustainable inclusive excellence and empowering community agency to foster a greater culture of belonging."
"Sloan joins the Division at an exciting time as we begin laying the foundation of our strategic commitment to infuse and embed DEI as a critical mission-driven institutional priority. Sloan brings an extraordinary background of experiences both as a facilitator and instructor in DEI education and leadership development. Additionally, her previous experiences at UCCS have provided her with a deep understanding of our community's needs in this area. I am thrilled to welcome Sloan to our new Division and look forward to collaborating in fostering a more inclusive campus community where all can belong and thrive," said Hanna.
As the DEI director, Gonzales holds a multitude of responsibilities that include the development of culturally responsive training programs and workshops, coordinating events and programs to highlight critical DEI topics such as panel discussions and guest speakers, representing the DEI Division on campus, promoting DEI professional development opportunities for the campus community and much more.
"I'm honored and excited for this new role and am looking forward to collaborating with the great DEI work happening on campus and being a part of the continued growth in the areas of DEI education," Gonzales said.
About the Division of Diversity, Equity and Inclusion
The Division of Diversity, Equity, and Inclusion aspires to strengthen DEI innovation, impacts, and practices as integral components of inclusive and academic excellence. The Division is committed to fostering an inclusive learning and work environment where all at UCCS feel a sense of belonging and can thrive. The DEI Division promotes the principles of inclusive excellence, multicultural education, and social justice that both enhance the University's service to the public and contribute directly to the work environment and the quality of learning for all who participate. Additionally, the Division seeks to elevate the impact UCCS has as a regional and national leader in preparing students for success in a diverse global society and workforce.
You can also learn more about the Division of Diversity, Equity and Inclusion online.