Behind the shiny exterior of the newest UCCS building there is a long history of commitment to improving health in the greater Colorado Springs community.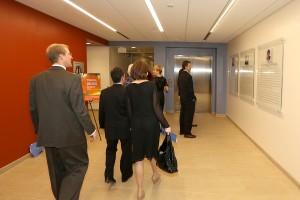 On a second floor landing of the Lane Center for Academic Health Sciences, three plaques recognize the roles of the first woman dentist in Colorado Springs, an early advocate for a medical campus in Colorado Springs, and a former dean of the Beth-El College of Nursing. Each contributed to the vision seen in the Lane Center.
"These three visionaries, each in their own sphere of influence, were instrumental in helping UCCS reach a significant milestone of the establishment of a health and wellness presence on the North Nevada property," Brian Burnett, senior executive vice chancellor, Administration and Finance, said.
Plaques highlight the contributions of the following individuals
Dr. Virginia Garth Trembly, the first woman dentist in Colorado Springs. She maintained an orthodontist dental practice from 1931 to 1973. In the 1970s, she conveyed more than 300 acres adjacent to UCCS at a below-market price. She died in 1990 at age 87.
Dr. Ted Lewis established the first rheumatology practice in the area in 1977 and operated it until his 2009 death. He was 68 years old. He advocated for the expansion of the CU School of Medicine to Colorado Springs and also served as the director of medical education for Penrose St. Francis Hospital.
Carole Schoffstall, dean emeritus, Beth-El College of Nursing and Health Sciences, served as a Beth-El faculty member for 30 years and as dean for 16 years until her 2008 retirement. As dean, she led the transition of Beth-El from municipal ownership to merger with UCCS and advocated for the University of Colorado Health System management of Memorial Hospital. She is married to Al Schoffstall, professor, Department of Chemistry, and continues to live in Colorado Springs.