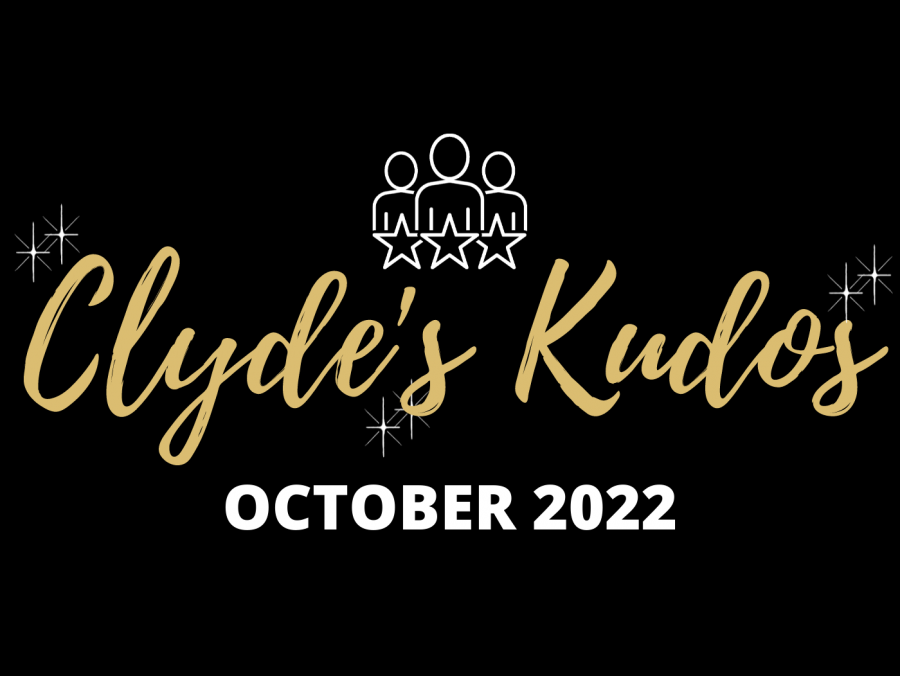 Clyde's Kudos are a Staff Association initiative celebrated each month on Communique. Nominations are also recognized through a variety of forums including the Staff Association website, the Staff Association newsletter, event shout-outs, handwritten cards and other methods of distribution.
Clyde's Kudos: October 2022
Teams:
The Family Development Center Staff | UCCS Grounds Crew
Individuals:
Andy Johnston | Angela Kinnett & Garett Kuecker | Brad Bayer | Carol Pina | Craig Decker, Greyson Niedbalski, & Ben Sypher | Danielle Wright & Andrea Cordova | David Fehring | Debi O'Connor X2 | Dr. Terry Boult | Heather Marx | Jen Furda & Stephen Cucchiara | Jill Beauregard | Kristina Coggins | Lily DiSilverio | Melinda Hagemann | Mikey Sanchez | Olivia McDonald | Rick Landis & Keith Valentine | Rosey Reidl Smith | Tony Rago & Joseph Dutton | Tori Davis | Tungsten Alcazar
Teams
To: The Family Development Center Staff
From: Brad Bayer
The Family Development Center (FDC) recently passed the National Early Childhood Program Accreditation (NECPA) with flying colors. Congratulations to the FDC staff for this major accomplishment!
To: UCCS Grounds Crew
From: Brad Bayer
Kudos to the UCCS Grounds Crew for the effort and care they take to make the UCCS landscaping look so amazing. It is difficult to count how many people have commented on the beauty of the UCCS campus so far this semester. Thanks for all you do!
Individuals
To: Andy Johnston
From: Anon.
Andy eases the entire Talent Acquisition process. He is always willing to jump in and help with any part of the process and has a frankly uncanny ability to discover and resolve any item no matter what part of the process it is "stuck" in. Despite the sheer amount of workload that I am certain he has, he always makes me feel like a priority when I need to reach out for help, regardless of the size of the item I'm bringing to him.

Andy is an invaluable part of the HR team and I am so thankful to have him as a colleague!
To: Angela Kinnett & Garett Kuecker
From: Benjamin Kwitek
Angie and Garett in Media Services were incredibly helpful in producing clips and supporting my talk on Innovation and Sustainability. They are awesome!
To: Brad Bayer
From: Jill Beauregard
Brad has gone above and beyond to ensure that I feel comfortable and welcomed at UCCS. On my first day, he had some of my favorite treats on my desk and spent the whole day showing me around campus and making introductions. I have never had a director who was more approachable, knowledgeable, and enthusiastic. Thank you, Brad!
To: Carol Pina
From: Susan Taylor
With ongoing appreciation for all Carol does in support of our campus programs and students!
To: Craig Decker, Greyson Niedbalski & Ben Sypher
From: Gabby Hensley
The web services team has really been stepping it up! They've been awesome at creating rows to help those around campus and I appreciate their willingness to help on new projects. They've made a huge difference on improving the website! Big THANK YOU to the team!
To: Danielle Wright & Andrea Cordova
From: Gabby Hensley
I can't believe Commencement is almost here and so much has already been accomplished. Big kudos to Danielle and Andrea getting everything together to make the ceremony so special! They both work so hard to listen to feedback and apply it to future ceremonies. It's exciting to see how the ceremony has evolved and I can't wait to see what they think of next! You both are awesome!
To: David Fehring
From: Rec Team :)
I believe Dave Fehring should be recognized for his above-and-beyond commitment to students. As the director of the Recreation Center, Dave is attentive, patient, and caring and we are very lucky to have him!
To: Debi O'Connor
From: Anon.
Debi has willingly moved offices to help with space crunch in Main Hall. We are so happy to have her in Cragmor. She has jumped right in to be a "floor citizen" with a friendly attitude and joining us in the food drive. We are so glad to have Debi on our floor as well as on the campus handling all the thankless compliance issues that are so important for our campus.
To: Debi O'Connor
From: Jesse Perez
Debi always goes above and beyond to contribute to campus and to support her colleagues. She makes a huge impact on campus and not everyone gets to see the amazing work she does behind the scenes. We are lucky to have her!
To: Dr. Terry Boult
From: Anon.
Dr. Terry Boult founded the Bachelor of Innovation Degree…and thanks to our BI alumni innovators, they are making an impact – whether it be working in national military intelligence, transforming education, new videographers on the scene, being leaders in Apple and Microsoft, and so on. The results of his vision are undeniable.
To: Heather Marx
From: Jill Beauregard
As a brand-new employee, it can be intimidating to reach out and ask for help, without feeling like you're a bother. Heather made it clear from day one that she would be available to me with any questions that I have or any help that I need. She has been one of many who has made me feel so welcomed and comfortable at UCCS. Thank you, Heather!
To: Jen Furda & Stephen Cucchiara
From: Gabby Hensley
Thank you Jen and Stephen for letting me follow your GPS class the past few months! We've been struggling to find students to take photos of in the community and you gave us the perfect opportunity to take some great photos. Your class was very respectful and so eager to help out. Thank you again for letting us do that!
To: Jill Beauregard
From: Brad Bayer & Amanda Allee
A huge Mt. Lion welcome to Jill Beauregard, the new Student Affairs Assessment & Planning Specialist! Jill started in this inaugural role for the campus in October and has hit the ground running. We are excited she has joined our team.
To: Kristina Coggins
From: Zak Kroger
Kristina juggles about a thousand things at once, and is always professional, helpful, prompt, and a pleasure to work with. She often goes out of her way to make sure others understand how processes work–even when people (me) make constant mistakes haha!
To: Lily DiSilverio
From: Anon.
Lily consistently goes above and beyond for her team and the departments that overlap with her work. She is a team player in every sense of the word. I have appreciated her willingness to be candid and also to help other employees navigate the intricacies of the work we do at the Ent Center for the Arts. Beyond what she does for others, I am always impressed by the impactful way she writes copy for the shows produced by Theatreworks. I know that everyone at the ECFA sees her as invaluable. Thank you to Lily for everything that you do!
To: Melinda Hagemann
From: Jen Furda
Because her and her team do a GREAT service to UCCS that most people do not realize. They work tirelessly in raising funds for scholarships, room naming's and special projects like the Olympians & Paralympians Among Us. She is a great partner to work with.
To: Mikey Sanchez
From: Cathy Simmons
Kudos to Mikey Sanchez. He went above-and-beyond to help the Department of Social Work out of a bind during a recent MSW Information Session. Mikey saved the day by juggling multiple complicated logistics, helping to co-host the session, following-up with participants, and ensuring the first MSW Information Session of 2022-2023 went off without a hitch. Without his quick thinking and hard work, the event would not have happened. Warmest Appreciation goes out to Mikey for his professionalism and willingness to do what was needed to support our potential MSW students.
To: Olivia McDonald
From: Gabby Hensley
Olivia is amazing! I appreciate her dedication and expertise in updating the craziness that is the content on the UCCS website. She is always so positive and her excitement is contagious! She has already done so much and I can't wait to see what she accomplishes in the future. Kudos to Olivia!!
To: Rick Landis & Keith Valentine
From: Zak Kroger
I often think there is no one busier on a college campus than facilities. Making sure everything is working properly is a massive undertaking. In my case, I was interesting in having some painting done at the UCCS Downtown site. Rick and Keith were so helpful, friendly, and FAST! They were on the request so quickly, knocked out the painting in a couple hours, had great insight into some accent wall colors, and it looks AMAZING!

It's always a pleasure to work with people who are so easy to work with, and they are incredible at their jobs!
To: Rosey Reidl Smith
From: Anon.
Rosey has helped the college and campus tremendously. She does an amazing job with students in our graduate program and has taken on the workload of two people and somehow manages to get it all complete. Recently, she stepped up in a crunch to help with US News and World Report for online graduate programs. Rosey continuously does more and more for the college and is greatly appreciated for all she does.
To: Tony Rago & Joseph Dutton
From: Zak Kroger
I am new to UCCS, and learning the ins and outs of the university is fairly intimidating. I was interested in getting a fridge for the UCCS Downtown space, for catering purposes, so reached out to Tony about it. He was able to quickly track down a unused fridge, and then he and Joseph brought it down, hooked it up, and many lives have been made easier already as a result.

It's always a pleasure to work with such knowledgeable, helpful and friendly people. Both Tony and Joseph are great at their jobs, were super helpful, and just overall great guys. A pleasure to work with them!
To: Tori Davis
From: Marcus Graves
Tori was the Campus Recreation Lead for FamFest, she did an amazing job! Adapting to changing needs, problem solving, and collaboratively working with other campus departments. Way to go Tori!!
To: Tungsten Alcazar
From: Cindy Brown
Tungsten has been very helpful in getting our tech organized for Dept. of Counseling and Human Services for group lab work. He is knowledgeable, helpful, and kind and I sincerely have appreciated his expertise!
Want to celebrate your staff colleagues? Submit kudos anytime through the Staff Association website. Communique publishes Clyde's Kudos each month.