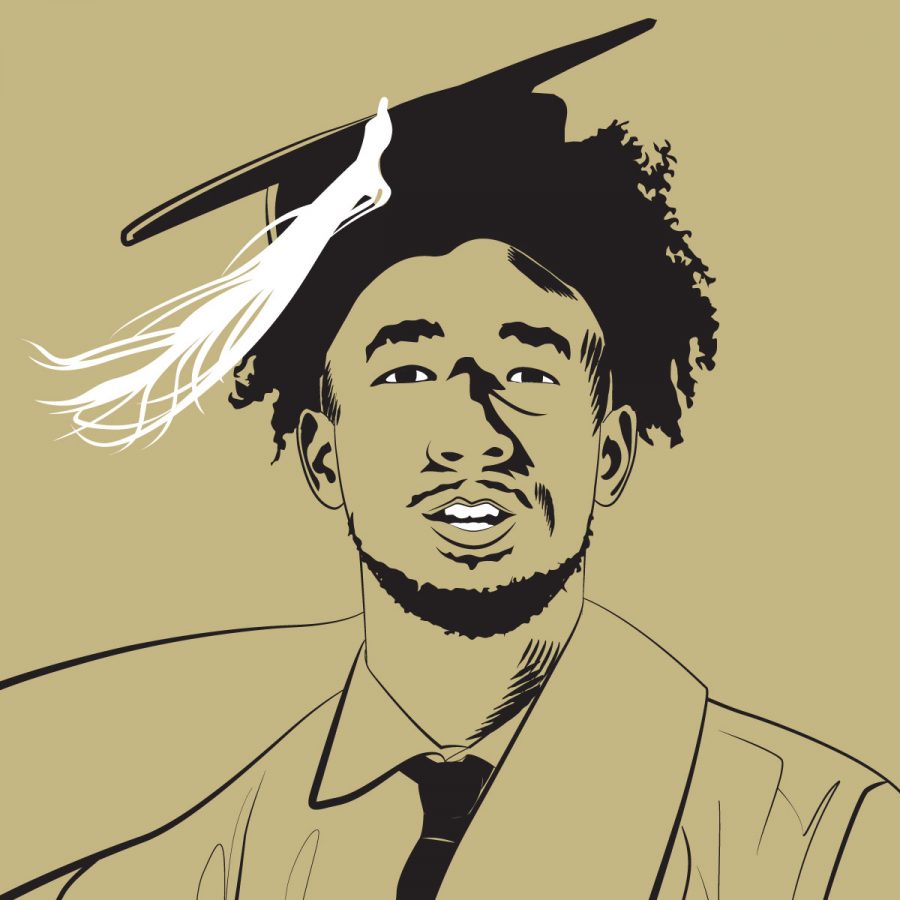 Basketball gave Geoff Kelly access to higher education, but a master's degree will be his ultimate achievement.
Raised in Aurora, Colorado, Kelly knew little about the University of Colorado Colorado Springs (UCCS) but was thrilled to learn that his dedication to his academics in high school and his talents on the basketball court had earned him a basketball scholarship from UCCS.
"I didn't know much about the university. I had an assistant coach in high school who attended UCCS a while back," said Kelly. "But other than that, I hadn't heard much about it."
Kelly wasn't sure what to expect when he visited the campus for the first time, but he came with an open mind. That open mind was the perfect perspective, because he was surprised by what he saw.
"When I first pulled into the parking lot, I immediately fell in love," said Kelly. "The view from campus was one that I could get used to seeing every single day and as my visit went on, what stood out to me the most was the people that I encountered and had conversations with."
Those conversations helped to confirm Kelly's decision to accept his scholarship offer and make Colorado Springs his home for the next six years. His basketball eligibility allowed him to play on the UCCS Men's Basketball team for six years.
Over those six years, Kelly proudly played as a guard/forward and created great memories along the way. One of his favorites is traveling with the team.
"Our team trip to Australia was one of the best experiences I've had during my time here," said Kelly. "It was away from campus and this community, but it was amazing to travel across the world, experience a new way of life, give back and take our Mountain Lion culture to a new place."
Kelly graduated from UCCS in 2020 with an undergraduate degree in finance and graduated again in May 2022 with his master's degree in business. His goal is to become a certified financial planner. 
Kelly's aspirations are to spread his love for finance and build relationships with people to help them reach their financial goals.
"I want to start a program here in Colorado Springs that is focused on teaching high school and college students about financial literacy," said Kelly. "Schools do a great job setting students up to succeed and make a living for themselves, but more could be done to introduce students to different financial topics early on so that students can make better financial decisions once they graduate."
Kelly has enjoyed his athletic career at UCCS and wants others to see him as an athlete and someone who aspires to improve the community around him through financial literacy.
"Throughout my journey, there have been a lot of people who tried to put me in different boxes," said Kelly. "For example, because I am a basketball player, there have been lots of people who think that is all that I do. Personally, I knew that I am so much more than a basketball player."
Taking lessons from the court and new knowledge gained in the classroom, Kelly is prepared to influence those around him in a positive way.
When asked what is possible with a UCCS degree, Kelly shared: "The world is yours with a UCCS degree. That is something that I've learned over the past few years. UCCS is such a respected school and there are so many alumni out there who are always looking for ways to give back to other UCCS students."
For Kelly, sports provided him with unique experiences and opportunities to be involved with something bigger than himself, and his UCCS education will ensure he can spread his love for financial literacy with those around him.