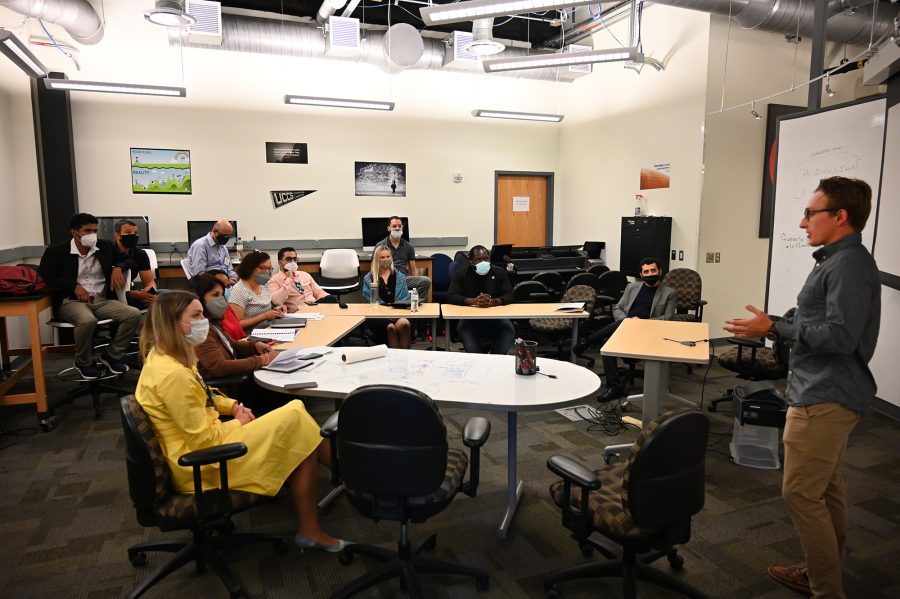 In mid-August, The Garage at UCCS hosted a delegation of economic and entrepreneurship development professionals from around the world – 11 leaders from 11 different countries. This delegation was a part of a State Department program to provide cross-cultural collaboration between the U.S. and other countries. The delegation visited UCCS with the goal of learning how the university supports entrepreneurship for its students and surrounding community.
This delegation is visiting five cities in the United States as a part of the International Visitor Leadership Program supported by the U.S Department of State, including Boston, Detroit, Washington D.C., Colorado Springs, and Seattle.
The Colorado Springs World Affairs Council (CSWAC) acted as the local host for the touring party. CSWAC reached out to various organizations in the community that support innovation and entrepreneurship (I&E) to share insights with the global leaders. Among venues visited in the city were the Catalyst Campus, Exponential Impact, The Maker Space and The Garage at UCCS. Along with CSWAC officials and State Department Liaisons, the international delegation hosted in the Garage consisted of:
Mr. Alcino Matias Lopes Camota – Angola

Project Manager, Tech21Africa

Ms. Hajdi Cenan – Croatia

Co-founder and Chief Executive Officer, airt technologies

Ms. Marie Therese Samir Riad Fam – Egypt

Managing Partner, Flat6Labs

Ms. Sebenzile Dlamini – Eswatini

Incubation Manager, Royal Swaziland Technology Park

Mr. Aleksandar Janicic – Montenegro

Project Manager, Innovation and Entrepreneurship Centre Technopolis

Ms. Siham Ouzine – Morocco

General Manager, Higher Institute of Aeronautical Professions and Airport Logistics (ISMALA)

Ms. Preeti Koirala Bhattarai – Nepal

Program Coordinator, Chamber of Industries Morang/American Corner Biratnagar

Mr. Dawaud Awawda – Palestinian Territories

Founder and Chief Executive Officer, uMake

Mr. Mohammed Moalla – Saudi Arabia

Mechatronics Engineering Lecturer, University of Prince Mugren

Mr. Ranjan Kulathunga Abeynayaka Gamlathge – Sri Lanka

Senior Design Engineer, Zone24x7

Mr. Hasan Alisulaiman Hasan Al Shehhi – United Arab Emirates

International Relations and Partnerships Senior Specialist, U.A.E. Space Agency
During their meeting in The Garage, the international leaders learned about the various entrepreneurship programs at UCCS. Tom Duening, El Pomar Chair for Business & Entrepreneurship, spoke about the Venture Attractor and Torch Grants program.
Terry Boult, El Pomar Chair for Computer Security, and Duening discussed The Garage and how it attracts and helps build UCCS student-led ventures. Ben Kwitek, Director of the Bachelor of Innovation, and Boult talked about the BI program and its many local success stories.
During this discussion, a few of these leaders demonstrated interest in participating in the Bachelor of Innovation's Teams program. As of this time, multiple teams have been selected to participate in the program. This collaboration will provide invaluable experience for the BI students, allowing them to work with leaders from around the world.