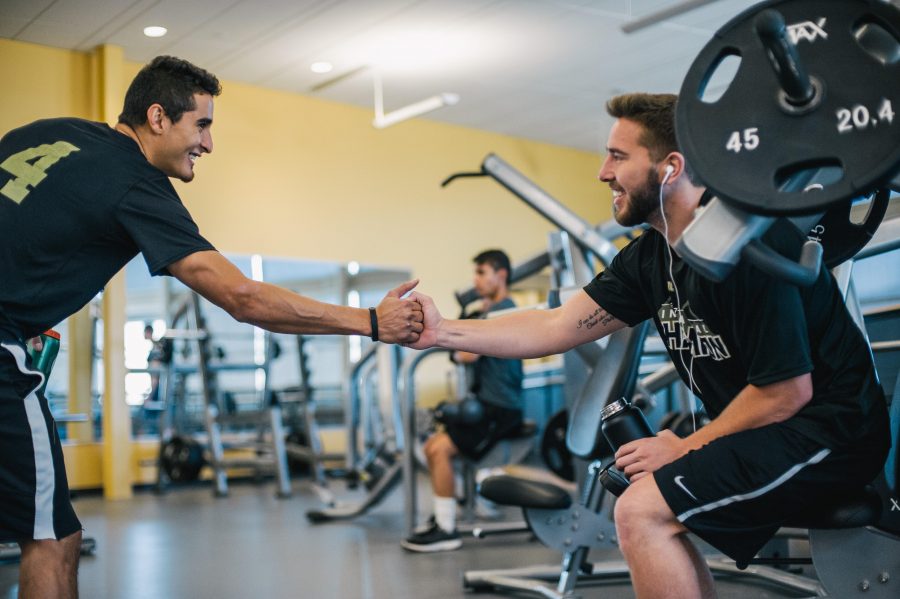 The University of Colorado Colorado Springs is one of five institutions, three of which are Division II, to receive an NCAA Innovations in Research and Practice Grant.
Led by Jess Kirby, an assistant professor in the Helen and Arthur E. Johnson Beth-El College of Nursing and Health Sciences, Mountain Lion Strong is a comprehensive educational program to help student-athletes gain tools and resources to support identity development, healthy relationships, goal setting and holistic wellness.
"As a team, we are proud and excited to be one of five NCAA institutions chosen for this grant funding," said Kirby. "It is truly a joy for me to embark upon a new academic year with the opportunity to lead a stellar interprofessional team with dedicated funding to develop critical educational resources that will support and enhance the mental health and well-being of our student-athletes, while also teaching them the skills to develop resilience. We know how essential developing and sustaining these resources are for the success and longevity of our student-athletes, and this funding greatly boosts our capacity and resources to readily develop the foundation of the Mountain Lion Strong program."
The Mountain Lion Strong program will involve all student-athletes, beginning this fall. The program will develop and pilot a comprehensive, evidence-based program that utilizes a tiered, progressive, and multifaceted approach. The program will incorporate psychoeducation for student-athletes and coaches, peer wellness leaders, expanded mental health screenings and suicide prevention training with the goal to improve and optimize the psychological well-being of UCCS student-athletes, while reducing mental health stigma and ensuring the campus sport culture is one that prioritizes and values the well-being of student-athletes.
"I am very proud of the Mountain Lion Strong program and know it is going to make a difference for our student-athletes, coaches and staff," said Executive Director of Athletics Nathan Gibson. "I would like to thank and congratulate Jess Kirby for spearheading this effort for UCCS and we are excited to work with an outstanding team of people who are committed to student-athletes' development and support."
Kirby and her team of six individuals, including track and field student-athlete Audrey Bloomquist, will facilitate knowledge and skill development for student-athletes to have the tools, resources and support to develop behaviors and habits to keep their mind and body in a state of balanced wellness. The program is structured on five key pillars: Identity, Healthy Relationships, Goal Setting and Time Management, Healthy Eating and Physical Activity, and Wellness for Body and Mind.
There will be a five-stage progressive approach to each of the pillars that will build and grow with the student-athlete from their first year at UCCS until graduating and transitioning out of being a student-athlete. The method used to incorporate the Mountain Lion Strong program will operate using psychoeducation workshops for student-athletes and coaches, a program handbook, peer experience videos, annual mental health screening and referrals, and suicide prevention training.
Following the inaugural year of the Mountain Lion Strong program, Kirby and her team will evaluate the pilot program and aim to create substantial improvements in the campus culture and well-being of the student-athletes population over the next several years. The long-term plan is all current and future student-athletes will be a part of the Mountain Lion Strong program. Kirby will also be creating a comprehensive best-practices guide to implement psychoeducation programs on other member campuses.
"The goal is to use this funding to develop and jump start this program, as the first step in a long-term endeavor to offer quality, sustainable psychoeducation for every student-athlete on campus," commented Kirby. "Creating a campus sport culture of wellness that prioritizes student-athlete well-being on and off the field of play will take long term commitment from all of our athletic stakeholders and campus wellness champions. The long-term goal is to support the development of student-athletes who are consistently thriving and succeeding in sport, in the classroom, and in life, and who experience a positive and healthy transition out of sport when they retire their Mountain Lion uniform."
About the NCCA Grant
For the first time since the grant's inception in 2014, the majority of funded projects will be at Division II schools. During the 2022-23 academic year, five research teams will receive a total of $100,000 to conduct projects designed to enhance college athletes' psychosocial well-being and mental health.
Panel chair Eric Laudano said, "We had an incredible level of interest from the membership this year. Over 100 proposals were submitted, and with so many great ideas, it was a challenge for the panel to determine the grant recipients. We're confident that these five innovative programs will be beneficial to the student-athletes on the receiving campuses in the coming year. Better yet, we feel that the membership will have a lot to gain as these grantees share their findings and make their resources widely available next year."
The panel that reviewed the 124 proposals and selected the grant awardees represented all three NCAA divisions and was composed of athletics administrators, faculty athletics representatives, current student-athletes, a mental health clinician, a coach and a sports medicine professional. The reviewers felt confident the funded pilot programs will lead to programs that other colleges and universities can adopt for use on their campuses or adapt to fit their local needs.