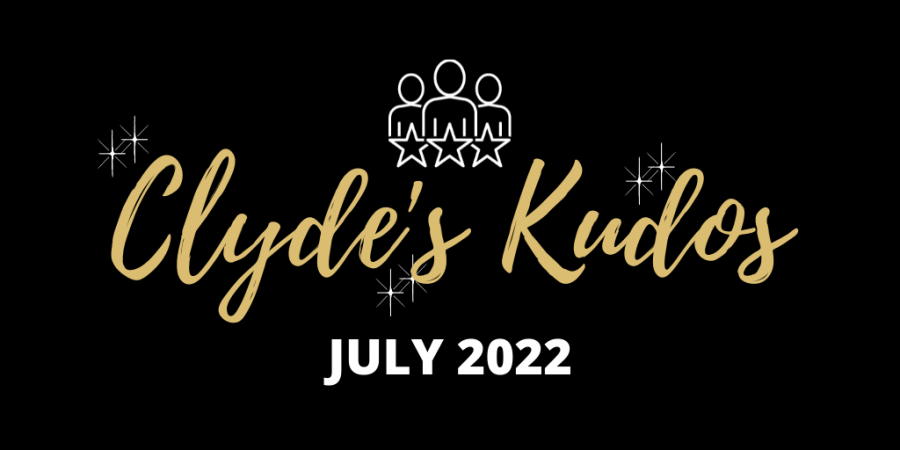 Clyde's Kudos are a Staff Association initiative celebrated each month on Communique. Nominations are also recognized through a variety of forums including the Staff Association website, the Staff Association newsletter, event shout-outs, handwritten cards and other methods of distribution.
Clyde's Kudos: June 2022
Teams:
Chris Valentine (and Mar/Comm Team) | Mathew Cox and Enrollment Management Team | UCCS Pre-Collegiate Team
Individuals:
Andre in Facilities | Ariadna Coffman | Brie Escobedo and Sarah Fillman | Debi O'Connor | Gabby Hensley | Greg Dalberg | Greg Krems | Hui Wan | Jennifer Newcomb | Jeri Bonnes | Jesica Whittaker | Katherine Placzek and Greg Krems | Kayla Maldonado | Kylie Rossman | Lyric on the Columbine Custodial Team | Manuela on the Custodial Team | Maria O'Connell | Mikayla Greenfield and Marcelina Ramirez | Olivia McDonald | Shawn Hood and Laura Straub
Teams
To: Chris Valentine (and Mar/Comm Team)
From: Jen Furda
Chis Valentine and the Marketing & Communications team. They ALWAYS go above and beyond. They want UCCS to look and be its best. Whether that is logo's or letters or branding or video's or articles…this team is ALWAYS willing to help and make UCCS look good!
To: Mathew Cox and Enrollment Management Team
From: Anon.
Mathew and his team are rolling out multiple efforts to bring in strong enrollment for Fall. So much of their work goes far beyond numbers and involves relationship-building with students and parents. Thank you to Mathew and your whole team for all that you are doing so our campus can have a strong Fall semester!
To: UCCS Pre-Collegiate Team
From: Dr. Nancy Hernandez
In June, the UCCS Pre-Collegiate team hosted, for the first time since the pandemic, an in-person, month-long Summer Academic Institute for our high school participants. Everyone had to work extra hard to make sure our 65 students were safe, fed, engaged, and interacting with each other, with our staff and with faculty. It was a mile a minute, with early mornings, and late nights, including an overnight stay that left everyone completely exhausted in the best way possible! For our participants, however, it was a magical mix of math skills, college classes, getting expert tips on applying to colleges and scholarships, exploring career dreams, and making new friends. The young people were initially reticent to mix but by the end they were petitioning their peers and program management for a fully professional water balloon activity that even the rain could not stop. For this team, Clyde's Kudos are in order because no one was sure what it would be like to run this program in person again! And now, we are certain that we need to do it again next year! I could not be more proud witness this level of teamwork, leadership, commitment to youth and fun!
Individuals
To: Andre in Facilities
From: Anon.
Andre was recently reassigned to our building and he made a point of stopping by and reconnecting. He always has a smile and a kind word and brightens up the room when he is here. He models excellent customer service every day.
To: Ariadna Coffman
From: Jeff Foster
Ariadna contributed invaluable feedback and guidance to some translation work we were doing and we're lucky to work with such talented and hark-working folks, willing to jump in and help!
To: Brie Escobedo and Sarah Fillman
From: Brad Bayer
Kudos to Brie Escobedo and Sarah Fillman for bringing supercharged optimism, passion, creativity, and fun to their daily work in the Career Center.
To: Debi O'Connor
From: Anon.
Compliance is probably one of the most under appreciated areas on campus. Debi does a lot of behind the scenes work that many of us don't even think about or know about. Her experience and knowledge, along with her can-do attitude, are huge assets to this campus, along with her willingness to work through issues and to find ways to implement ideas. Debi, and the work she does, should be recognized and applauded. Thank you, Debi, for all that you do to keep us accountable and compliant!!
To: Gabby Hensley
From: Jeff Foster
Gabby took on extra work over the summer to help production of important flagship materials that unexpectedly ended up on our plates, and handled the additional workload with finesse and professionalism, and impressive attention to detail (as always!) We're lucky to have you on the team.
To: Greg Dalberg
From: Brent Wallace
Greg has taken over as the new laboratory coordinator for the Biology Dept. starting January 2022 he has done a fantastic job of reorganizing BIO1060 and BIO1310 laboratory courses by implementing new am more advanced instrumentation and equipment. Great Job Greg!
To: Greg Krems
From: Racquel and Elizabeth
A big Kudos to Greg for ALL his work coordinating numerous aspects of the Vice Chancellor of Enrollment Management search! The VCEM search is no easy feat and we greatly appreciate all his efforts and willingness to help! Greg always provides great support with a smile, and is a genuine pleasure to work with! Thank you!
To: Hui Wan
From: Lynnane George
I am an instructor in the Department of Mechanical and Aerospace Engineering and purchased an inverted pendulum from Amazon to demonstrate concepts of mechanical vibrations to my classes. However, when it arrived there were no instructions and the company only provided instructions in Chinese. Dr. Wan spent hours of his personal time well-outside his normal work duties to help translate documents and videos to get the demonstration working. His effort was greatly appreciated and will contribute to students' education in several different classes.
To: Jennifer Newcomb
From: Cindy Brown
Jennifer has supported 3 departments within our college while we were in the process of hiring 2 new full time staff. She has been involved in assisting in the new staff training and has been calm and positive helping everyone cheerfully along the way. Jennifer "going the extra mile" has not gone unnoticed!

Thank you Jennifer!
To: Jennifer Newcomb
From: Morgan Easter
Jennifer has gone above and beyond working hard as the only Academic Support Professional for the whole College of Education! As two new ASPs have been hired, she has taken on assisting with their training and any support as they learn their new roles while still assisting the College of Education. She is always willing to help and lend a hand whenever and wherever she can. Jennifer's kindness, bright spirit and patience is an inspiration! She is simply a joy to be around and especially to work with!
To: Jeri Bonnes
From: Ann Amicucci
Jeri supported the English Department while Rose had to be out for a few weeks, and she helped us navigate several questions and unexpected situations that arose. Thank you, Jeri, for all that you've done to support our department this month. We are grateful to you for all your work!
To: Jeri Bonnes
From: Kirsten Ortega
Infinite thanks to Jeri Bonnes for all she's done to keep the English Department afloat in July! We thought we'd only need the occasional reimbursement request processed, but we've ended up needing much, much more. (There is never a good time for a hot water heater to break above a Xerox machine, I suppose… LOL.) We are so grateful for how you've gone above and beyond with level-headed grace. Thank you so much!
To: Jesica Whittaker
From: Jeff Foster
Jesica devoted a ton of her time and energy to help, last-minute, on Spanish translations we were working on, and we couldn't be more appreciative! Thank you!!
To: Katherine Placzek and Greg Krems
From: Anon.
The IT department wouldn't function as well as it does without these two individuals. From handling budgets and new hires to training and other administrative items we need, their help is truly appreciated and never taken for granted. Thank you both for all that you two do for our department!
To: Kayla Maldonado
From: Jeff Foster
Thank you for jumping in and helping out! All the time, but specifically for your last-minute help with the Lyda Hill Institute for Human Resilience folks. You're the best!
To: Kylie Rossman
From: Kelli Klebe
Kylie is being recognized for her outstanding work in the Graduate School for the 2021-2022 year. For several months, Kylie was doing the job of 3 people and onboarding the interim dean. She trained the two new people and kept the graduate school operating smoothly. She always had a positive attitude and she did a great job responding to the programs, students, staff, and faculty throughout the year. She is a super star! Thank you Kylie!
To: Lyric on the Columbine custodial team
From: Anon.
Welcome to your new position! We are so grateful for all that you do to keep Columbine running smoothly. Thank you for keeping our building safe and clean!
To: Manuela on the custodial team
From: Anon.
Throughout the summer, I have benefited from Manuela's help in both Columbine Hall and at the Heller Center. Thank you so much, Manuela, for everything you do on campus keep our buildings running smoothly. I am grateful to you!
To: Maria O'Connell
From: Anon.
Maria is dedicated to the students, program and profession of social work. She effectively tracks not just our students but encourages them to be proactive in the pursuit of higher education all while transitioning into the role of Clinical Assistant professor. She exemplifies what it means to be a student support specialist.
To: Mikayla Greenfield and Marcelina Ramirez
From: Cody Ensanian
Whenever I have building questions or need to sign out keys, these two are always very friendly and helpful. Without their help my work would be slowed down, and their assistance is always greatly appreciated. Thank you both!
To: Olivia McDonald
From: Mary Ann Tillman
Olivia is relatively new to UCCS, but she walked in and (gently) took over the Cybersecurity migration from the legacy web platform to Drupal 1.5, and did an amazing job. We not only met our deadlines, but did so with very little anguish or turmoil, which is no small feat in a website migration. She is reliable, communicative, provides great ideas, sets expectations and beats them, and is a joy to work with. Not only that, but I've done 4 or 5 web migrations in the past, and Olivia is one of the most capable webmasters I've worked with — she knows her stuff. UCCS is lucky to have her, and we're thrilled to have a new cybersecurity website that looks fabulous and works well. Thanks to her and the entire team behind her.
To: Shawn Hood and Laura Straub
From: Cody Ensanian
Shawn and Laura are always super helpful in coordinating and assisting me with any IT work I need to perform in residential housing. They are always friendly and willing to help even though I know their schedules keep them both very busy! Their help is always greatly appreciated and I cannot thank them enough!
Want to celebrate your staff colleagues? Submit kudos anytime through the Staff Association website. Communique publishes Clyde's Kudos on the first business day of each month.