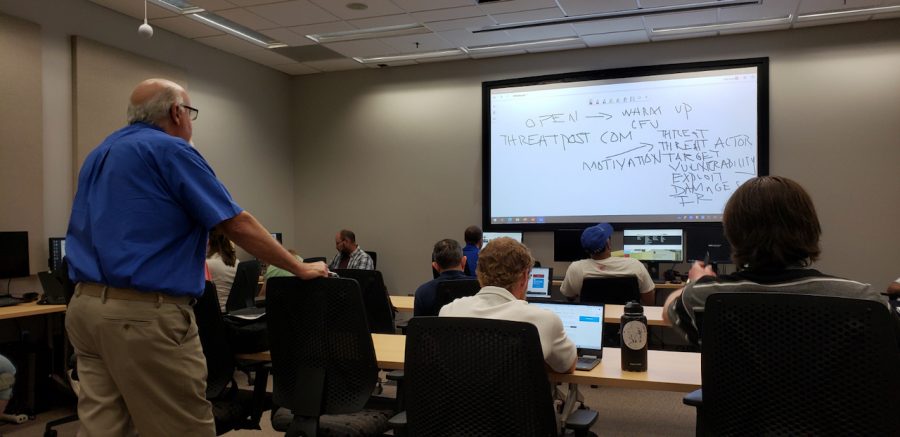 This summer, while most teachers were enjoying a well-deserved break, a group of middle and high school teachers from around Colorado were attending week-long cybersecurity training "camps", cramming their brains full of useful information to better understand data security. This GenCyber Security training will no doubt make them better teachers. And because many work in schools and districts that have no other technology or security expertise, they will also become much-needed resources for the entire school.
For two weeks in July, 32 Colorado middle and high school teachers came to UCCS, free of charge, to experience NSA-sponsored GenCyber Cybersecurity Teacher Training Camps. The first week consisted of an introductory camp covering basic GenCyber Cybersecurity concepts, while the second week offered an advanced camp that dove deeper into the GenCyber Cybersecurity principles (more on each of these later).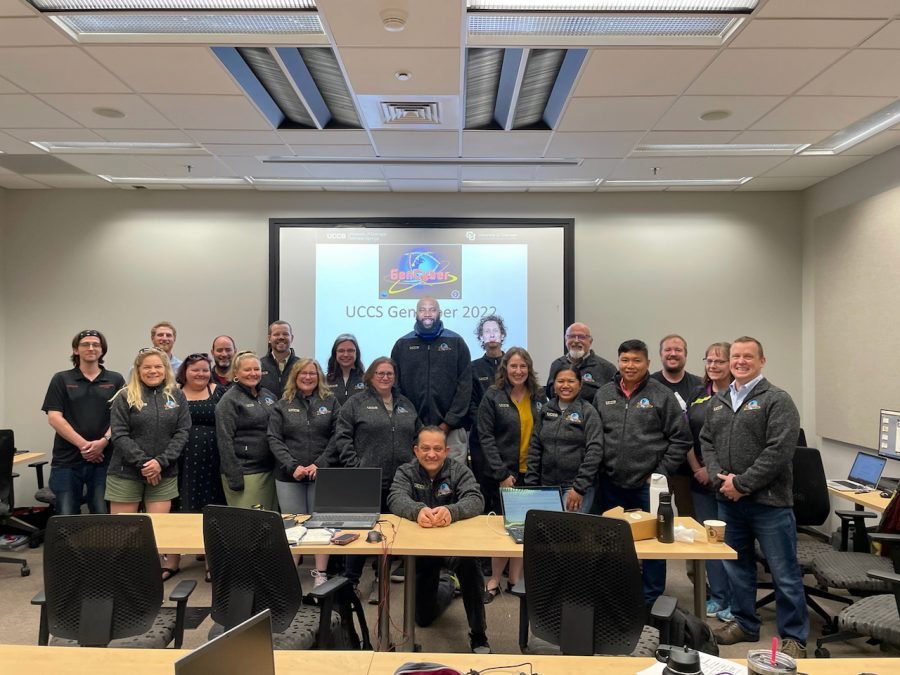 Demonstrating great enthusiasm and tenacity, just over one-third of the teachers who attended the first week stayed on for week two. While there were largely high school teachers in attendance, middle school teachers and university faculty also attended each GenCyber Security Training camp.
Teachers who attended the camps hailed from larger population areas such as Denver, Boulder, Longmont, Colorado Springs and Grand Junction, as well as smaller, more rural districts. About half came from a variety of engineering degrees — aeronautics, biology, physics, mechanical engineering — while the other half carry education degrees. Years of teaching varied greatly from less than one year to 20 years. In short, this information is something all teachers can benefit from, regardless of background or experience.
UCCS' GenCyber Camps, funded by the National Security Agency, are supported by a variety of resources that provide an engaging and memorable week (or two) in security education. The curricula for both the introductory and advanced camps provides both classroom teaching and hands-on exercises, supplemented by community speakers in various cybersecurity roles.
Many regional and national organizations stepped up to supplement lessons, including representatives from law enforcement (such as the Colorado Springs Police Department, Cybercrimes Division), the United States Air Force Academy, and the National Cybersecurity Center. In addition, the students heard from a high school teaching peer who is using knowledge from similar educational opportunities to initiate cybersecurity clubs at the high school level to drive greater interest and engagement from students.
The introductory class teaches fundamentals that focus on various computer and network security threats. The advanced GenCyber Camp builds on this knowledge to expand education on information security, network security, and computer forensics.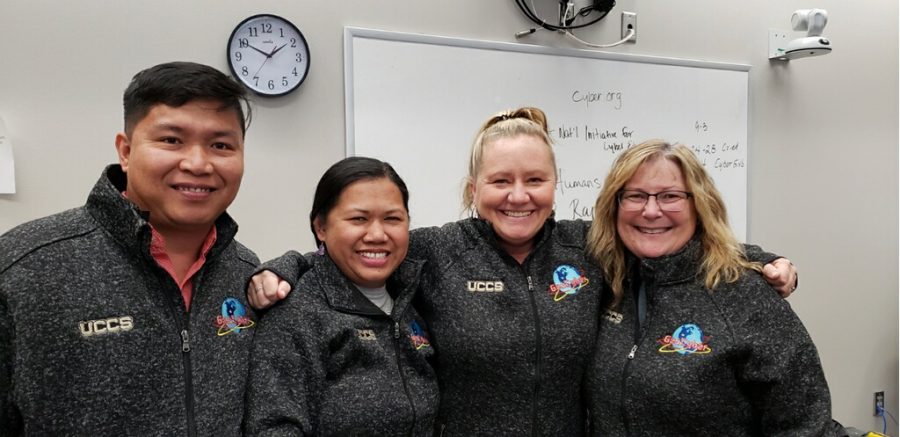 These topics are guided by the specific concepts and principles that help guide the development of each camp, as defined by the NSA. The 10 NSA Cybersecurity First Principles cover basic technology, computing and cybersecurity topics that serve as a foundation for strong education and application. In addition, the NSA has laid out six concepts that support the first principles. They are Defense in Depth, Confidentiality, Integrity, Availability, Think Like an Adversary and Keep it Simple. As you can imagine, these ideas are foundational guidelines that permeate the curriculum at the camps, and are reinforced in the classroom as well as through quizzes and hands-on activities.
Each week-long camp prepares teachers to sit for a Cybersecurity Certification exam offered by the EC Council and respected across industry to ensure a high standard of educational knowledge. In addition to walking away with the opportunity to test for the EC Council Cybersecurity Industry Certifications, teachers take away eight lesson plans that are classroom-ready, cybersecurity card games from CIAS that can be used to introduce concepts and engage students, and a classroom's-worth of cybersecurity career guides that will help their students explore opportunities in the field of security. In addition, attendees at the camps are exposed to numerous opportunities for furthering their education as well as that of their students through skill building and cybersecurity activities to supplement classroom learning — including guidelines for creating student cybersecurity clubs.
Although the backgrounds and objectives of each of the teachers is diverse, the value of the GenCyber camps will be felt, not only by those who attended, but by their students and institutions.
"I really appreciate the efforts from UCCS staff to create a cybersecurity workshop for teachers who don't have a computer science background," said Dawn Lauterbach, a teacher for Poudre Schools in Fort Collins, Colorado. "I'm excited to share career technical education information and materials with my students, which will introduce them to opportunities in cyber."
The emerging need for cybersecurity awareness and expertise becomes more and more apparent each day as malicious actors attack our government, financial institutions, hospitals, retail organizations and schools, among others. But teachers have paid heed to these developments and stepped up to lead their institutions and peers in acquiring and nurturing a key skillset to help fight this alarming trend. As a result, not only will Colorado K-12 schools be more prepared, but middle and high school students will benefit, contributing to the next generation of skilled cybersecurity professionals.
About Cybersecurity at UCCS
UCCS is a recognized cybersecurity education leader in the region, awarding hundreds of degrees each year in cybersecurity fields at the bachelor's, master's and doctoral levels. UCCS cybersecurity programs train security professionals who work to ensure the nation's security and support faculty research and strategic cybersecurity partnerships with industry, government, military and academic institutions, including the U.S. Space Force and the National Cybersecurity Center.  Due to generous Colorado state funding of cybersecurity education, UCCS students are eligible for significant financial aid towards security degree scholarships. Learn more about Cybersecurity Programs at UCCS.