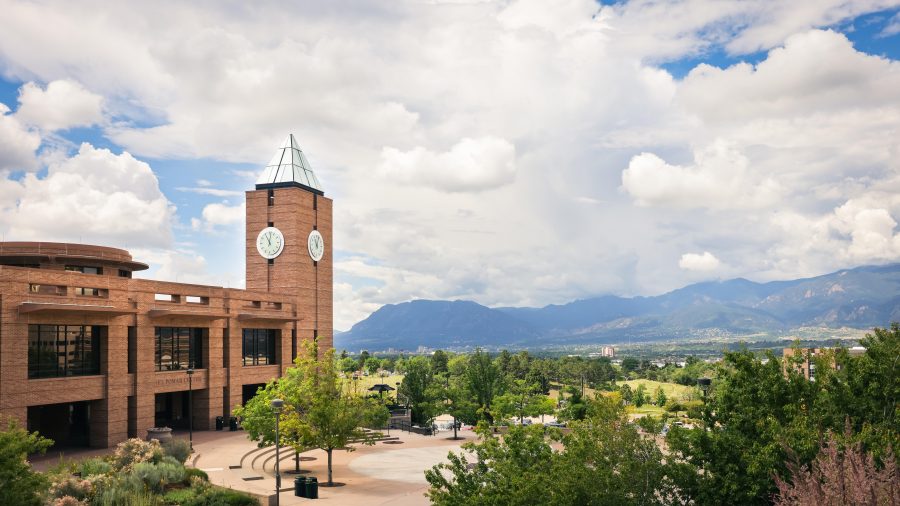 This summer, UCCS is offering multiple free opportunities for Colorado high schoolers to get ahead academically and hone their skills for future career paths. The academic fitness class, offered entirely online, is an accessible option for all high school students. STEM Academy, an in-person day camp, allows students with interests in the STEM fields dive deeper into four different fields of study.
Online Academic Fitness Class
Starting in July, UCCS is offering an online academic fitness class completely free to all Colorado high schoolers. The four-week class, part of the CU Succeed Online program, consists of four self-paced modules and live office hours with the instructors.
The class is being offered for the second year in a row after the initial course filled up completely last summer.
The course, which runs from July 11 – August 5, will teach concepts like time management, help students develop the life skills they'll need in college, and give them a sneak peek into what college assignments are like. It will also build on existing practical skills that apply to students' personal success in high school and other areas of life.
"Last year, the UCCS Academic Fitness class got me excited and prepared for future college-level classes," student Kate Bennett said.
Students who complete the course will receive one college credit.
"We started offering this class to help prepare high school students because we were hearing that there was a need for more students to be prepared for the expectations of college-level classes," said Karen Bisset, Assistant Director of High School Programs. "More and more students are taking college classes in high school and are seeing the value of earning college credit early in their academic careers. We believe this class is an important piece to provide to those students."
The online course is designed to be accessible for any high school student and is particularly advantageous to those in rural districts who may not have access to local college-level courses.
"We've gotten very positive feedback from students, parents, teachers and districts," Bisset said. "The students learn a lot and it's a valuable experience for them."
Bisset said this year, the university has taken steps to give students an even more supportive and meaningful environment in which to take the course.
"The students are being supported not only by the faculty member but also a mentor. This summer, students will be able to interact with a Success Mentor, a UCCS Counseling and Human Services graduate student whose main role is to work with online high school students to make sure they are understanding class expectations, completing coursework and encouraging them throughout the entire experience," Bisset explained.
The deadline to register is July 6. Students can get more information and sign up by visiting https://outreach.uccs.edu/hs/online and scrolling to the "Academic Fitness" dropdown towards the bottom of the page.
STEM Academy
This summer, UCCS is also offering its 9th Annual STEM Academy, a free, hands-on engineering and computer science camp for high school students.
"STEM Academy is a wonderful opportunity for high school students to visit the UCCS campus and gain hands-on experience in team-based engineering and computer science concepts and techniques," said Sue McClernan, Career and Industry Outreach Program Director for the College of Engineering and Applied Science. "The entire camp is geared toward future educational and career opportunities in STEM and includes engagement with volunteer professionals from industry."
STEM Academy, which is sponsored by Northrop Grumman, the National Cybersecurity Center (NCC), and the UCCS College of Engineering and Applied Science, takes place from July 18-22. It's open to any student entering grades 9-12 this fall with strong interest in the STEM fields.
There are four tracks for students to choose from:
Track 1: Cybersecurity
Cybersecurity is more than hacking! Learn about the ins and outs of cyber security and get hands-on cyber security practice all week. Explore cyber security career opportunities, ethics, online safety, and cyber threats. Apply cyber security principles, virtual machines, basic Windows security policies and tools, and account management. Use file protections, auditing and monitoring, Linux, and other software and technologies. Show your stuff by competing in the end of the week CyberPatriot National Youth Cyber Defense Competition.
Track 2: Coding & Game Design
Interested in coding and designing games? Use web technologies to implement a turn-based strategy game of your choosing. We'll cover concepts such as front-end design and the HTML5 canvas, network communication, and game state management in the style of multiplayer visual turn-based games such as Battleship, Risk, Poker, and so on. Design your own custom strategy game! Learn about version control, cloud computing, and continuous delivery by means of GitHub and Heroku.
Track 3: Robotics
Robotics is more than putting together a robot from a kit! Robotics is design. It is construction. It is programming and coding, and its interaction with the environment using technology. Learn more about the foundations of robotics, get your hands dirty building and programming robots, and work with the future of robotic technology. Learn about basic circuitry and design, experiment with robotics and sensors, and build and program robots. Complete a design challenge using everything you've learned.
Track 4: Drones & CAD
Do you have what it takes to think like an engineer? It's time to test your skills in the Drones & CAD (computer-aided design) track. For one week, you will be challenged to work with a team of students to solve an engineering design challenge. Learn new skills critical to succeeding as an engineer. Explore computer-aided design and drone technology. Part planning and design, part building and flying.
Interested students can learn more and sign up at https://eas.uccs.edu/stem-academy.
STEM Outreach Program
This summer, the University of Colorado Colorado Springs will launch the UCCS Stem Outreach Program, which will invite 24 high school students from underrepresented backgrounds to experience collegiate-level labs in chemistry, biology, biochemistry and human anatomy.
Program schedule:
Monday, July 18
Welcome, Orientation (9:00 am)
Safety Training (9:30 am)
Chemistry Lab #1 with Tisha Mendiola Jessop (10:30 am)
Lunch (12:00 pm)
Biology Lab #1 with Cheryl Doughty (1:00 pm)
Break (2:30 pm)
Pre-Collegiate Panel (3:00 pm)
Tuesday, July 19
UCCS Career Center Discussion (9:00 am)
Biology Lab #2 with Tom Wolkow (10:30 am)
Lunch (12:00 pm)
Chemistry Lab #2 with Elise Naughton (1:00 pm)
Break (2:30 pm)
UCCS Alumni/Current Student Panel (3:00 pm)
Wednesday, July 20
Meet at William J. Hybl Sports Medicine and Performance Center 
CU School of Medicine Panel (9:00 am)
Hybl Center tour (10:30 am)
Lunch (12:00 pm)
Human Anatomy & Histology Lab with Sabine Allenspach and Hollis Morgione (1:00 pm)
Financial Aid and Scholarships Panel with parents and students (3:00 pm)
End of Program; pizza party and tour of the campus with parents and students (4:00 pm)
For more details, contact program creator Madison Fox.