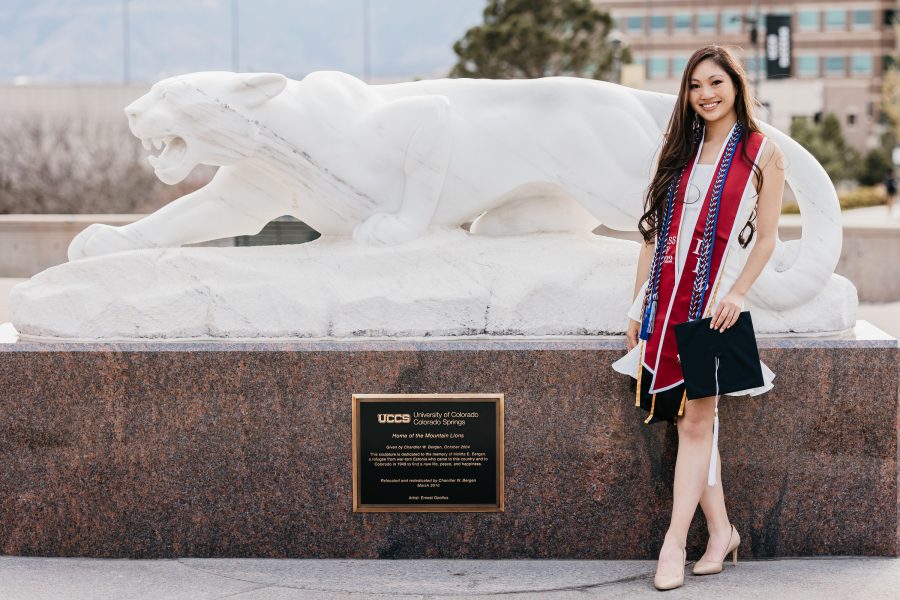 When faced with choices in life, most people choose one thing to pursue: one career, one hobby, one passion. There are only 24 hours in the day, after all, and an "either–or" choice is easier than a "both–and." But "or" is not in Madison Fox's vocabulary. When she chose a rigorous career in biomedical science on top of competing as an elite figure skater, she was interested in doing it all.
Fox, who will graduate from UCCS with a bachelor's degree in biochemistry this spring, started ice skating at just three years old and became a competitive figure skater when she was nine. Throughout middle and high school, she trained at the World Arena Ice Hall in Colorado Springs, then the U.S. Olympic & Paralympic Training Center. By the end of her high school career, Fox was a three-time U.S. medalist, having achieved the highest level of skating in three different disciplines at the U.S. Figure Skating Championships.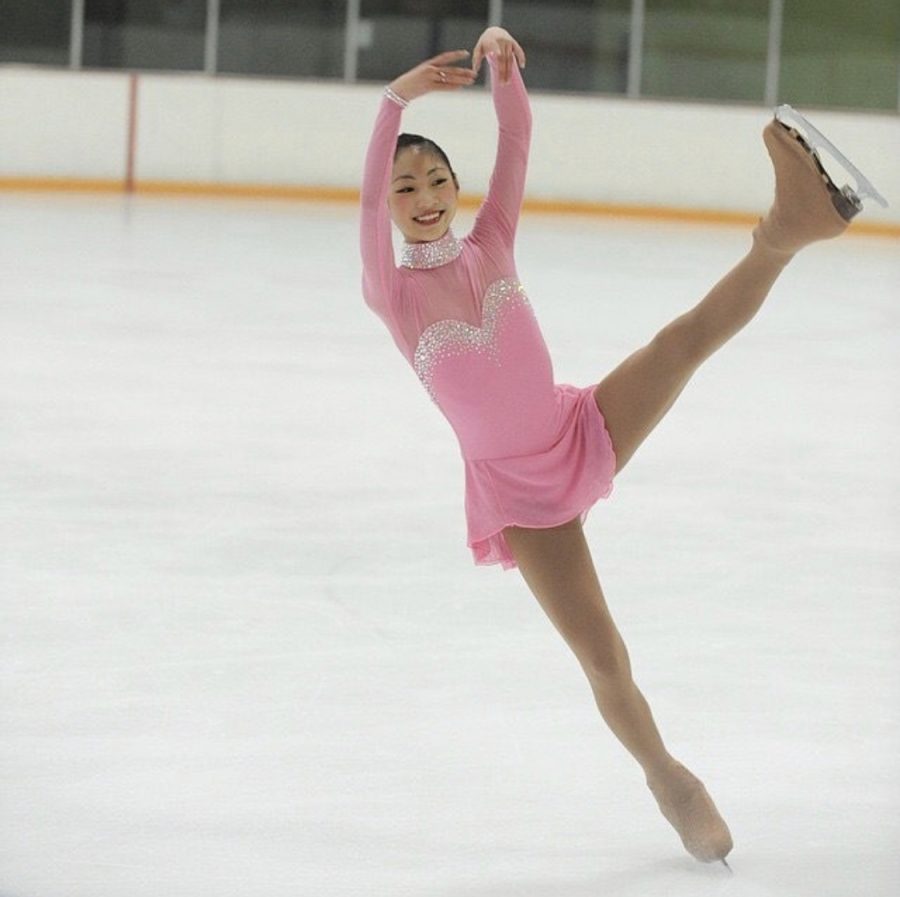 But Fox also had dreams for a future that included a career in medicine. When three close skating friends — Mirai Nagasu, Max Aaron and Jason Brown — told her about their experiences at UCCS, Fox contacted the Department of Chemistry and Biochemistry to see what was possible.
"I told them, 'I'm really interested in eventually applying to medical school and becoming a doctor, and I also really want to train as an elite figure skater. Is this possible? Can I do both?'" Fox recalled. "And Dave Anderson sent me this amazing, incredibly supportive email. I was sold. I enrolled at UCCS and have not looked back since."
Fox was still in training for competition when she began her first year at UCCS. But then COVID-19 hit in 2020. Athletic facilities closed. College classes moved online. And Fox had to revise her dream for the future.
"I didn't retire from figure skating until the pandemic hit," Fox said. "It was so difficult for everybody to do school, sports, everything they wanted to pursue, while the pandemic was going on. And I realized that this was as far as I would go in my skating career, and it was time to be good at other things."
For 15 years, Fox had split her attention between academics and athletics, taking most of her high school classes online while she commuted between her home in Evergreen, Colorado and Colorado Springs to train. But when she chose to retire from figure skating, she turned the full force of her focus and drive onto research and academics. It became the next iteration of her dream.
Breaking Bonds
During her first year at UCCS, Fox approached James Kovacs, Assistant Professor of Chemistry and Biochemistry, to ask if she could be part of his biomedical science research. It was an ambitious ask. Many faculty members, she recalled, told students to talk to them about research positions in their junior year, after they had taken organic chemistry.
"Dr. Kovacs really took a chance on me," Fox said. "I still to this day don't know why. But I was so interested in his work, because he does a lot of work with immunology and HIV, and in his lab, he builds enzymes from scratch. No one else in the department was doing anything like that."
Fox embarked on a research project with Kovacs that would last for the rest of her undergraduate career: building an enzyme that could break one of the strongest chemical bonds in nature, one that holds together harmful pollutants called perfluorinated compounds, or PFCs.
PFCs, Fox explained, are toxic, manmade chemicals frequently used in manufacturing and processing facilities, as well as airports and military installations. They linger in the environment and in the human body, potentially causing tissue damage and developmental concerns. Together, Fox and Kovacs set out to create an enzyme that could break down PFCs into harmless molecules, for the benefit of Colorado Springs — where PFCs can be found in the drinking water — and worldwide. The project could have potentially life-saving implications.
"We were able to make a protein from a tiny, tiny piece of DNA in three years, and it breaks the second-strongest bond in chemistry," Fox said. "Sometimes I'm sitting in the laboratory and I think, 'Wow. This protein has never existed until now.' It reminds me that we're advancing science and doing things no one else has done before."
Building Blocks
In her three years working with Kovacs, Fox realized that her interest in science had deepened into a passion. Some days, she found herself spending 15 hours on campus, running from class to extracurriculars to the laboratory, then working to create the first-ever UCCS STEM Outreach Program, which will bring college-level science, technology, engineering and math experiences to underprivileged K-12 students this summer.
And when it was time to consider her career after college, Kovacs recommended her for a post-baccalaureate fellowship with the National Institutes of Health — then helped her develop the extra skills she would need to stand out.
"Dr. Kovacs made a plan for me, and he taught me very specific cell culture techniques that he knew I would use in the work that I'll be doing," she said. "When it came time to interview, I was able to say that I have experience in cell culture work in both bacterial and human mammalian cells, and that was very impressive to the NIH."
Fox was accepted. After graduation, she'll move to Bethesda, Maryland to conduct virology research on HIV and COVID-19 under Dr. Anthony Fauci. When she finishes her fellowship, the program will help her apply to an MD-Ph.D. program, so that she doesn't have to choose if she wants to be a scientist or a physician. She'll be qualified to do both.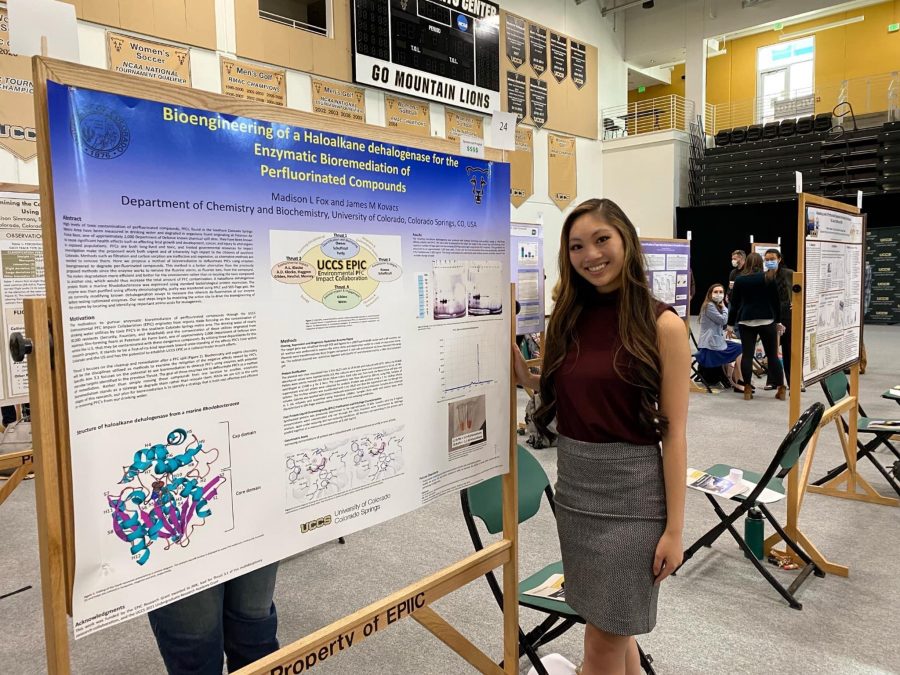 "It's just so wonderful to have worked with Dr. Kovacs for so long, because knows what I want to do with my life, and he helps me every step of the way," Fox said. "It's like building blocks. He gives me these building blocks, and it's up to me to put them in place."
It was lucky, Fox said, to have found a strong mentor, and to have had passions beyond figure skating when a career in athletics no longer seemed possible. But she doesn't discount perseverance or hard work, either.
"I think embracing the struggle is probably the biggest lesson I've learned at UCCS," Fox said. "People, I've found, are scared of failure, or looking bad, or being overwhelmed. When you think about all the things you want to accomplish, you have to keep in mind that failure is inevitable, and things are going to be really tough and really challenging, but you can't back away from it. You just have to persevere. Embrace the struggle. Eventually you will get through it."
It turns out that the equation is simple. Choose what makes you happy — everything that makes you happy.
"I found in my experience that just because you're good at something doesn't mean you'll like doing it for the rest of your life. But you never know unless you try," Fox said. "And I would have so much more regret in my life if I had to just choose one thing to be good at, or one thing to do for the rest of my life. So why not try everything?"
"It doesn't hurt to be ambitious," she said, "and it doesn't hurt to want things for yourself. So do what makes you happy, and don't be afraid of it."
About the UCCS Spring 2022 Commencement Ceremonies
The UCCS spring 2022 Commencement ceremonies will celebrate degrees conferred to more than 1,500 graduates. More than 1,200 will attend the morning and afternoon ceremonies at the Broadmoor World Arena on May 13, 2022, along with family and friends. See the full Commencement program online. View the livestreamed ceremony on YouTube.