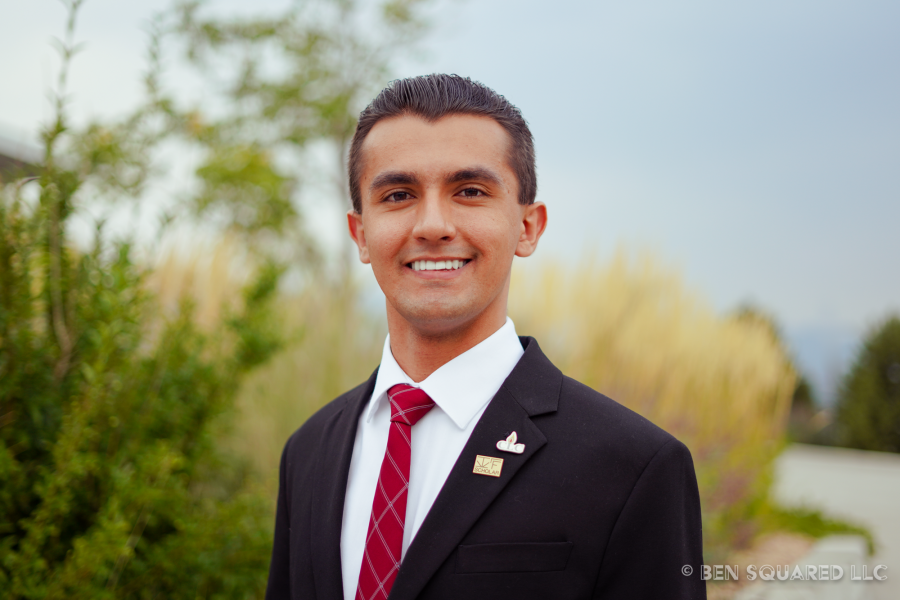 For Karel Hernandez Bandrich, saying yes has elevated his college experience from lectures and libraries to life lessons and leadership.
Born and raised in Mexico, Hernandez and his family moved to the Colorado Springs area when he was 15. When it was time to choose a college, his familiarity with the Colorado Springs community, the UCCS campus and the school's strong reputation in technical education were more than enough to convince Hernandez to enroll following his senior year of high school. But it was the opportunity to stretch his ambition that sealed the deal.
"I thought it was a well-rounded school. There were a lot of extracurriculars and activities, and I wanted to be involved on campus. And I definitely found that," Hernandez said.
Hernandez knew that he wanted to study math in some fashion, so he decided to major in mechanical engineering. As soon as he arrived on campus, Hernandez began employing his "say yes" approach.
"I said yes to everything my freshman year," he said. "Then you start finding places and groups that you keep returning to and saying no to others as you find your areas of passion."
Throughout his four years at UCCS, Hernandez said yes to being a member of the Latinx Student Union, Students Today Alumni Tomorrow, and being a campus tour guide. He also received several scholarships, including the Chancellor's Leadership Class.
What was a wide-eyed freshman open to trying new things is now a graduating senior with valuable life experience. Hernandez has used his four years to develop as a student and as a person.
"As a student, you learn what works for you and what doesn't work for you. You learn to persevere and stick to your goals, even when it gets hard. And you start challenging yourself and doing things you didn't think you could do," Hernandez said. "As a person, I've been exposed to many ways of thinking and living. As a leadership minor, I've learned different ways to lead, how to work with different people, and how to manage relationships."
Hernandez's advice to incoming students is as practical as it is aspirational: "Say yes to everything while you're taking the relatively easy classes and not worried about internships and higher level classes. Find your community where you belong, that little group of people that keep you motivated and make college more fun."
Hernandez plans to stay at UCCS and has already started taking graduate classes as part of the Accelerated Master's Program in mechanical engineering. His ultimate goal is to become a college professor.
Hernandez looks back on his first four years at UCCS with pride and appreciation. "I managed to make an impact and be involved. I gave a lot to the university these past four years, and the university has given me so much in every aspect. I'm just proud of this journey."
About the UCCS Spring 2022 Commencement Ceremonies
The UCCS spring 2022 Commencement ceremonies will celebrate degrees conferred to more than 1,500 graduates. More than 1,200 will attend the morning and afternoon ceremonies at the Broadmoor World Arena on May 13, 2022, along with family and friends. See the full Commencement program online. View the livestreamed ceremony on YouTube.