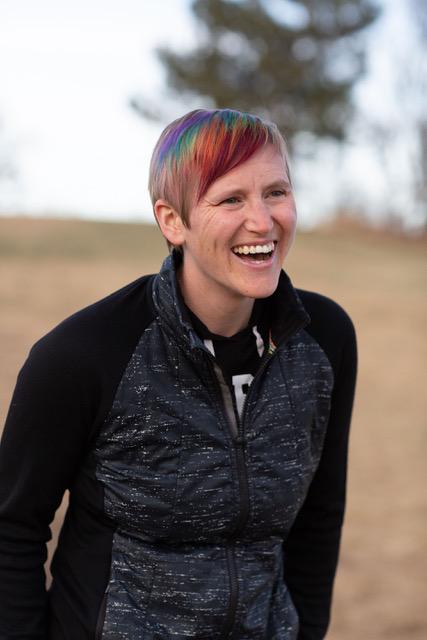 What is the right way to respond to deeply unjust circumstances? Is it to accept injustice, or to protest? And if one does fight back, how far should that protest go?
These are the questions at the heart of "The Philosophy of Protest: Fighting for Justice without Going to War," published by Jennifer Kling, Assistant Professor of Philosophy and Director of the Center for Legal Studies at UCCS in 2021.
Co-authored with Megan Mitchell, Assistant Professor of Philosophy at Stonehill College, the book grapples with how we should think about protest, especially in the face of serious, substantial and ongoing injustices — and whether violence is ever a defensible option.
"Against much of the popular discourse, we defend the view that suitably constrained violent political protest is sometimes justified," Kling and Mitchell write. "Violent political protest is not simply revolution by any other name — it's a last-ditch effort to remedy injustice without going to war."
Central to the book are several case studies, which illustrate real-world examples of contemporary protest. Far too often, Kling and Mitchell realized, philosophical discussions of protest rest on hypotheticals. The case studies ground the volume in the real world, and add to its immediacy. Kling and Mitchell also avoided situating their arguments in the realm of the ideal, preferring to point to actual injustices faced today.
"We wanted to write a theory of protest for our world," Kling said.
To share more about the book and its origins, Kling answered seven questions below.
1. If you were describing your book to someone outside of your field, what would you say?
In the book, against much of the popular discourse, Megan and I defend the view that suitably constrained violent political protest is sometimes justified in real-world liberal societies. Violent political protest is not simply revolution by any other name — it's a last-ditch effort to remedy injustice without going to war.
I promise, there is a series of arguments in the book (including discussions of liberalism, violence, political action, protest, suasion, protestors, pragmatics, morality, revolution and more), so before you agree or disagree with us, take a look.
2. How did you get the idea for your project?
Megan and I came up with the core idea for the project in graduate school, when we were studying for our comprehensive exams in political philosophy. We then developed that initial idea into an article, "Bottles and Bricks: Rethinking the Prohibition Against Violent Political Protest," published in "Radical Philosophy Review" in February 2019. Upon realizing that the article left a lot of questions still unanswered, we conceptualized and wrote the book!
3. Did your focus develop or change throughout the research and writing process?
During the writing process, we realized the importance of case studies. All too often, philosophical discussion of protest begins with the phrase, "Let's imagine that…". We wanted to write a theory of protest for our world. So, we added in several real-world case studies of contemporary protest, which inform and elucidate our discussion.
4. Which idea do you write about that most excites, invigorates or inspires you?
I really like the idea that non-lethal violent political protest can be a way of reconciling our moral and political rights and obligations, which sometimes pull apart from each other in deep, divisive ways. Morally, we have a right (perhaps an obligation?) to defend ourselves and others. Politically, we have an obligation to pull together with others to try to change our societies toward justice. Non-lethal violent protest, in some cases, can be a way of reconciling these two spheres, of acting morally and politically at the same time.
5. Describe your writing space. Where do you do your best work? What time of day? Do you have any writing routines you are willing to share?
I try to write first thing in the morning, for at least 30 minutes, every weekday. Importantly, I don't open my email until I'm done writing for the day! Other than that, it's just one word after the next, until you have something worth editing.
6. Is there a favorite quote or passage you want to showcase from the book?
"We find ourselves in a world where people live under conditions of serious oppression in ostensibly liberal societies. According to the international laws of war and just war theory, they would be justified, in many cases, in attempting revolution. But we do not here call for revolution against the oppressors of the world; that would be a much different book. Instead, we argue in support of reimagining aspects of the liberal project so that it can provide a path forward for contemporary, deeply non-ideal liberal societies. To borrow Juliet Hooker's apt phrasing, we need a fugitive politics of protest. In our view, this requires reconciling the use of nonlethal violence with an understanding of protest as a particular kind of political communication that is borne out of, and grounded in, our political obligations to each other and our society."
7. What new questions for future exploration have you discovered?
I am currently thinking about uncivil obedience, sometimes called malicious compliance, as a form of protest. How should we regard it, morally, politically, and pragmatically? What are the limits of uncivil obedience?
In addition, we distinguish between protest and the broader notion of resistance in the book. Going forward, we want to consider how resistance differs from protest, and what the limits of resistance are. When does it turn into rebellion or revolution?
UCCS celebrates faculty and staff who author and edit books each year. In recognition of their achievement, and as part of the UCCS Author Spotlight initiative, authors are invited to submit details on their published works.