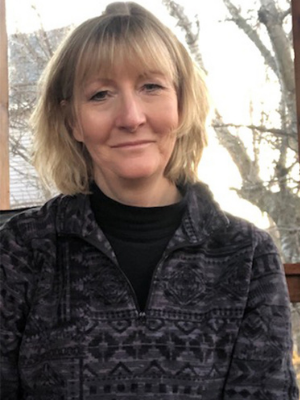 Cynthia McGrath '88 has hard evidence that getting a graduate degree can help you do more.
In her case, earning a Master's of Public Administration (MPA) in 1988 gave her a nearly 30-year career as a Special Agent of the Federal Bureau of Investigation before retiring in 2019.
McGrath initially wanted to study law but through guidance from impactful UCCS professors and speakers, like former Colorado Springs District Attorney Bob Russell and an active duty Colorado Springs police officer, she was inspired to consider law enforcement as a profession instead.
"After listening to all the different people in law enforcement, I decided I was more interested in law enforcement — finding the pieces and putting them together," McGrath says.
Beyond getting exposed to workforce expertise in the classroom, McGrath also got more knowledge through real-world experiences, like a formative study abroad trip to Poland to attend a conference on Organizational Development.
Once there, McGrath was exposed to harsh realities of Cold War-era Soviet rule and the lack of freedom citizens had to improve their quality of life.
A whole new perspective
"I remember these Polish men speaking to our group about how difficult it is in a Communist system to motivate your workers, because there's no benefit," McGrath explains. "Never having traveled beyond the United States, it made me appreciate what we have here a great deal."
With a newfound desire to serve her country, McGrath began exploring career options using her graduate degree but, given that she was a woman, they felt limited.
"Back then I didn't know that women could be FBI agents," McGrath says. "My only familiarity was from television and all those agents were men."
Then she saw an ad for an FBI Informational Seminar in Colorado Springs.
"They had a female agent there and, by the end of the evening, I knew that's what I wanted to do," McGrath says. "It met all my goals."
A career-boosting degree
With that, McGrath applied and used skills from her graduate degree to take on an extensive written exam and intimidating interview with three veteran Special Agents.
"It gave me that boost, so to speak," McGrath notes. "Just interacting with people, I felt more comfortable."
In May 1990, McGrath was sworn in as a Special Agent and sent to the Minneapolis Field Office to fight "white collar" crimes like fraud and scams before working her way into classified Counter-Terrorism and Counter-Intellgence work.
Because McGrath liked being so closely involved with investigating crimes, she made the choice early on not to change rank but did take on other jobs to become a better agent, including Evidence Collection and Crisis Negotiation.
"I'm a good listener," McGrath says. "If you're able to get suspects to talk about what's going on, that helps lower emotions. When emotions are lower, people are more rational and make better decisions."
From public administration to negotiation
In 2002, McGrath successfully negotiated the surrender of the "Midwest Pipe Bomber," a 21-year-old college student who was planting explosive devices across the West, trying to map out a path of senseless destruction.
McGrath's ability to speak empathetically with anyone, including violent criminals, wasn't just picked up on the job, it was honed by conversing with peers, foreign students and professors during her Master's program.
"You have to learn about another's point of view and have a certain openness," McGrath says. "If you're closed off, you're not going to listen."
This solid foundation is why McGrath feels that she owes a debt of gratitude to her graduate studies, explaining that her life would have been very different without another level of education.
A life-changing decision
"Getting my Master's at UCCS was the best decision I've made," McGrath says. "I enjoyed the opportunity it gave me to have a 29-year career in law enforcement."
So for students who want to do more, from schooling to pursuing justice, McGrath puts it simply.
"Look at the minimum requirements, then make sure you go beyond them. There are so many job applicants, you need to stand out. Whether that's with a Master's or a Doctorate — anything that you can do to better yourself is so important. No one should ever stop learning."