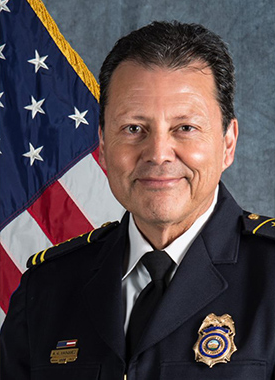 Adrian Vasquez '17 has been nominated by Mayor John Suthers to serve as the Chief of Police for the Colorado Springs Police Department, cementing a career in public service.
Vasquez, who earned his Master of Criminal Justice from UCCS in 2017, joined the Colorado Springs Police Department in 1995 after nearly a decade of service with the U.S. Air Force. He served as a patrol officer, then a narcotics officer, spending time in the Sand Creek Division, the Metro, Vice, Narcotics and Intelligence Division and on the Drug Enforcement Agency Task Force. He was promoted to Lieutenant in 2011, Commander in 2016 and in 2017 was transferred to the Specialized Enforcement Division, where he oversaw tactical operations, patrol support and protective security.
Finally, in 2019, he was promoted to Deputy Chief, where he has overseen the Patrol Operations Bureau.
Vasquez's career in public service echoes that of his father, who served as a Colorado state trooper.
"I'm a Colorado native, and I really wanted to put on this uniform and serve our community," Vasquez said.
But Vasquez didn't think his journey would include a college degree — until he realized that he could put his decade of service with the Air Force to use in civilian law enforcement. He enrolled in the Master of Criminal Justice program at UCCS while working full-time, often fielding emergency calls in the middle of classes.
"It was a balancing act to get to classes, but every professor was completely understanding.," Vasquez said. "I remember having to take a murder call and left without saying anything, but they never batted an eye. They had an understanding of what I was responsible for."
Both his education and his classmates helped to broaden his understanding of the law enforcement field — offering lived experiences with the police along with ethics, theoretical underpinnings and a sociological perspective.
"For the most part, my fellow students were not police officers," Vasquez recalled. "They brought a perspective to me that was important to hear regarding constitutional rights and how officers act in the street. It was critical for me."
Vasquez earned a bachelor's degree in Sociology from Colorado State University and a Master of Criminal Justice from the University of Colorado Colorado Springs (UCCS). He is a graduate of the Center for Creative Leadership and the FBI National Academy, Session 267.
Vasquez was selected Chief of Police through a national search process. His nomination by the mayor must be confirmed by the Colorado Springs City Council.
About the UCCS School of Public Affairs 
The UCCS School of Public Affairs is one of the premier schools of public administration in the Rocky Mountain West. Its relevant and flexible programs prepare students for leadership in the public and nonprofit sectors, including criminal justice and social work. The School of Public Affairs offers both traditional and accelerated undergraduate and graduate programs, with options to earn dual degrees and graduate certificates. Learn more about the School of Public Affairs at UCCS.