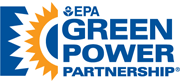 The U.S. Environmental Protection Agency recently lauded UCCS for its purchase of 3 million kilowatt hours of green power annually.
In communication with Linda Kogan, director, Office of Sustainability, EPA officials praised UCCS for its purchase of Renewable Energy Certificates as part of the EPA's Green Power Partnership Program. The certificates are for electricity generated from renewable resources such as wind, solar, and geothermal.
UCCS purchased 3 million kilowatt hours last year, equivalent to about 14 percent of the university's total electricity consumption.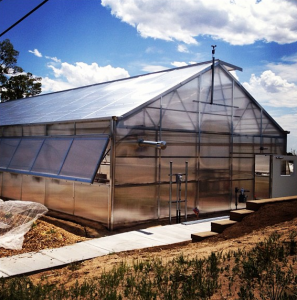 "We are proud to be recognized by the EPA," Kogan said. "Using green power helps UCCS become more sustainable and sends a message that supporting clean energy is both a good decision from the business perspective and in taking steps to protect our climate. This purchase of Renewable Energy Certificates assists UCCS to meet the American College and University Presidents Climate Commitment."
The EPA estimated that UCCS actions reduced carbon dioxide emissions at a rate similar to that of 400 passenger cars or 300 homes.
In addition to the purchase of Renewable Energy Certificates, UCCS has undertaken the following actions in recent years.
Construction of seven Leadership in Energy and Environmental Design buildings at a gold level. All new buildings are built to meet LEED gold standards.
Installation of solar panels on three campus buildings, Recreation Center, Centennial Hall, Osborne Center.
Implementation of a single stream campus-wide recycling system  and composting program.
Replacement of lighting fixtures with high-efficiency designs.
Retrofitting of building heating and air conditioning systems with high-efficiency designs.
Development of a campus guideline to purchase Energy Star-rated appliances.
Addition of a campus greenhouse to supply local food to Café 65.
Initiation of a campus-wide "turn it off" campaign to encourage faculty, staff and students to turn off lights and other electric devices when not in use.
Conversion to 100 percent recycled paper in most campus offices.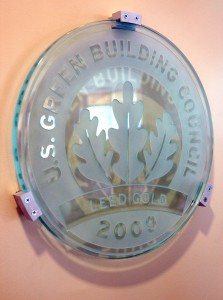 The Green Power Partnership is a voluntary program that encourages organizations to use green power as a way to reduce the environmental impacts associated with electricity use. The partnership currently has more than 1,500 partner organizations voluntarily using billions of kilowatt-hours of green power annually. Partners include a wide variety of organizations large industrial giants, small and medium sized businesses, local, state, and federal governments, and colleges and universities.
For additional information, please visit http://www.epa.gov/greenpower.