In 10 program evaluator training sessions this week, Kelli Klebe, dean, Graduate School, and Susan Szpyrka, vice chancellor, Administration and Finance, outlined an inclusive data-driven process to complete a CU Board of Regents-directed Program Prioritization process at UCCS.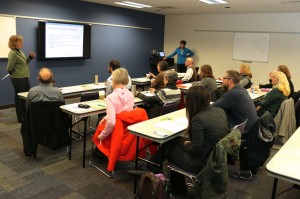 More than 105 faculty and staff members will take part in evaluating 59 degree programs and 66 non-degree programs. The evaluators, many nominated by campus governance organizations, learned details of the task ahead of them during 90 minute sessions this week.
Evaluators were instructed to review data provided as well as responses to a qualitative surveys before assigning scores. Each evaluator will work independently, confidentially and objectively. Evaluator groups come together to share their scores before a final submission.
"This is a lengthy, important task," Szpyrka said during the training session. "It's important that you take the responsibility you are being given seriously and meet deadlines."
Degree and non-degree program evaluators will use different data points.
Evaluators for degree programs will use information such as enrollment, scholarly activity, financial information and faculty merit as well as a qualitative survey to assess scores. Evaluators for non-degree programs will review human resource and financial data in addition to qualitative survey.
For degree programs, evaluations will be completed by three cross-campus teams and academic deans. Non-degree programs will be evaluated by three cross-campus teams and department executive directors.
The evaluators will work independently throughout February before meeting in teams in mid-March and completing scoring by March 24 in preparation for a campus presentation April 21 and an April 29 presentation to the CU Board of Regents.
Eventually, all degree and non-degree programs will be placed into one of five categories: exemplary, prominent, accomplished, strategic or needing further study.
Szpyrka and Klebe emphasized that the goal of the reviews was to look toward the future and are not intended to eliminate programs or positions.
Questions about the evaluations should be directed to Klebe, 255-3779, [email protected]  (degree), Szpyrka, 255-3210, [email protected]  (non-degree)
Related articles
Program Prioritization, budget discussions dominate forum
Expanded budget reviews begin program prioritization process
— Photo by Philip Denman