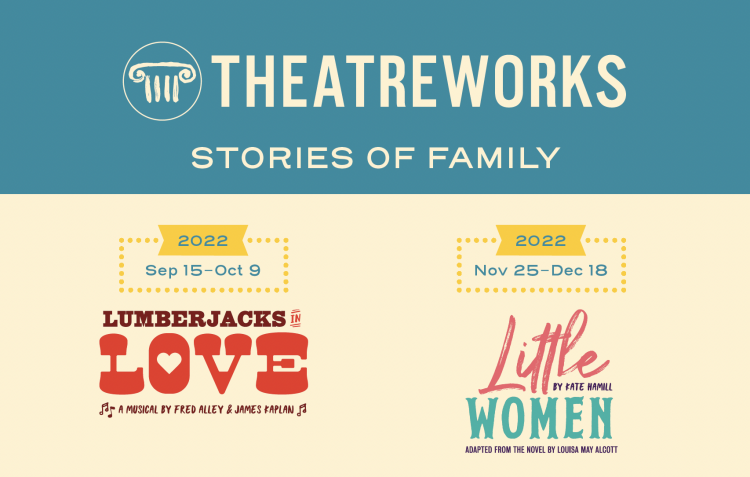 Following a triumphant return to live theatre in their 2021/2022 season, Theatreworks is excited to announce their six-show 2022/2023 season, featuring several productions salvaged from the 2020/2021 "Season That Never Was," as well as a handful of new titles. The season centers on stories of family: those we are born into and those we make ourselves.
2022-2023 Production Overview
Lumberjacks in Love
by James Kaplan and Fred Alley
Director: Caitlin Lowans
September 15 – October 9, 2022
Lumberjacks living in semi-unwashed bliss find their rustic bachelor lifestyle disrupted by the arrival of a spunky mail order bride. Featuring actors playing their own bluegrass instruments, the ensuing musical madness celebrates the flannels we wear, the families we choose, and the unexpected twists that just might change everything.
Little Women
adapted by Kate Hamill from Louisa May Alcott
Director: Kathryn Walsh
November 25 – December 18, 2022
Revisit Alcott's timeless tale of family, growth, and sisterhood through Kate Hamill's fresh stage adaptation. Follow the March siblings' coming-of-age and reflect on the joys and trials of finding your place: in a family, in a calling, in the world.
Aubergine
by Julia Cho
February 2 – 19, 2023
A Korean-American chef cares for his dying father but struggles to connect. When his uncle arrives unannounced to cook an unexpected meal, they share more in food than they ever could in words. This poignant play explores food as nourishment, not only to the body, but also to our individual heritage and shared humanity.
The Half Life of Marie Curie
by Lauren Gunderson
March 16 – April 2, 2023
When two Nobel prizes prove inadequate armor against scandal, Marie Curie turns to fellow scientist and trusted confidant Hertha Ayrton to weather the storm of heartbreak, public opinion, and self-doubt. At its core a tale of women's friendship, this play explores the hidden costs of progress, and the relationships that hold us up when we can't stand on our own.
King Hedley II
by August Wilson
April 27 – May 21, 2023
The 1980s installment of August Wilson's acclaimed cycle, "King Hedley II" follows the title character as he rediscovers relationships with his mother, his wife, and his community after a long absence. Examining legacy, destiny, and free will, Wilson uses family ties (and long-kept secrets) to ask what most defines us: the blood we share, or the blood we spill?
The Taming of the Shrew
by William Shakespeare
July 6 – July 30, 2023
"I see a woman may be made a fool/If she had not a spirit to resist." Come see a gender-swapped take on Will's original battle of wills. Kate and Petruchio, equals in intellect, impudence, and perhaps even infatuation learn to balance identity and belonging, with plenty of sniping, head-butting, and comedic interludes along the way.
Also coming in the season:
Young Audience Winter Puppetry
developed with Katy Williams
December 3 – 18, 2022
Following two highly successful collaborations with Katy Williams Design, join us once again to explore wintery stories through the magic of puppetry. Charming, frosty fun for the whole family.