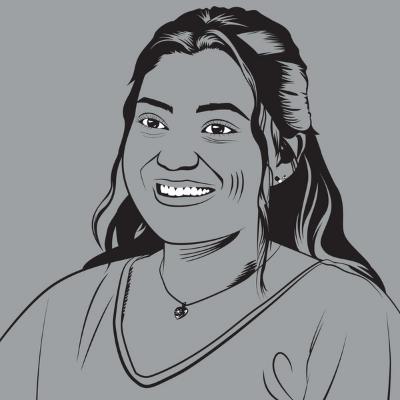 The destination for Citlally Davila-Ruiz has always been to obtain a college degree. But another passion was developed along the way.
Ruiz graduated from high school knowing the importance of education because her parents spoke of it often. Neither of her parents graduated from high school, but they gave Ruiz the drive to not only graduate from school but also to go on to college.
That drive was met with obstacles, considering Ruiz did not have the finances, nor did her parents, to afford to college.
After a conversation with a close family friend, Ruiz knew her passions for the military and college could come together to be her reality.
"I shared my interest for the military with a family friend, and she helped me think about college and all of my goals," said Ruiz. "She told me there are too many opportunities available to me and I shouldn't throw any of them away."
That conversation gave Ruiz the confidence she needed, and she applied to UCCS after learning more about the Army ROTC program and because she found studies that aligned with her passions.
Today, Ruiz is a senior studying criminal justice with a minor in sociology and military sciences, and a member of the UCCS Army ROTC program.
"The ROTC program at UCCS has given me the opportunity to be part of a program that challenges me daily and has helped me grow as a person and a leader," she said.
Another growth opportunity for Ruiz was being awarded the Bruce and Anne Shepard Reach Your Peak (RYP) scholarship.
When Ruiz learned she was selected as a RYP scholar, she was immediately filled with joy.
"I was so proud because I pushed myself to pursue my dream of attending college," said Ruiz, "I knew that my hard work and persistence to become successful were paying off."
When Ruiz looks back, she recalls feeling uncertain and completely overwhelmed about college. Now, those feelings have shifted and she feels a sense of appreciation, she feels accomplished and she is incredibly proud.
"My greatest experiences at UCCS have been lived through the ROTC program and the commandery I have built with my peers," said Ruiz. "UCCS has given me the opportunity to become part of something bigger than myself through the ROTC program.
Ruiz is living out her aspirations and after graduation she will be commissioned into the U.S. Army as a Second Lieutenant, and hopes to apply to law school in the future to become a lawyer for the military.
When asked her advice for first-generation students like herself, Ruiz shared: "Just go for it! Being a first-generation college student will come with a lot of fear, excitement, and anxiety, but your college years will be the best learning experiences for you, not only professionally but personally as well. Don't be afraid to put yourself out there, try different things, and set big goals."
With determination and never losing sight of her goals, Ruiz is living the life she did not think was possible.
"I would like to sincerely thank the RYP donors for being part of my UCCS journey," said Ruiz. "The RYP scholarship not only helped me financially but allowed me to become part of the great community at UCCS. I am thankful for the RYP scholarship program and will never forget all the individuals who helped me along the way."