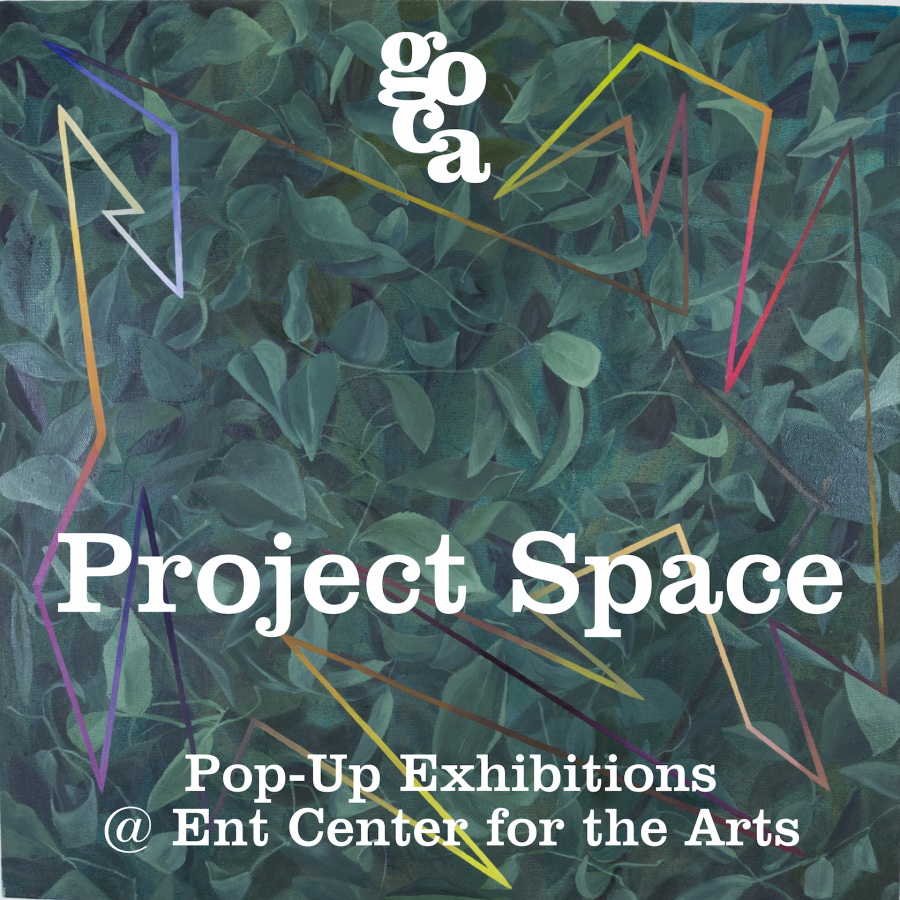 UCCS Galleries of Contemporary Art (GOCA) will be offering a new series of experimental exhibitions starting April 1 in GOCA's project space at the Ent Center for the Arts. GOCA is inviting three innovative artists – Caitlin Goebel, Jessica Langley and Cymon Padilla – to present works in short-run exhibitions in its project space, adjacent to the main space gallery at the Ent Center. This new series will also invite guest writers to respond to the works, seeking to elevate critical dialogue in the regional community. The series is curated by Daisy McGowan, GOCA's director.
The exhibition will be featuring Caitlin Goebel from April 1-16, Jessica Langley from May 5-21 and Cymon Padilla from October 1-15.
GOCA's mission to spark engaged dialogue about contemporary culture and current issues, and to make space for diverse perspectives, is a driving force behind this new series.
The public is invited to a series of gallery talks with the artists in conversation:
Friday, April 1 at 6 p.m. with Caitlin Goebel
Thursday, May 5 at 6 p.m. with Jessica Langley
Saturday, October 1 at 3 p.m. with Cymon Padilla
These talks are free to attend, but pre-registration is requested. The project space will be open same hours as the main space gallery, so please check the website for the most up-to-date hours, or make an appointment by emailing [email protected].
About the artists
Caitlin Goebel was born in 1989 in Long Beach, California. Her work is inspired by and composed of ephemera such as disposable tablecloths, fast-food advertisements, pornography, glitter, flocking and faux flora. She addresses the porous boundary between self and reality by exploring autonomy, automation, consumption, intimacy, magic and prophecy. Goebel creates paintings, collages and prints through a process of manifestation and manipulation that begins in materiality and finishes in conceptualism.
Her work has been featured nationally in group exhibitions, including "Fan Mail" at RedLine Contemporary Art Center (Denver, 2019), "Juicy" at The Front (New Orleans, 2017), "Gone Soft" at Pehrspace (Los Angeles, 2016), and "Bright Young Things" at Gallery of Contemporary Art (Colorado Springs, 2015). Her solo exhibitions include "The Thing That Isn't There" at The Tim Gill Center for Public Media (Colorado Springs, 2018), "Missing the Point" at AHA Gallery (Colorado Springs, 2016), "Correcting/ed Objects" at the Heller Center for the Arts and Humanities at University of Colorado (Colorado Springs, 2015), and "Horror Vacui" at The Modbo (Colorado Springs, 2013).
Goebel was co-owner and curator of Rubbish Gallery in Colorado Springs and founder and curator of CLOSED Gallery in Denver; Goebel also guest-curated "Cybercy: Exploring the Post-Internet Matrix" at the Gallery of Contemporary Art (Colorado Springs, 2017), for which she was awarded a Kick-Ass for Art Award from the Gallery of Contemporary Art.
Instagram: @goebel_goebel_hey
Jessica Langley is a multimedia artist born in 1981. She has exhibited her work internationally, and has been an artist-in-residence in numerous programs including Skaftfell Center of Visual Art in Iceland, Askeaton Contemporary Art in Ireland, the SPACES World Artist Program in Cleveland, and the Digital Painting Atelier at OCAD-U in Toronto. She was a recipient of the J. William Fulbright Scholarship for research in Iceland, and earned her MFA from Virginia Commonwealth University in 2008. She is an amateur mycologist, and her artwork and writing have been published in the New York Mycological Society Newsletter, New American Paintings, NPR, Hyperallergic, and Temporary Art Review.
Instagram: @therealjesslangley
Cymon Padilla  fuses disparate elements of contemporary visual culture in his paintings and drawings. Using traditional oil painting techniques, Padilla combines, collapses and remixes "the imitated world" onto the flat surface of the picture plane.  Recent bodies of work mash-up classical European figurative work with the golden age of Disney, Saturday morning cartoons, pop art  and vintage advertisement.  
Cymon Padilla has exhibited his work throughout Colorado in numerous solo and group exhibitions. He received his Associate of Arts degree in 2012 from Pikes Peak Community College. Padilla was born and raised in Colorado Springs, where he lives and works today. 
Instagram: @cymonpadilla
About the UCCS Galleries of Contemporary Art (GOCA)
UCCS Galleries of Contemporary Art (GOCA) is a regional hub of contemporary art, culture, and conversation. By featuring world-class artists, hosting artist and expert talks, and independently GOCA is a regional hub of contemporary art, culture, and conversation. By featuring world-class artists, hosting artist and expert talks, and offering meaningful events, GOCA engages UCCS students, faculty, staff and Pikes Peak Region community members in contemporary culture and life. GOCA is a contemporary arts organization with two galleries, one founded on the UCCS campus in 1981 and a satellite downtown location that opened in 2010 in the Plaza of the Rockies building.