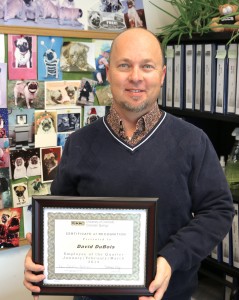 Whether organizing travel expenditures, managing listservs or shepherding newly admitted students through their graduate programs, David DuBois' dedication is unquestionable.
That dedication was recently rewarded when DuBois, program assistant, Psychology Department, was named Employee of the Quarter.
"[David] works diligently and efficiently, and manages to keep a calm and steady demeanor in the face of multiple, competing demands on his time," Edie Greene, professor and department chair, Psychology Department, said in her nomination letter. "He has become a trusted and highly valued member of our department."
While DuBois' duties may be spread out, he will be the first to tell you where his passion lies: working with students.
The 14-year UCCS veteran acts as the department's point person to  graduate students, helping them apply for programs, orient them to campus, advising on thesis and dissertation formatting, and filing graduation paperwork.
"It's really rewarding to assist students with some of the technicalities of being a student, the mundane paperwork and bureaucracy," DuBois said. "It's nice to know that I can help somebody by taking that off their plate so they can focus on the educational part of being a student, and not filing the correct paperwork."
While it would be easy for DuBois to take credit for his success, he's quick to point out that he would not be able to succeed without the help of everyone in his department.
"I can't imagine a better group of people to work with than what I have here, they do everything they can for us," DuBois said. "I never envisioned that I'd want to work at a university, and now I don't have any desire to work outside of UCCS. If I retire working inside the Psychology Department, I'll be perfectly happy."
Outside of work, DuBois enjoys reading fiction, cooking and spending time with his wife, 15-year-old daughter, and his pug.
— Photo by Philip Denman