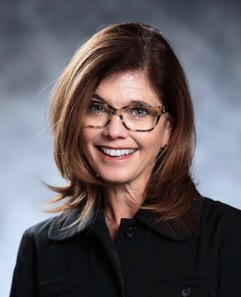 The annual fundraiser and celebration for the Karen Possehl Women's Endowment (KPWE) scholarship, the Unstoppable Women's Event, will be hosted at the Ent Center for the Arts at UCCS on Wednesday, May 18 from 5:00 to 6:45 p.m.
Community supporters of the KPWE scholarship will have an opportunity to attend the Unstoppable Women's Event in person, or audiences can tune in online and watch the event live.
The annual event recognizes an unstoppable woman within the Colorado Springs community. The 2022 Unstoppable Woman award will be presented to Sally Hybl.
"Sally has used her voice and passion to uplift many people and initiatives across Colorado Springs," said Lee Ingalls Noble, chair of the KPWE advisory board. "She is a true definition of an unstoppable woman who believes in empowering those around her and she does it with a smile and a sincere heart."
"I am thrilled that Sally Hybl, a longtime champion of the arts and UCCS, has been named the 2022 Unstoppable Woman," said Venkat Reddy, Chancellor of UCCS. "Sally joins a remarkable group of women who are deeply committed to our community and who inspire and strengthen those around them. Sally shares her time, talent and leadership with the world to create meaningful connections and opportunities for so many. The Colorado Springs we know and love has been shaped by her incredible efforts over the years. From the arts to improvements in healthcare, Sally has truly transformed our community, city and region for the better."
This year's program will also include inspirational stories from graduating KPWE seniors and KPWE alumni.
KPWE's annual event raises critical funds for the KPWE scholarship program. A college degree is a lifeline to self-sufficiency; when the degree is paired with the mentorship and career support from KPWE, the scholarship program changes generations.
In-person and virtual tickets for the Unstoppable Women's Event can be purchased online. Tickets can also be purchased by calling the Ent Center Box Office at 719-255-8181.
A list of past Unstoppable Women can be found here.
Interested in becoming an event sponsor? Contact Christine Noack at [email protected] or call 719-255-5703. For event-related information, contact [email protected] or call 719-255-5100.
About Sally Hybl, a compassionate community advocate
As a mom, daughter, sister, philanthropic consultant, actress, vocalist, civic leader, volunteer and lifelong resident of Colorado Springs, Sally Hybl has been an active part of the community for decades. Sally is a champion and supporter of institutions and organizations important to the fabric of the community and its history, including the Colorado Springs Fine Arts Center, Cheyenne Mountain Zoo, Peak Vista Community Health Foundation and the Tradition of Excellence Foundation. Under the leadership of Chancellor Emerita Pam Shockley-Zalabak, Sally became intimately involved in supporting public-private partnerships for UCCS including the Lane Center, Ent Center for the Arts, and William J. Hybl Sports Medicine and Performance Center. An accomplished actor and advocate for the arts, Sally has served on the boards of UCCS Theatreworks, Cultural Office of the Pikes Peak Region, Opera Theatre of the Rockies and the Colorado Springs Fine Arts Center. She has performed with Colorado Springs Philharmonic, the Fine Arts Center Theatre Company, Opera Theatre of the Rockies and Theatreworks. Sally currently serves on Children's Hospital Colorado Foundation Board of Trustees, Children's Hospital Colorado Southern Colorado Advisory Board, Pikes Peak Hospice Board of Directors and the CU Foundation Board of Trustees.
About the KPWE Scholarship
The KPWE scholarship established in 1998 by Karen and Jim Possehl, provides financial assistance and mentor support for nontraditional UCCS students who are starting or returning to college after having overcome significant personal adversity. In addition to providing tuition assistance, KPWE matches scholars with community mentors who offer encouragement and professional contacts. The program provides career-focused workshops giving students the chance to gain skills outside of the classroom. Since the program's inception, more than 200 KPWE scholars have graduated from UCCS. For more information on the KPWE Scholarship program, visit kpwe.uccs.edu.