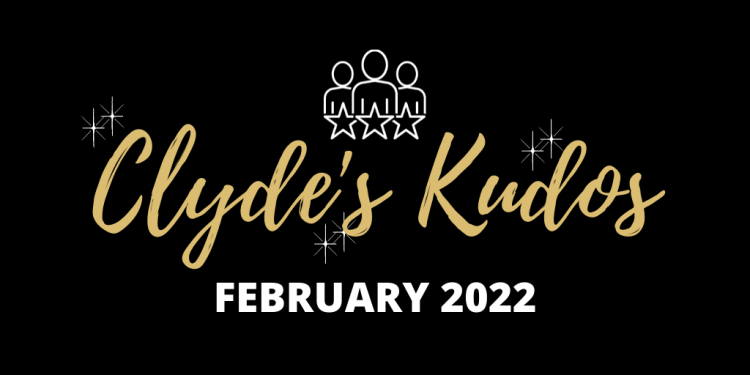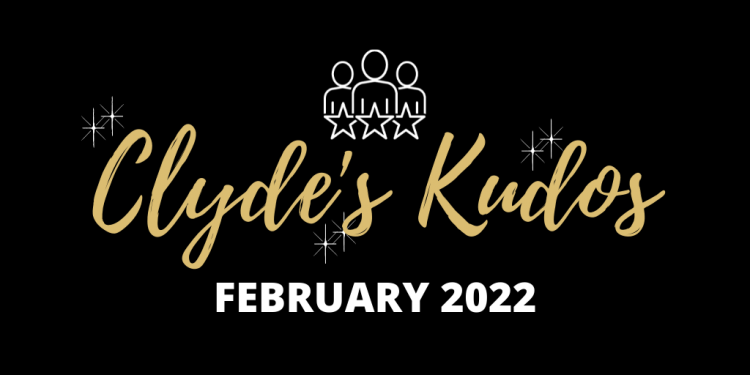 Clyde's Kudos are a Staff Association initiative celebrated each month on Communique. Nominations are also recognized through a variety of forums including the Staff Association website, the Staff Association newsletter, event shout-outs, handwritten cards and other methods of distribution.
Clyde's Kudos: February 2022
Featured this month:
Teams:
Academic Advising | Facilities Services | Office of Information Technology | Office of the Registrar | Stephanie Hanenberg, Billie Jo Baptiste & Team | Tony Rago & Team
Individuals:
Alana Moran | Alex Baker | Andrea Williams | Andy Johnston | Beckie Pyles Muñoz | Brent Wallace | Brett Fugate | Bri Young | Chad Garland | Deann Barrett | Erin Klein | Jen Furda | Jon Capps-Dean | Jose Mora | Katherine Placzek & Greg Krems | Katie Harris | Krista Herring | Kyle Gruenhagen, Kylie Rossman, Candida Bennett, Brie Escobedo & Branden Williams | Lily Cosgrave | Liz Bunkers | Lynn Anderson | Margie Oldham & Lily Cosgrave | Maria O'Connell | Mariness Falcon | Maya Rodgers | Michael Sanchez | Missy Sernatinger | Rose Johnson | Sabrina Wienholtz | Sandy Ho | Shawn Hood | Sloan Gonzales | Stephen Werling | Tawni Schwarzman | Tia Luber Grigg | Wendi Clouse | Whitney Porter
Teams
To: Academic Advising
From: Crista Hill
The Academic Advising staff goes out of their way to ensure they are serving military-affiliated students in the best ways possible. They reach out to our office with questions and concerns, and advise students using VA benefits to talk with us before making schedule changes, just in case there may be a negative financial consequence. I greatly appreciate their partnership in supporting the success of all students!
To: Facilities Services
From: Anon.
A huge thank you and many kudos to the Facilities Services crew in charge of snow removal. During two winter storms this February, they worked a 60-hour stretch in single-digit temperatures to make sure our campus was as safe and navigable as possible! Thank you!
To: Facilities Services
From: Stephanie Hanenberg
Facilities are the unsung heroes behind the scenes keeping campus safe in more ways that most of us know. They are responsible for keeping campus clean, removing snow in frigid temperatures so we can get drive and walk on campus safely, and keeping our buildings maintained. They show up on campus every day and go above and beyond so that campus can remain open. Thank you for all that you do!! We all appreciate you.
To: Office of Information Technology
From: Elizabeth Wyatt
Thank you OIT Team for all your assistance in setting up the DEI Office computers, printers, and IT-related support with email, server, and website access. We sincerely appreciate your continued support!
To: Office of the Registrar
From: Ann Amicucci
Thank you to everyone in the Registrar's office who was involved in the new Campus Solutions navigation. The new system is easier to use and intuitive. Thank you for gathering everyone's input and for all the time and thought that went into this revision!
To: Stephanie Hanenberg, Billie Jo Baptiste & Team
From: Jeff Foster
These folks stay incredibly helpful and approachable even as their crucial work grows ever larger. I appreciate the collaboration and responsiveness they manage to squeeze in along side everything already on their plates.
To: Tony Rago & Team
From: Andrea Cordova
Thank you for the quick response by you and your team to needs for setting up the DEI Office for occupancy for the new VCDEI. We would not have been able to get the suite ready without you.
Individuals
To: Alana Moran
From: Heather Allen
Alana went above and beyond to assist me with a bookstore inquiry. She took the time to look through their inventory and send me images of items carried that met my product needs. Appreciate her and the time she spent on this.
To: Alex Baker
From: Heather Allen
Alex hosted the Staff Association Bingo on 2/23 and did an amazing job! He brought amazing energy, positive vibes, great music, and made it an enjoyable experience. Thankful for the experience, and his commitment to the UCCS Staff.
To: Alex Baker
From: Anon.
Thank you to Alex for bringing back the Staff Bingo this week. For the past few years, staff have not had a staff summer function or holiday lunch and it is so nice to have the bingo. Thank you Alex for making something special and fun for staff!
To: Alex Baker
From: Anon.
I want to thank Alex for bringing back the virtual Bingo.
To: Andrea Williams
From: Dan Segal, David DuBois & Laura Chandler in Psychology
On behalf of Dan, David, and Laura:

Many thanks to Andrea for her support as a supervisor! I appreciate her coaching and always helping me talk and think things through. We have an awesome staff team! (Laura)

Andrea, thank you for always supporting the staff in the Psychology Department. We know you always have our backs while still meeting the diverse needs of faculty, directors, centers, graduate students, and undergraduate students. I appreciate you! (David)

Thanks Andrea for always going above and beyond to expertly manage all the complex funding and financial pieces in Psychology and for advocating for our graduate students! (Dan)
To: Andy Johnston
From: Nancy Mars
I am new to campus and was struggling with one of many applications. Andy spent the time to help me get access and up and running.
To: Andy Johnston
From: Eric Nissen
I have served on several searches where Andy was our HR support. In each case, Andy provided outstanding guidance in support of diversity, equity and inclusion. His experience and professionalism were stabilizing forces which made for much more effective and successful efforts.
To: Beckie Pyles Muñoz
From: Alex Baker
When I see Beckie on campus, she is always so positive and kind. Beckie is always one of the first to volunteer and assist, and it is so appreciated. UCCS is lucky to have Beckie!
To: Brent Wallace
From: Lisa Hollis-Brown
Brent is always available to help with lab set ups, with last-minute changes to lab materials, and is very patient with broken equipment! He makes teaching the science labs so much easier on the faculty. He is always positive and a joy to work with!
To: Brett Fugate
From: Academic Advisors
Thank you to Brett for allowing our team to get together for a retreat to learn from one another and to have a safe space to provide feedback. Brett brought back our concerns to our first staff meeting post-retreat and wants to continue the conversation to constantly improve our department. In a time of uncertainty and many people leaving the university for other opportunities, it is comforting to know that Brett is listening to us!
To: Bri Young
From: Ann Amicucci
Bri is amazing! When our department ran into questions about accessing classrooms early in the morning, Bri helped us understand OIT's role with computer classrooms and who we could contact for help. I'm grateful to Bri for her professionalism and patience. Thank you, Bri!
To: Chad Garland
From: Amanda Allee
Chad provides support where needed. He is willing to step in and help out in a pinch.
To: Deann Barrett
From: Ann Amicucci
Deann is an HR superstar! She is continually going above and beyond to support me in supervising 25 faculty. I am incredibly grateful for her expertise, her patience, and her willingness to help me navigate difficult questions. She is truly a gem, and we are lucky to have Deann in LAS. Thank you, Deann!
To: Erin Klein
From: Ann Amicucci
Congratulations to Erin for hitting the ground running in her new position! She is an invaluable resource to the College of LAS, and I am grateful to her for the many ways she supports our faculty, staff, and students. Thank you, Erin!
To: Jen Furda
From: Stephanie Adams
Jen established a Community Engagement group early in our campus response to COVID-19. This group initially included community connected staff and we discussed ways UCCS and the region were embracing safety and recovery. Jen advocated to keep this group going, allowing depts. that are community facing to stay connected. I find this group to be very informative and helpful. I enjoy hearing what other depts. are doing in the community and ways we can be a stronger team. The region sees UCCS as one big institution, in reality we don't always work that way. This group builds connections on-and-off campus and keeps external facing staff focused and collaborative. Thanks Jen!
To: Jon Capps-Dean
From: Anon.
Jon has done awesome at jumping into his role and running with it! His attitude brightens up the office every time he walks in! He has been an awesome addition to the team!
To: Jose Mora
From: Sylvia Mendez
Jose displays the best of the Mountain Lion spirit — he is student-focused, can always be counted upon, and is just a joy to work with!
To: Katherine Placzek & Greg Krems
From: Chancellor's Office Staff (Andrea Cordova, Racquel Paywa & Elizabeth Wyatt)
Thank you for all your help in assisting with the DEI paperwork/onboarding nuances as we prepare for the new VCDEI. We sincerely appreciate your willingness to continually assist our office (and you do so with such patience and responsiveness)!
To: Katie Harris
From: Benjamin Kwitek
Katie always goes out of her way to help students with their challenging course enrollment requests. This has made a huge difference for BI students. We appreciate everything Katie does for the College of Business and UCCS!
To: Krista Herring
From: Cameryn Fox
Krista is a team player who goes above and beyond for her team at campus rec and her student staff. We all know if we need support whether it is personal or professional we can count on her. She is a problem solver and is constantly looking for ways to improve and grow.
To: Kyle Gruenhagen, Kylie Rossman, Candida Bennett, Brie Escobedo & Branden Williams
From: Erica Allgood
This special group of staff dedicated their scarce free time during their extremely busy workdays to participate in a search committee. The commitment to excellence, dedication to teamwork, glowingly positive attitudes, and ethical search standards were shining brightly throughout this process — I would chair another committee with these fine people any day of the week!
To: Lily Cosgrave
From: Ann Amicucci
I am so grateful to Lily for teaching me how to use Adobe Sign! Lily created a training video for everyone in LAS and a document with screenshots to refer to. She has gone above and beyond to teach this tool to our college, and it has made our work more efficient as a result. Thank you, Lily!
To: Liz Bunkers
From: Stephanie Adams
Liz helped me launch my UCCS Downtown Ambassador program in late Jan. Her support and creativity for campus depts. using alumni & friends volunteers is so appreciated. She helped me set-up a great volunteer site, get my volunteers enrolled and Im on track to measure their hours. It's so important to use the new platform so we can make stronger and deeper connections with our campus volunteers. Thanks for going above and beyond for me Liz!
To: Lynn Anderson
From: Rhett Saunders
Lynn is a Teacher Assistant (TA) and student who grades in a timely manner, with quality and custom crafted responses. Lynn is an exceptional professional student and TA who treats everyone exactly how she wants to be treated when it comes to grading in a timely fashion that encourages others.
To: Margie Oldham & Lily Cosgrave
From: Brynne Thompson
I would like to recognize Margie and Lily for taking on additional, numerous duties on to their already over-filled assignments by managing the LAS Dean's office while I have been out on medical leave. There are not enough words to express my thanks to the "dynamic duo".
To: Maria O'Connell
From: UCCS Social Work — Stephanie Gangemi
UCCS School of Public Affairs would like to acknowledge Maria O'Connell, the Social Work, Student Services Specialist for her outstanding commitment to UCCS students and the larger University community. Maria, also a social worker, served as a UCCS Social Science Academic Advisor for 8 years prior to joining the newly formed social work program in 2021. As an advisor, Maria worked closely with the School of Public Affairs, Bachelor of Criminal Justice and Bachelor of Social Work program leadership to serve the needs of undergraduate students. As a Student Services Specialist, Maria has taken a proactive approach to building her new position in the growing social work programs. Maria facilitates student information sessions for prospective BSW and MSW students, guides students to resources available on campus, plays a role in developing social work student orientation, and has been an integral part of planning our first graduation celebration for our inaugural 2022 BSW and MSW graduates. Anyone who has met to Maria can attest to her professionalism, precision, and collegiality in all aspects of her roles at UCCS. Maria serves UCCS with a warm enthusiasm and deep expertise that makes her a forward-leaning, problem-solving, joy-creating member of the UCCS campus community!
To: Maria O'Connell
From: Ila DeBose
Maria has taken on the responsibility of other staff members as the social work program was in transition and continues to commit to student advising and care. She is a true team player and is vital to all aspects of the social work program.
To: Mariness Falcon
From: Andrea Cordova
Thank you for all your help in completing the DEI Office remodel and getting it ready for occupancy for the new VCDEI. You are always so responsive. The Chancellor's Office truly appreciates your attention to detail and helping to problem solve needs for the suite.
To: Maya Rodgers
From: Beth Graham
Maya has been an amazing help with our upcoming Fall event. I was really nervous about getting all the details right and coordinating with the right people and she's warmly responded and helped me every step of the way. I had a bad experience hosting an event last year and Maya has boosted my confidence and her support and guidance is so much appreciated. Thank you!
To: Michael Sanchez
From: Social Work — Malikah Marrus
From Michael's first day at work he has jumped in to do whatever the Social Work Team has needed. His first week in the middle of onboarding Michael participated in our accreditation site visit. He was prepared and ready to go. Every project that has been given to him he does without any problems. Shortly after he started he helped Social Work stay on track for our interviews for new faculty. He created systems that made it easier for all of us to complete or job.

Michael has a smile on his face everyday. Checks in on all of us to make sure not only do we need help with anything but also just that we are ok. Michael seeks out new tasks and is alway eager to learn. When another team member went out on maternity leave shortly after Michael joined SPA he covered for that person learning about the other programs in SPA and meeting their needs.

Michael helps students when they have questions. When we had student focus groups on an anti-racism statement; he not only help transcribe the students thoughts but also help create a warm and safe environment for the students.

Social Work would not be able to function day to day if it was not for Michael's hard work and positive energy.
To: Missy Sernatinger
From: Susan Taylor & Ellen Burkart
Missy is always willing to go above and beyond to assist colleagues across divisions with a variety of projects and outreach that support retention and persistence initiatives. As an example and a last minute "ask," Missy was able to help edit a brief video for the Retention and Graduation committee. Thank you for your commitment to our students, Missy!
To: Rose Johnson
From: Anon.
Rose always goes the extra mile to help faculty and to help two huge departments — English and TCID — function smoothly. She makes extra time to help me with conference details and processes everything quickly and accurately. I appreciate her!
To: Rose Johnson
From: Ann Amicucci
Thank you to Rose for keeping the English Department trucking along. Rose is always a quick phone call or email away and ready to help us navigate whatever challenges arise. I am grateful for your expertise and your collegiality. Thank you, Rose!
To: Sabrina Wienholtz
From: Amanda Allee
Kudos for her many years of service to UCCS! The time, dedication, and care she has shown the students and her colleagues is an inspiration.
To: Sandy Ho
From: Anon.
Sandy has been a great mentor to me and many others in her time at UCCS. She is a valuable resource to our community and we will all miss her when she goes!
To: Shawn Hood
From: Angela Storck
Since I started working here back in October, Shawn has gone above and beyond to make others in the department feel special. She is always there for folks in need. For example, on snowy days when some staff feel uncomfortable driving to campus on the slick streets, Shawn will go to their house and pick them up. She always offers to pick up lunches for folks when she is out and about. She is also the keeper of the office birthdays. She ensures that staff are recognized and appreciated for special occasions, and sends them notes of encouragement and support when they are down. Even when she may not be feeling her greatest, she goes out of her way to take care of others. This is why I think she should receive this recognition.
To: Sloan Gonzales
From: Anon.
Sloan is always so willing to carry an amazing perspective on leadership. She did a fabulous job presenting on Ethics & Leadership for the Daniel's Fund Initiative. Definitely thought provoking and a topic that we need to weave in to our everyday work. THANK YOU.
To: Stephen Werling
From: Heather Allen
Steve always goes above and beyond. I appreciate his patience, knowledge, and time when it comes to assisting me with my IT needs.
To: Tawni Schwarzman
From: Ann Amicucci
I am so grateful to Tawni for all her help in the faculty evaluation process this year! Tawni is always willing to help, and she has gone above and beyond in answering my many, many questions as we moved faculty through the Digital Measures process for their evaluations in January. Thank you, Tawni, for everything that you do!
To: Tia Luber Grigg
From: Amanda Allee
Always providing thoughtful legal advice and personal support.
To: Wendi Clouse
From: Ann Amicucci
Wendi is such an amazing resource on campus, and I am so grateful for her help and support. She has assisted me with complicated data requests this month and has been generous with her time in explaining how to read this data. I appreciate being able to draw on her expertise. Thank you, Wendi, for everything that you do!
To: Whitney Porter
From: Lissanna Follari
Whitney is tireless in her dedication to UCCS and the students of the COE. She goes above and beyond every day to make sure faculty and staff have the knowledge and support needed to fully meet our students' needs. She has been asked to take on ever increasing workload, and has done so with tremendous expertise and dedication. The COE would not be nearly as successful in meeting students' needs of it were not for Whitney's wealth of expertise and commitment.
Want to celebrate your colleagues? Submit kudos anytime through the Staff Association website. Communique publishes Clyde's Kudos on the first business day of each month.