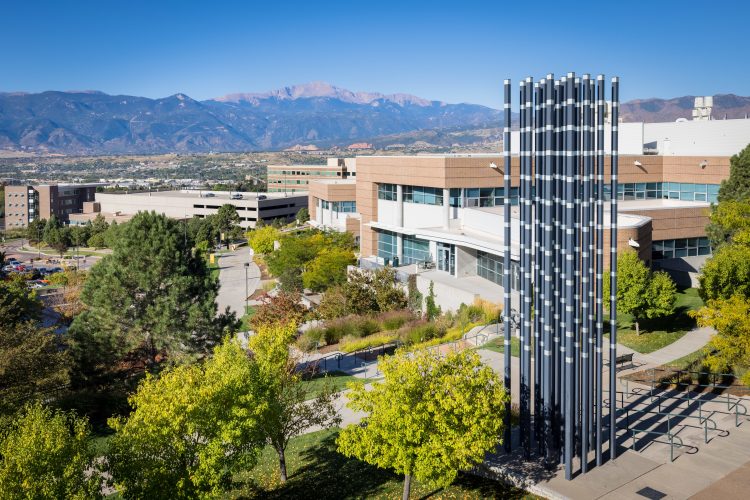 The University of Colorado Board of Regents approved two new bachelor's degrees and a certificate program at UCCS, paving the way for students to gain a professional and academic foundation for high-demand careers.
In their Feb. 10, 2022 regular session, the Board of Regents approved UCCS' proposals for a Bachelor of Science in Aerospace Engineering, a Bachelor of Arts in Music and a certificate program in Substance Use and Recovery Counseling.
Learn more about the new degrees and certificate program below.
About the Bachelor of Science in Aerospace Engineering
In line with UCCS' nationally recognized leadership in cybersecurity and engineering education, the Bachelor of Science in Aerospace Engineering will prepare students for high-paying careers in the aerospace industry and strengthen workforce development for the state of Colorado. The program will be only the second aerospace engineering program in the state of Colorado.
The undergraduate degree will be housed in the Mechanical and Aerospace Department within the College of Engineering and Applied Science at UCCS, and is slated to launch in fall 2022. It will favor astronautical engineering to meet both accreditation standards and the region's workforce needs.
The Colorado Office of Economic Development and International Trade reports that the aerospace industry in Colorado is the second largest aerospace economy in the U.S., consisting of over 400 employers producing over $6.8 billion in output and employing over 27,000 workers in 2020. Jobs in the aerospace industry tend to be high-paying positions: the average salary for aerospace engineers in Colorado in 2020 was $123,580 annually, according to the Department of Labor.
In addition to strong preparation for students, the degree's relevance to regional employers has been demonstrated over a two-year input process. Beginning in 2019, meetings between the university and regional industry, government, military installation and community partners affirmed the need for workforce development in aerospace engineering.
"Persistent interest in the aerospace minor, together with student application trends both nationally and in Colorado, provide ample evidence of a strong student demand for this new degree option at UCCS," said Peter Gorder, Chair of the Mechanical and Aerospace Engineering Department. "And the robust aerospace industrial community in southern Colorado has been outspoken in their desire for more local workforce development to serve their current and future hiring needs."
"The confluence of student and future employer demand provides an ideal platform from which to launch this new degree at UCCS," Gorder continued, "and the College of Engineering is grateful for the strong commitment from the University of Colorado system that helped make this possible."
Both UCCS and the CU system are part of the U.S. Space Force University Partnership Program agreement, signed in August 2021 to develop talent pipelines and research partnerships to support the new branch of the military. Colorado Springs is the home of three Space Force installations.
The new bachelor's degree complements a transformational $3.5 million gift from the Anschutz Foundation, which is supporting new construction and a full renovation to the Engineering and Applied Science building. The new Anschutz Engineering Center — a 27,000 square foot building currently under design and slated to open in fall 2023 — will support new instructional laboratory spaces and new research laboratories, while helping to fuel the growth of the college by 60 percent by 2030 to meet workforce needs in the region.
About the Bachelor of Arts in Music
The innovative new Bachelor of Arts in Music degree at UCCS will grant students increased flexibility and stronger career development, in addition to greater specialization in chosen areas of interest. The program will launch in fall 2022.
Housed in the Department of Visual and Performing Arts within the College of Letters, Arts & Sciences at UCCS, the new bachelor's degree will have a professional focus. Currently, the Music Program at UCCS offers a Bachelor of Arts in Visual and Performing Arts (VAPA), with options for music students to choose a major in Creative Music Performance or Composition & Sonic Art. Now, the two tracks will be consolidated into the new Bachelor of Arts in Music degree. The degree will grant students more flexibility to focus on their areas of interest across the fields of composition, performance, and music technology.
In addition, the new bachelor's degree hews closely to the interdisciplinary mission of the VAPA department by retaining nine credits of the unique Visual and Performing Arts core curriculum.
"This new professional degree integrates performance, composition and music technology, and is modeled for high-level musicians from any and all traditions," said Glen Whitehead, Co-Director of the Music Program at UCCS. "Addressing the present-day world of music, the flexible degree structure enables students to carve out their own personal paths as performers, composers, music technologists, scholars, sound artists, or all of the above. We believe this degree will attract new high-level music students who will work alongside VAPA and Bachelor of Innovation students."
The new degree program will strengthen career development, student retention and graduate program preparation for students. In addition, it aims to help the university compete with regional and peer institutions for future student enrollment growth. Students currently enrolled in the Bachelor of Arts in Visual and Performing Arts along a music track may persist in their current track until graduation, or audition and apply for the new Bachelor of Arts in Music during the fall 2022 semester.
About the Substance Use and Recovery Counseling certificate
In 2020, nearly eight percent of individuals 12 years or older needed substance abuse treatment — yet only 1.8 percent received treatment. The gap between those who needed treatment and received it is in part due to the lack of trained practitioners. UCCS' new Substance Use and Recovery Counseling certificate aims to change that by offering a flexible path to professional certification.
Housed within the Department of Counseling and Human Services in the College of Education at UCCS, the Substance Use and Recovery Counseling certificate program will train students to provide culturally- responsive, trauma-informed substance use counseling services.
Students completing the course sequence will engage in the rigorous training and fieldwork experiences necessary to develop the knowledge, skills, awareness and advocacy tools necessary for high-quality client care.
The new certificate is in line with the recent expansion of the curriculum for students earning their Bachelor of Arts in Human Services with an emphasis in addictions counseling. Grant funding from the Department of Health and Human Services Substance Abuse and Mental Health Services Administration (SAMHSA) enhanced UCCS' substance abuse disorder education program for both students and members of the Colorado Springs community.
About the UCCS College of Engineering and Applied Science
The College of Engineering and Applied Science enrolls more than 1,700 students and offers 23 engineering and computer science degrees ranging from bachelors to doctorate. The college is a Department of Homeland Security / National Security Agency Center of Academic Excellence in Cyber Defense and works closely with the National Cybersecurity Center and with more than 250 aerospace and defense, information technology, cybersecurity and engineering organizations in the Pikes Peak region. Learn more about the College of Engineering and Applied Science at UCCS.
About the UCCS College of Letters, Arts & Sciences
The College of Letters, Arts & Sciences at UCCS is the university's largest college, enrolling nearly 6,000 students across 21 departments and programs. The college offers 19 majors and 53 minors in the arts, humanities, social sciences and natural sciences. Students can also choose from five accelerated bachelor's and master's degrees, nine full master's degrees and three Ph.D. degrees, as well as pre-medical and pre-law programs. The mission of the college is to position graduates for success in their personal and professional lives, with a focus on thinking, creating and communicating — skills vital to employers and graduate and professional schools. Learn more about the College of Letters, Arts & Sciences at UCCS.
About the UCCS College of Education
The College of Education offers undergraduate and advanced degrees, initial and advanced licenses and additional endorsements across three departments: Teaching and Learning, Counseling and Human Services and Leadership, Research, and Foundations. The college is home to more than 1,000 students and offers 12 bachelor's degrees, master's degrees and doctoral degrees. It is accredited by the Council for the Accreditation of Educator Preparation (CAEP) and the Council for Accreditation of Counseling and Related Programs (CACREP). Learn more about the College of Education at UCCS.