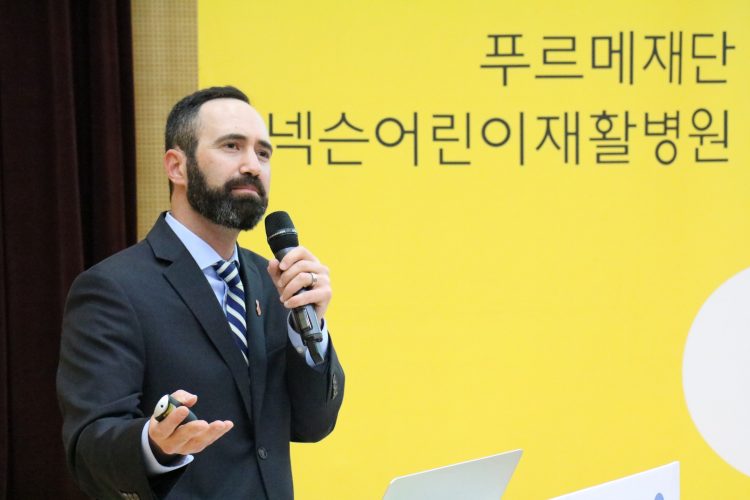 In June of 2021, Kassym-Jomart Tokayev, president of Kazakhstan, signed new rights and protections for Kazakh students with special needs into law — requiring the nation's educational organizations to adapt educational programs to fit the needs of all students. Now, Scott Kupferman, Associate Professor of Teaching and Learning at the University of Colorado Colorado Springs (UCCS) will travel to Kazakhstan as a U.S. Department of State Specialist to support accessible and inclusive education for all.
Kupferman is an internationally recognized scholar who has conducted research projects on inclusive education and accessibility technology across 37 nations. In addition to serving as Special Education Program Coordinator at UCCS, he is the Director of the National Collaborative for Disability and Technology, a federally funded network of people with disabilities, researchers and technology companies who co-develop and co-research accessible technology. His main lines of research include accessible, assistive and educational technology, inclusive education and the transition from K–12 to postsecondary education, employment, and independent living.
The project is a prestigious one. When the U.S. Department of State selected Kupferman for the three-month specialist project, hosted through the U.S. Embassy in Kazakhstan, his was one of only 240 projects worldwide supported that year.
"The Kazakhstan government has ratified international human rights treaties related to the rights of people with disabilities, including the right of students with disabilities to inclusive education. Kazakhs are now ready to act upon the treaties," Kupferman explained. "Thus, within my specialist role, I will spend three months collaborating with Kazakh educators, self-advocates, policy makers and community partners to create accessible and inclusive educational opportunities for students with disabilities."
"Beyond my sharing of strategies, technology and resources, I hope to learn from my colleagues in Kazakhstan as well," Kupferman continued. "Lessons learned will be incorporated into my UCCS College of Education courses, as my colleagues and I strive to prepare a future generation of Colorado educators who fully include students with disabilities within their classrooms."
Through projects developed by U.S. embassies in more than 80 countries, specialists like Kupferman work directly with local teacher-trainers, educational leaders and ministry of education officials to exchange knowledge, build capacity and establish partnerships benefiting participants, institutions and communities in the United States and overseas. They conduct intensive teacher training, advise ministry leaders, participate in high level educational consultations and offer plenary presentations at regional, national and international conferences. These projects are challenging, and those selected represent the best of the U.S. education community.
In addition to the specialist project, Kupferman's research, teaching and service efforts have earned him several honors, including invitations to be a delegate with the National Council on Disability, research fellow at multiple technology companies and the U.S. Department of Education's Commissioner's Award for Excellence.
Kupferman's project will take place March–May 2022.
About the UCCS Department of Teaching and Learning
Housed within the College of Education at the University of Colorado Colorado Springs (UCCS), the mission of the Department of Teaching and Learning is to prepare teachers, leaders and counselors who embrace equity, inquiry and innovation.
The mission and goals of the College of Education and the Department of Teaching and Learning guide graduate students to not only develop and enhance the knowledge and skills expected in graduate study, but also to provide a meaningful structure for supporting the essential elements of each program. The model assumes that professional educators will serve as instructional leaders within their school lettings and that learning to teach is a developmental process. Learn more about the Department of Teaching and Learning on the UCCS website.