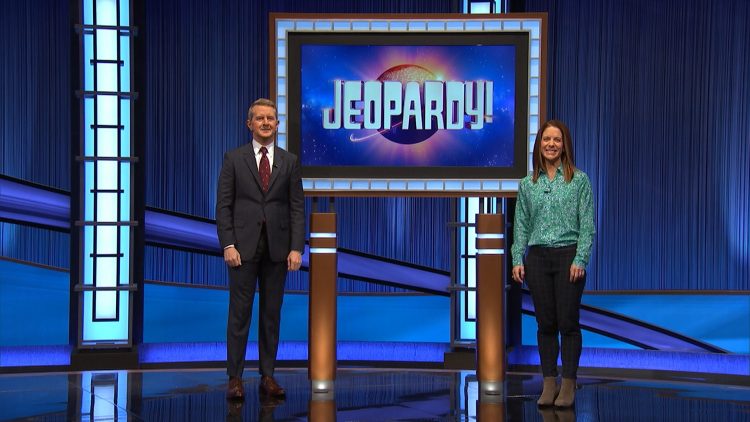 Lights, camera, action! "Jeopardy!" host Ken Jennings takes the Alex Trebek Stage, kicking off the first round of the acclaimed trivia television game show. He begins the round with the first clue: "Ash Wednesday, a holy day of repentance and fasting, directly follows this day."
"What is Mardi Gras?" buzzes in Josette Curtis with the correct answer.
Josette Curtis, an alumna of the Helen and Arthur E. Johnson Beth-El College of Nursing and Health Sciences Didactic Program in Dietetics (DPD), graduated in 2017. She made her "Jeopardy!" contestant debut in December, facing a returning 19-day champion.
"It was intimidating facing a long-running champion," Curtis admits. "The crew already knew her by name when we all arrived to film our episodes for the day. We all knew she had been on a winning streak. We just didn't know for how long."
Despite the intimidating feeling of taking on a multi-day champion, Curtis had the experience of her dreams and is now a part of the almost sixty-year legacy of the show.
"Every year, in January, I take the online contestant test," said Curtis. "I tested for years before getting an invite to continue further in the audition process."
Curtis recalls the excitement of getting her second audition notice during a hair appointment. "I was checking my email on my phone and, for the first time, there was an invitation to proceed in the process and take another online test."
If the candidate performs well enough in the second test, from there they participate in mock games with other candidates until the final contestant pools are selected to compete. The contestants can then be called in to film their episode at any time over the next eighteen months. When all is said and done, it takes contestants about nine to ten months to go through the selection and filming process.
"It was the lifelong fulfillment of a dream," said Curtis. "I grew up watching Jeopardy in my household with my parents, and now my husband and I have a friendly competition nightly for dish duty. It was so cool to now be behind the scenes and experiencing it myself."
Curtis attributes her success in the Double Jeopardy round to knowledge she gained from her Helen and Arthur E. Johnson Beth-El College of Nursing and Health Sciences program courses and instructors like Dr. Andrea Hutchins, Dr. Margaret Harris, and Dr. Nanna Meyer.
"The categories and questions are completely random from game to game. I got lucky that my game had a vitamin deficiencies category, and with my profession and what I learned in Dr. Hutchins's course on vitamins, I did really well," said Curtis.
Currently living in Anacortes, Washington, Curtis is a practicing registered dietitian.
"The thing I appreciated the most was that the production crew understood it was a once-in-a-lifetime experience for us. They made it special and reminded us to relax, enjoy and take in the experience. It went a long way," said Curtis.
Does Curtis unseat the current champion? Watch now. Curtis's episode aired December 28, 2021.