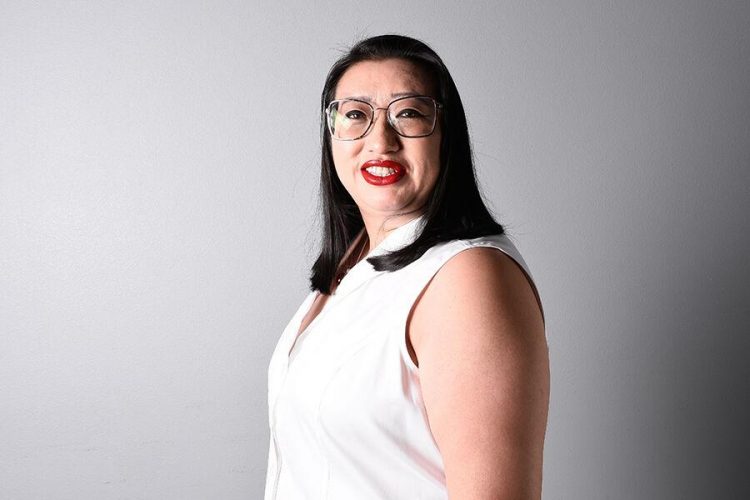 The Colorado Springs Business Journal uses the words "dedication," "strength" and "tenacity" to describe the winners of its annual Women of Influence Awards.
Sandy Ho, Assistant Dean and Director of Student Affairs for the UCCS College of Education, has no shortage of such traits. But it's Ho's matter-of-fact approach to service that solidifies her as a deserving winner of the 2021 Women of Influence Award.
"How can I be of service?" is one of Ho's guiding principles. When it comes to her work at UCCS, it seems that it's a principle rooted in practice as much as philosophy.
"I don't just serve at the behest of what other people think they need," she said. "I leverage my expertise, my lived experience, my professional experience and my network of community members that I have partnered with and collaborated with to serve the community."
Ho applies her expertise and education to a variety of efforts on the UCCS campus, including student support services, alumni relations, and student mentoring all while serving as an assistant professor in the UCCS Department of Languages and Culture as well as an instructor for the Gateway Seminar Program.
Recently she's increased her focus on advancing diversity, equity, and inclusion (DEI) efforts at UCCS.
"My background is in administration, student affairs and policy, but I have been doing more work with DEI. I think having that top of mind, I can bring that into spaces where it's lacking," she said. "I'm trying to serve historically excluded and marginalized communities and to create more access for potential students that we don't lift up as much."
Her efforts have not gone unnoticed. In August 2021, Ho was named the winner of the 2021 Colorado Springs Independent Pikes Peak Transformational Award for her work in promoting inclusive campus policies and curriculum.
"What motivates me is bringing access and lifting up the voices of those who need to be included in conversations and celebrated and not just included like, 'Yeah, we're letting you in,' but actually saying, 'You belong, and you matter, and we need you.'"
Ho's influence on the UCCS community reaches far and wide, due in part, to her own expansive support system.
"I'm very dedicated to my parents and my extended family. A few years ago, my youngest sister passed suddenly, and it brought into perspective how important it is to love the people you love and not assume that they're going to be around forever," she said. "My spouse has been very supportive. I've had so many mentors: Dr. Brian Burnett, Dr. Regina Lewis, Colette Berge, Joe García and all of the supervisors I've had on campus. They've been so supportive of my passions. And Jesse Perez, who nominated me for the award, he and I work diligently to do the DEI work together."
When asked what her advice is to future community influencers, Ho said: "For young women and those who identify as nonbinary, I recommend connecting with other people. I know it's tough, and you're not sure how to go about it. Engage with the community. Find what you love, and do that."
Dedicated, strong, tenacious — or, as Ho puts it simply, "I'm inspired to do what I can."
Read the full feature story on Ho from the Colorado Springs Business Journal.