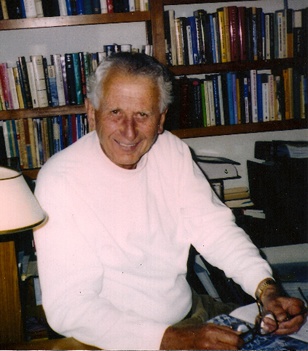 Alexander Blackburn, Professor Emeritus in English, passed away on Sunday, Oct. 3 after a short illness. 
Alex made his home in Colorado Springs in 1973, just after the 1972 Colorado General Election designated the Colorado Springs campus and two other centers as distinct campuses of the University of Colorado.
Alex pioneered creative writing education for the newly formed University of Colorado Colorado Springs. He also founded and edited "Writers Forum," a literary journal devoted to discovering and publishing new writers from the west. Alex retired from UCCS in 1994. 
Alex published and edited more than 30 books and was the recipient of numerous national and international awards, including the Frank Waters Award for Excellence in Literature. His novel, "Suddenly a Mortal Splendor," was runner-up for the 1996 Colorado Book Award in Fiction. His "The Voice of the Children in the Apple Tree," a Pulitzer-nominated novel, received the International Peace Writing Prize. Other titles included "Creative Spirit" and "The Door of the Sad People", a coming-of-age story that takes place against the background of the Colorado coal mining wars.
Alex is survived by his wife, Inés Dolz-Blackburn, Professor Emerita of Spanish Languages & Cultures at UCCS, and their children by previous marriages and grandchildren. Per his wishes, no funeral services will be held.