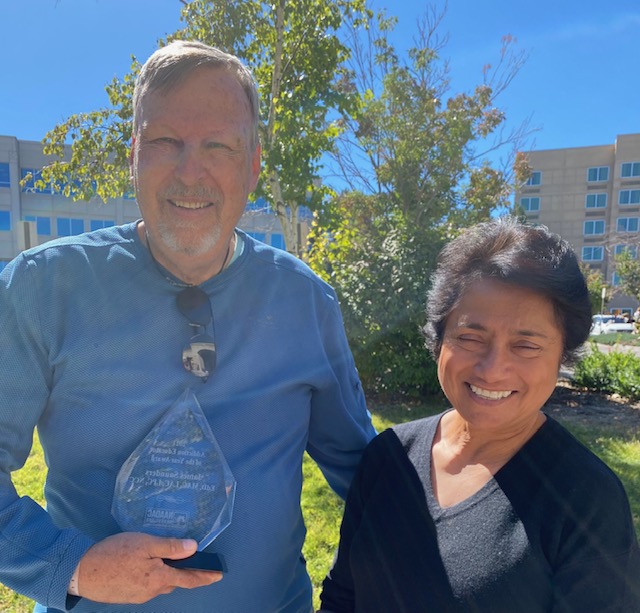 When James Saunders considers the evolution of addiction counseling, he thinks back to one of his first addiction courses.
"The instructor asked one of the students, 'Why are you here?'" Saunders recalled with a laugh. "And the student said, 'Well, it was either this or being a travel agent.'"
Saunders, Senior Instructor of Counseling and Human Services at the University of Colorado Colorado Springs, recalls that much has changed since those days.
"Addiction counseling has become much more professional since then," Saunders said. "It used to be something for people who had a drug and alcohol background, and consequently, there was little professionalism. A guy like me, who had no experience with substance use, was rare."
Saunders has helped establish and sharpen the addiction counseling profession in the state of Colorado, working as a chaplain in the Air Force, an addiction counselor for the U.S. Army, and now as a senior instructor at UCCS.
Saunders was recently honored for his decades of service as the 2021 Addiction Educator of the Year, awarded by the National Association of Alcoholism and Drug Abuse Counselors (NAADAC), the premier global organization of addiction-focused professionals.
His career as an educator started in 2011, when he was hired at UCCS within the program he graduated from, the Department of Counseling and Human Services. He quickly made an impact on the program, starting a substance abuse and recovery counseling emphasis for graduate students.
"When I came to UCCS, they had no emphasis on addictions, so my goal was to create an addiction program that would be recognized by the Office of Behavioral Health," Saunders said. "That would allow the students to graduate and give them access to certification as addiction counselors. I was able to do that. Fortunately for me, that program has grown quite a bit over the years."
The 2021 Educator of the Year award comes as Saunders transitions into retirement, when he hopes to travel with his wife as much as he can. When looking back at his career as a counselor and educator, he said the most difficult part of the job was closely related to the most rewarding.
"The most difficult part of being an educator is trying to communicate to students how important it is for them to understand the addiction process, but it's also the fact that they're not going to have a lot of success," Saunders said. "But when you do have success, it's awesome. And it's not the work that you've done. It's not your success. It's your client's success and the fact that they've achieved sobriety."
Saunders plans to keep teaching online courses and helping people in the program for as long as possible.
"Cortny Stark, the coordinator for the substance use and recovery counseling emphases, has done an excellent job of pushing that program and getting new people in there to teach and learn. And at some point," he added with a laugh, "this old guy will have to hit the pasture."
Every year on September 20th, NAADAC, the Association for Addiction Professionals, takes time to recognize and celebrate vital players of the health system and continuum of care in honor of National Addiction Professionals Day. Started by NAADAC in 1992, the day was established to commemorate the hard work that addiction professionals do on a daily basis. Learn more about Saunders' award on the NAADAC website.