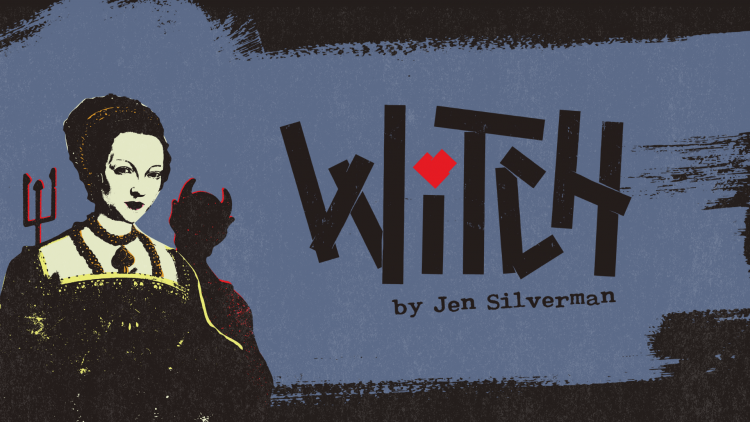 Theatreworks has announced that "Witch" will open its live, in-person season on September 16 in the Dusty Loo Bon Vivant Theater at the Ent Center for the Arts on the UCCS campus.
"Witch," directed by Theatreworks Artistic Director Caitlin Lowans, will feature a local all-star cast and run through October 10. "Witch" is a contemporary take on a Jacobean play by playwright Jen Silverman about a woman who may be a witch, thinking fast when a man who is definitely the devil comes knocking in this dark comedy.
The cast includes local favorites Sammie Joe Kinnett (UCCS graduate) and Birgitta DePree, both Colorado Springs professional actors and educators. DePree's (UCCS faculty) work includes performing, writing, directing and teaching, in addition to work as one of the founding co-artistic directors of the beloved Millibo Art Theater. In addition, the play will feature Hossein Forouzandeh (UCCS graduate), David Anthony Lewis, Samia Mounts, and Christian O'Shaughnessy (UCCS graduate). The creative team includes Lowans (direction; UCCS staff), Bri Pilon (scenic design), Jennifer Fok (lighting design), Pheobe Boynton (costume design; UCCS staff), Noel Armendariz (sound design/composition; UCCS student), Geoffrey Kent (fight direction), Tiffany Tinsley-Weeks (choreography; UCCS faculty), Sarah Dale Lewis (stage management), and AJ Vafiades (assistant stage management; UCCS graduate).
"Witch is a wildly funny dark comedy which grabbed me from the first moment on the page," Lowans said. "Silverman takes the trope of the devil coming to town dealing in souls, and uses it as a springboard for looking at our own time, whether we have hope for the world, and what we would sacrifice in order to change it. In this time of return from the pandemic, we love asking the big questions with humor and we couldn't have found a more wonderful entirely Colorado Springs based-cast to bring this to life.
Tickets
Tickets for "Witch" are available at the Ent Center for the Arts Box Office, online at https://entcenterforthearts.org/theatreworks/events/witch or by calling (719) 255-3232. Witch is sponsored by Al and Leigh Buettner and runs September 16 to October 10 on each Thursday, Friday, Saturday and Sunday at 7:30 p.m. and for Saturday matinees at 2:30 p.m. Ticket prices start at $20 with special pricing available for youth (under 18), educators, military and more.
2021-22 Season Details
In addition to "Witch," four other plays will be presented in the 2021-22 season, continuing in November with Duncan Macmillan's "Every Brilliant Thing" and ending in Summer 2022 with Shakespeare's "Twelfth Night."
The remaining schedule in its entirety.
"Every Brilliant Thing" by Duncan MacMillan with Jonny Donahue
Directed by Marisa Hébert
Nov. 26-Dec. 19, 2021
About: Over a lifetime, our hero makes a list to cheer up their mother, only to discover this key: Joy can spring from life's littlest things.
"Elliot: A Soldier's Fugue" by Quiara Alegría Hudes
Directed by Julio Agustin
Jan. 27- Feb.13, 2022
About: Three generations of family men who share a love of music and the scars of military service are held together by their mother, herself a former nurse in the Vietnam War in this Puerto-Rican American story.
"The Bluest Eye" by Toni Morrison adapted by Lydia Diamond
April 21-May 15, 2022
About: A longing to be loved dwells in all of us and this story examines the standards of physical beauty, a black girl's coming of age, and the devastating events she endures in this adaptation of the novel by Nobel Laureate Toni Morrison.
"Twelfth Night" by William Shakespeare
Directed by Kathryn Walsh
July 7-31, 2022
About: When a case of mistaken identity turns to destiny in this classic tale of love, longing, and the sea.
Subscriptions to the 2021-22 season are on sale now online at entcenterforthearts.org or through the UCCS box office at (719) 255-3232.
The 2021-2022 season is made possible with the generosity of season sponsors including: Bloom Foundation, Shubert Foundation, Bob Johnson Memorial Fund, Ed and Mary Osborne and the Kraemer Family Endowment at the Kraemer Family Library.
About Theatreworks
Theatreworks is a professional, regional theater company dedicated to creating challenging and innovative productions of classic and contemporary theater for the enjoyment, education and stimulation of UCCS students, faculty, staff and Pikes Peak region community members. Theatreworks was founded in 1975 as an outreach program of UCCS.