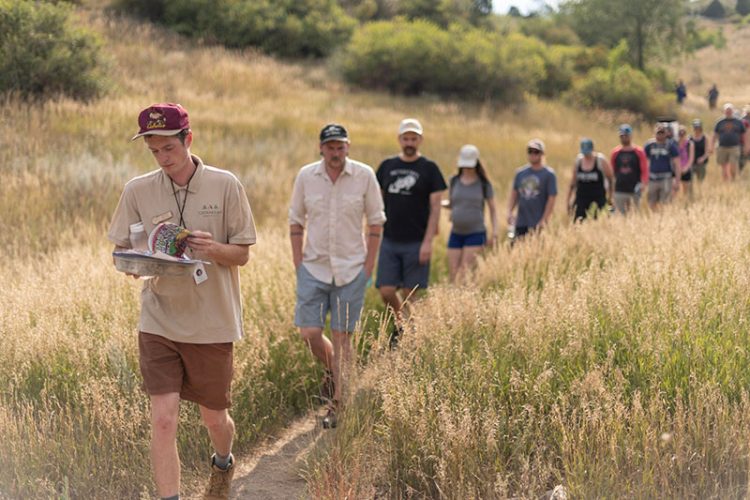 Ten years ago the UCCS Galleries of Contemporary Art (GOCA) commissioned artist Eric Steen to launch the first Beers Made By Walking — a program that invites brewers to go on nature hikes and urban walks and make new "place-based beers" inspired by plants from the trail. On Aug. 31, GOCA brought BMBW back to Colorado Springs for a special 10th anniversary hike with four local brewers at Sondermann Park.
Hikers were accompanied by local craft brewers from Atrevida Brewing, Cerberus Brewing, Goat Patch Brewing, and Local Relic Artisanal Ales. After gaining inspiration from the walk, the breweries were tasked with creating new hike-inspired beers that will tap in the Spring and be featured at a special event tasting planned for spring 2022 at GOCA Downtown. These place-based beers serve as drinkable, landscape portraits of the trail.
The hike was led by the Catamount Institute, a non-profit dedicated to developing ecological stewardship through education and adventure. Also participating on the project is the Fountain Creek Brewshed Alliance, with a goal to engage citizens in conversations and actions that will lead to water protection and enhancement.
For those who weren't able to attend the hike but want to taste the beers, these will be served during a special tapping event at GOCA Downtown on March 16, 2022. More information will be available soon. Visit the GOCA website for updates: www.gocadigital.org
For more photos from the event, view the photo gallery from Daniel Flanders here and visit the Focus on the Beer website.
About
Beers Made By Walking is a program that invites people to step outside and see the place they live in a new light. We invite brewers to take nature walks and make beer inspired by the plants identified on the trail. Since 2011, we have worked with more than 200 breweries throughout the country and have raised tens of thousands of dollars for non-profit organizations. Our hiking and tasting events act as educational programs for institutions and environmental organizations in the regions we serve. More information at beersmadebywalking.com
UCCS Galleries of Contemporary Art (GOCA) is a regional hub of contemporary art, culture, and conversation. By featuring world-class artists, hosting artist and expert talks, and independently producing and offering meaningful events, GOCA engages UCCS students, faculty, staff and Pikes Peak Region community members in discussions about contemporary culture and life. GOCA is a contemporary arts organization with two galleries, at the Ent Center for the Arts and a satellite downtown location in the Plaza of the Rockies building, as well as an outdoor art program, Art WithOut Limits.