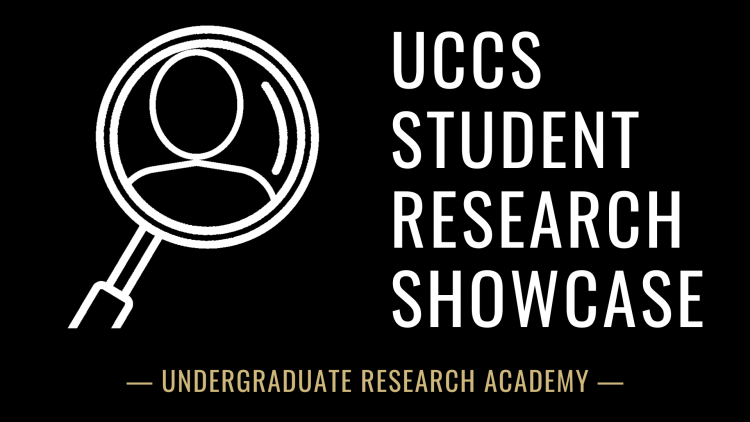 Alexis Rayburn has been bitten by the research bug — and now, as part of an Undergraduate Research Academy project focused on insect studies, she's working to discover how alpine moths have changed over the last 40 years.
Rayburn, a junior biology major, is conducting the research with Emily Mooney, Assistant Professor of Biology. Together, Rayburn and Mooney are investigating the species diversity and fat content of miller moths, the common brownish-gray moths that migrate through Colorado each summer.
In comparing the data to research conducted on the moths in 1979, Rayburn and Mooney aim to discover how ecological responses to global warming and other factors might have caused miller moths to change over the decades. Because of species diversity, Rayburn says, they might even discover a new species of moth entirely.
"There are a small amount of people in the world that study insects, especially just moths," Rayburn said. "It feels incredible to be one of those people studying these creatures, and the results can make an impact on the world."
Rayburn answered eight questions about her research, her partnership with Mooney and her best advice for students interested in future research opportunities.
1. What was your path to UCCS and working with your faculty mentor?
I grew up in a small town in eastern Colorado, where I played softball since I was a little girl and fell in love with the sciences in high school. When the time came to look for colleges, UCCS stood out with its excellent academic and athletic programs. This school fit both my academic and athletic needs while only being a couple hours away from home.
I began taking the science courses needed for my biology degree. I enrolled in Dr. Mooney's Ecology class in the fall of 2020, and then her Conservation Biology class in the spring of 2021. During these classes, I developed a deeper appreciation for the world of biology. Dr. Mooney reached out to me and asked if I would be interested in applying for the Undergraduate Research Academy. She sent me the proposal for the project, and I could not say no. We both applied, won the funding and it has been a great experience ever since.
2. If you were describing your research/creative work to someone outside of your field, what would you say?
The study, Bionomics of Euxoa Auxillaris Grote (Lepidoptera: Noctuidae) in the Rocky Mountains and Comparison with Two Resident Species of Alpine Moths, was conducted in 1979 by three researchers, and for my research project, we are conducting two parts of the 1979 study. We are using the same methods and procedures to obtain resampling data to be able to compare to the results from 1979.
The first part of this study looks at the species diversity of all moths collected on Pennsylvania Mountain. The second part focuses on the percent of lipids in the Euxoa Auxillaris, or the miller moths. We are determining how much fat is in their bodies. Once all the data is collected, we will then compare it to the data from 1979.
3. Which concept or discovery from your research/creative work most excites, invigorates or inspires you?
The part of this research project that I find to be the most interesting is that there are a small amount of people in the world that study insects, especially just moths. It feels incredible to be one of those people studying these creatures, and the results can make an impact on the world. The results that we will get from this summer can show us useful trends in global warming and the ecological responses the moths have developed in the past 40 years. With the species diversity, there is a possibility of finding a new species as well.
4. Describe how and why this research/creative work was started.
This research project was started in 1975 by a graduate student at UCCS for her Masters of Basic Science Degree. The reason that Dr. Mooney chose this project is because UCCS owns 40 acres on Pennsylvania Mountain for research purposes. This research project allows us to continue the tradition of research at the site.
5. What has the experience of working with your faculty mentor and fellow researchers been like?
This experience has been amazing, full of challenges, and very rewarding. It feels great to be able to work one on one with Dr. Mooney, bounce ideas off each other and have her guide me through this research project. This is the first summer of this project, and it somewhat feels like I am the guinea pig student. We had to figure out the best way to name all the morphotypes we need to ID. We learned the hard way that rocks need to go into the bottom of the collection buckets, so they don't blow over. There has been lots of trial and error this summer with Dr. Mooney, but we are both respectful of each other and work well together.
6. How has this work helped prepare you for your future in graduate school or your career?
This project has allowed me to get a foot in the door for doing research in the future. I could not be more grateful for this opportunity. Through this project, I have been able to find things that excite me in the science world and would consider pursuing after my undergraduate degree, as well as eliminate some career paths. This has made me feel more certain about my path in life.
7. What has been the most memorable part of working on this project with your faculty mentor?
The most memorable part of this research project is going up to the mountain to collect the moths and then work with them from start to finish. It is satisfying putting in the hard work of hiking up the mountain for the moths, then bringing them back to the lab and sorting out the species. After I separate all the moths by species, I then perform the lipid extraction on the miller moths. I get excited for the day I can get the last data point of the sampling date.
8. What advice would you give first-year students who are interested in working with a faculty mentor?
The advice that I would give any first year student would be to put yourself out there, work hard in the classroom, and do not be afraid to try new things. Dr. Mooney and I first connected through her lecture classes. I know that I want to go into the medical world after my undergraduate is completed, but I have loved every minute of working with my moths. I have found a deeper appreciation for the other fields of science.
It may be scary at first talking to a professor, but they are people just like us, who went through most of the same struggles you are currently going through as a first year student. Making those connections are very important and if you can stand out in a classroom setting, then you are setting yourself up for success.
The Undergraduate Research Academy encourages UCCS students to expand their education beyond the classroom through participation in research and creative projects while engaging in mentorship with UCCS faculty. The yearlong collaborative research projects further students' professional and academic development while furthering faculty members' research program goals.
UCCS celebrates this year's cohort of Undergraduate Research Academy student and faculty researchers. All those interested in participating should visit the Undergraduate Research Academy website for more information.