Chancellor Venkat Reddy, Interim Provost Kelli Klebe and Student Government Association President Emily Gregory welcomed more than 1,800 members of the first-year class at the annual Convocation ceremony, which marks the official beginning of students' undergraduate careers.
Students tuned into the ceremony from their Gateway Program Seminar classes, which took place Aug. 19 and 20. The classes are an introduction to college-level academics, campus resources and student life.
"This is an exciting morning for you, as we officially welcome you to campus, and as you attend your very first day of class as an undergraduate student," Interim Provost Klebe told student. "Today, you will have a chance to think deeply about your hopes and dreams for the next four years."
As Chancellor Reddy encouraged students to look forward into the future, he also reminded them of how far they have already come.
"We continue to live through extraordinary times. Each of you has already faced difficulty in your lives and in your education. But you rose to the challenges you faced, again and again," Reddy said. "Now, you are beginning this new chapter equipped with the skills and resilience you need to succeed."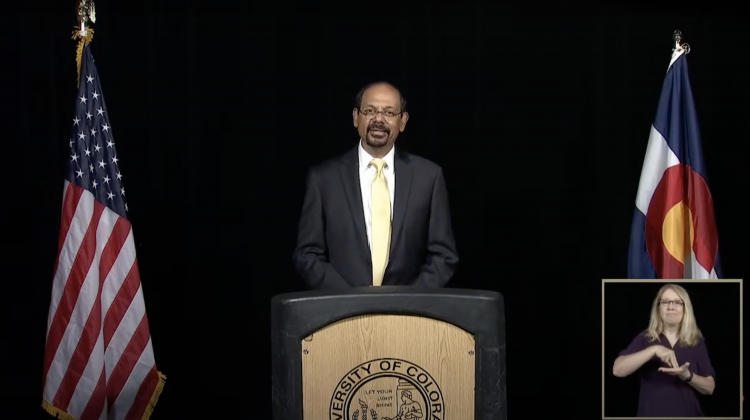 Reddy also asked students to remember what brought them to UCCS in the first place: their hopes for the future. He directed students to write down their goals and aspirations on a virtual dream board – whether they are serious, silly or a mixture of both.
Above all, the Chancellor encouraged students to intentionally create community with their peers and support systems at UCCS. As he reflected on the start of his own academic journey, which took him from India to the United States in pursuit of higher education, Reddy shared that the lessons learned over the past 18 months will carry students far into the future.
"We discovered during the pandemic that the connections we have with the people in our lives can sustain us, despite great difficulty," Reddy said. "Our relationships are the most important things in our lives."
"I did not succeed in earning my master's degree, or my doctorate degree, alone. I leaned on my family. I leaned on my friends. Their strength gave me strength, and that helped me succeed. I know that each of you is gifted to achieve the impossible, because someone believes in you."
Gregory concluded the ceremonies by leading students in reciting the UCCS Creed. The UCCS Creed embodies the collective values of UCCS students – purpose, respect, integrity, determination and excellence – while promoting a positive campus culture.
And Chancellor Reddy spoke for all of campus in his closing remarks: "To the newest members of the UCCS community, congratulations, and welcome to the Mountain Lion Family!"
Convocation marked a highlight of the welcome week for new students, also known as Clyde's Kickoff. As the week wraps up on Sunday, Aug. 22, DisOrientation Week — the first week of classes — will officially begin. To learn more about these events and others, visit Mountain Lion Connect.