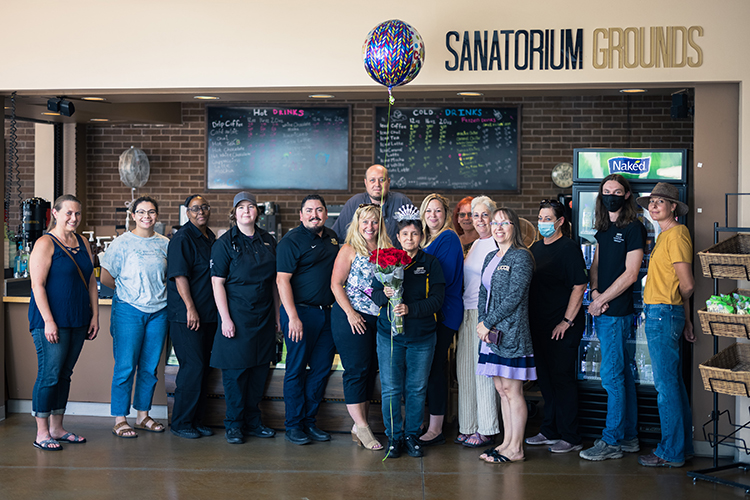 For many people at UCCS, their day doesn't start until they get a cup of coffee. More than that, their day doesn't start until they get a cup of coffee from Rita Martinez. Martinez, a barista and food service worker at Sanatorium Grounds in University Center, is renowned for a contagious enthusiasm that's only surpassed by her relentless work ethic.
Martinez's willingness to go above and beyond for UCCS students, faculty and coworkers is the reason she has been named the summer 2021 Employee of the Quarter.
Martinez has been a campus fixture since 2014, serving up custom drinks for the early-risers as well as those pulling late nights studying. Her dedicated approach is simple but ambitious.
"I make sure I'm always happy with the customers," Martinez said. "And I try to make sure that, everybody that comes, I know what they want when they get here."
While Martinez's customer-facing role receives the most attention, it's her steady leadership behind the scenes that makes her one of the most valuable assets in the dining and hospitality department. Jonathan Graves, retail dining manager and nominator of Martinez for the Employee of the Quarter award, wrote:
"As a front-line worker, Rita is often the eyes and ears of our unit. When there are any issues, she is among the first to address them by solving them herself or finding someone who can."
Martinez takes pride in training student employees, delivering sage advice on the commitment of employment.
"I enjoy working with students where this is their first job. I want to make sure they treat it as a real job because when you get to a real job, if you're five minutes late, your boss gets on you. I want to prepare them for that."
Martinez's upbeat outlook on life was put to the test in July 2020, when her position was eliminated as part of widespread layoffs due to the COVID-19 pandemic.
"I knew it was coming. You can't make coffee when everyone is home," she said. "But I've always been an optimistic person. I thought once everything gets settled, they'll bring us back. I just had to have a positive attitude and not give up."
She was right. After coming back to campus as a temporary employee in 2020, Martinez was rehired for her previous position in early 2021.
She's now back to making her specially crafted caffeinated drinks, and more importantly, creating lasting bonds with the people she interacts with every day. Executive Director of Auxiliary Services Robin Margolin shared this anecdote in her nomination of Martinez:
"Last month, after The Picture on the Plaza event, I went inside to check in on Rita, and I witnessed the most amazing snapshot in time. A graduate had come over to say goodbye to Rita. She brought her a gift and was giving her a long, tearful hug. When I asked this student why she thought Rita was so special, she told me that not only did Rita always remember her drink, but she also remembered her as a person, listened to her throughout the years and offered solace and advice when necessary. She wanted to say thank you in person."
The next time you visit Sanatorium Grounds, you can bet Martinez will be there, offering much more to the UCCS community than just a cup of coffee.
See photos of Rita's surprise celebration below.
---
In recognition of her efforts for UCCS, Martinez will receive one day of administrative leave, a $100 stipend, three months of a free and reserved parking space when normal campus operations have resumed and a $40 voucher to the UCCS Bookstore. Congratulations, Rita!
Do you have a colleague whose extraordinary efforts at UCCS deserve to be recognized? Nominate them for the Employee of the Quarter award.