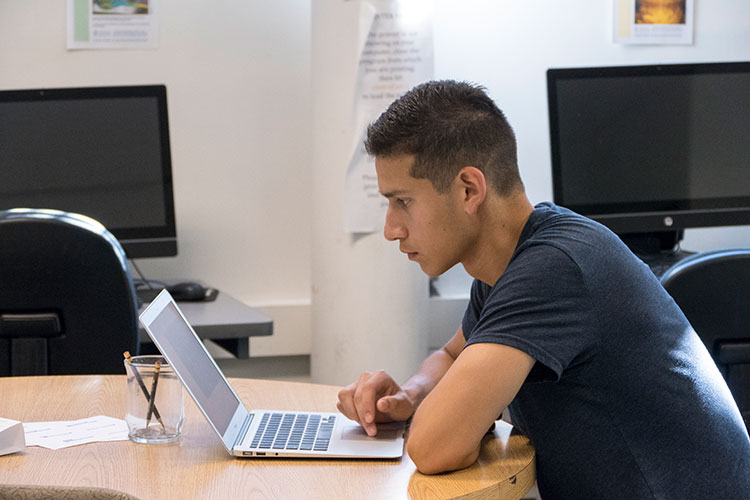 The University of Colorado Colorado Springs College of Engineering and Applied Science will offer professional cybersecurity certification exam prep courses for professionals, qualified students and members of the community starting in August.
UCCS is recognized as a cybersecurity education leader for the Pikes Peak region. UCCS' cybersecurity programs train professionals who work to ensure national security, and the university's faculty conduct research and develop techniques, systems and tools to benefit security and intelligence communities on an international scale.
Cybersecurity certifications are required for most cybersecurity, defense contracting, and government cybersecurity positions. Convenient, online certification exam prep courses are planned in August and September for Certified Ethical Hacker (CEH) and Security Plus (Sec+), and in the future for Certified Information Systems Security Professional (CISSP).
"Industry certifications are more than one-third of the job requirements in cybersecurity currently and growing every day," said Gretchen Bliss, UCCS' Director of Cybersecurity Programs. "Adding a certification to your existing degree increases your appeal when applying for cybersecurity jobs. If you are working in the industry and want to expand your experience to include cybersecurity, these online courses are a convenient way to do it."
The Sec+ certification, a building block for most Department of Defense and U.S. government contract jobs, validates baseline cybersecurity skills and meets DoD 8570 compliance. The CEH certification is a fast-growing certification to train professionals to uncover vulnerabilities in systems. CISSP is for experienced cybersecurity professionals who want to design, implement and manage cybersecurity programs. Adding these industry certification exam prep courses allows current and future industry professionals to advance or start their career with industry-recognized and endorsed credentials.
"As a recognized leader in cybersecurity higher education, the UCCS College of Engineering and Applied Science is providing people of southern Colorado and nationwide with the skills and information needed to earn key industry certifications," said Assistant Dean Michael Corl. "Cybersecurity professionals can advance their careers by layering certifications onto their education and experience."
Courses are offered through the Office of Extended Studies – Online and Academic Outreach. Cybersecurity exam preparation courses are open to the public. Courses are instructor-led online and cover training needed for the current certification exam, and include a certified instructor, online learning management platform, official course materials, training and practice activities, and the exam voucher.
More information, including course dates, times, descriptions and cost can be found on the college's cybersecurity webpage: https://eas.uccs.edu/cybersecurity.
About the UCCS College of Engineering and Applied Science
The College of Engineering and Applied Science enrolls more than 1,700 students and offers 23 engineering and computer science degrees, ranging from bachelor to doctoral. The college is a Department of Homeland Security / National Security Agency Center of Academic Excellence in Cyber Defense and works closely with the National Cybersecurity Center and with more than 250 aerospace and defense, information technology, cybersecurity and engineering organizations in the Pikes Peak region. Learn more about the College of Engineering and Applied Science at UCCS.
About UCCS
The University of Colorado Colorado Springs (USS) offers 55 bachelor's, 24 master's and eight doctoral degree programs and enrolls about 12,000 students annually. Located in the heart of Colorado Springs, UCCS has a strong student focus and access mission, with a goal of transforming lives for the better. Learn more about UCCS at uccs.edu.