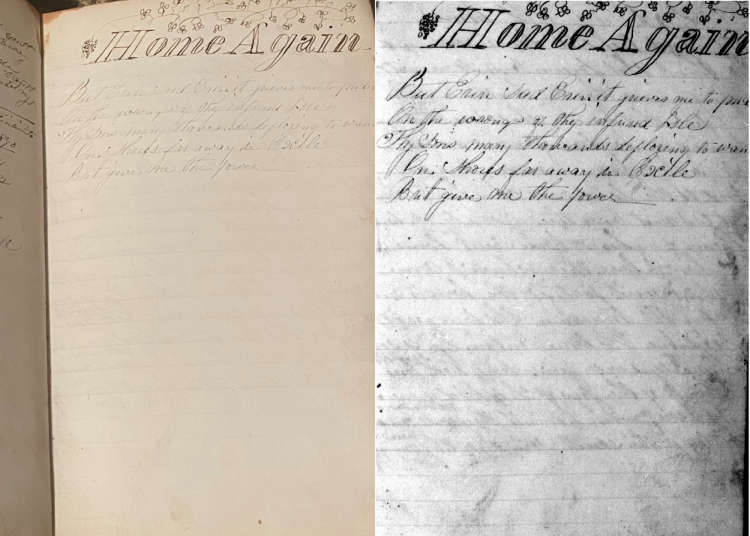 What secrets do damaged medieval manuscripts, Ellis Island diaries and Civil War-era letters hold?
Normally, students would never have a chance to find out. The spectral imaging systems used to read faded, deteriorated documents are expensive and unwieldy, and certainly not available for widespread use. But thanks to a new multispectral imaging system that is more portable and affordable than ever before, UCCS students are poised to rediscover history.
This summer, Helen Davies, Assistant Professor of English, brought the cutting-edge new imaging system and one of its creators — Tania Kleynhans, a researcher from the Chester F. Carlson Center for Imaging Science at Rochester Institute of Technology, who designed the tool with funding from the National Endowment for the Humanities — to students in her Archives and Digital Humanities course.
Sun, saltwater and other contaminants had faded the documents beyond legibility. Yet with the help of Kleynhans' expertise and two open-access MSI processing software tools, students were able to digitally restore two medieval manuscripts and an Ellis Island diary written in 1870 to legibility.
Now the documents' contents can enter the historical record, perhaps for the first time.
"UCCS students are actively working to bring lost histories and stories, literary texts and personal reminisces back into the larger record," Davies said. "They were able to see and read damaged documents for the first time, and digitally reverse damage to medieval manuscripts. They are bringing these previously illegible texts back into the light."
The new imaging system is notable for two reasons: it is more portable and affordable than the vast majority of systems available today.
Though it is small — about the size of an office printer — students were able to demonstrate that the tool is just as effective as larger systems, if not more. Because damaged documents are frequently too fragile to travel, a small, portable tool can travel to the documents.
Even more important is its low cost. While most systems cost over $100,000, the new multispectral tool costs a fraction of that: just $5,000.
"The affordability factor is so vital, as it opens up access to this type of work," Davies said.
"Previously, the use of MSI was restricted to boutique imaging projects focused on documents which were known to have a high historic value. The new imaging system and software means that more institutions and people can have access to the work."
"Now we can start to work on more everyday items, such as the Ellis Island diary, which was written by what you would call an average guy," Davies explained. "It gives us insight into how most people would have experienced the journey from Ireland to America."
Davies has hopes that the new imaging tools will create access to lower-profile, more ordinary documents, and the lives of the people who wrote them — many of whom might be ignored by the historical record.
"The hope," Davies said, "is that this new technology can open up and highlight underrepresented histories as we work to expand the types of material available to historians, archivists and other interested parties."
Davies writes, teaches and researches for the Department of English in the College of Letters, Arts and Sciences. Learn more about her work online. Learn more about the new multispectral imaging system on the Rochester Institute of Technology website.