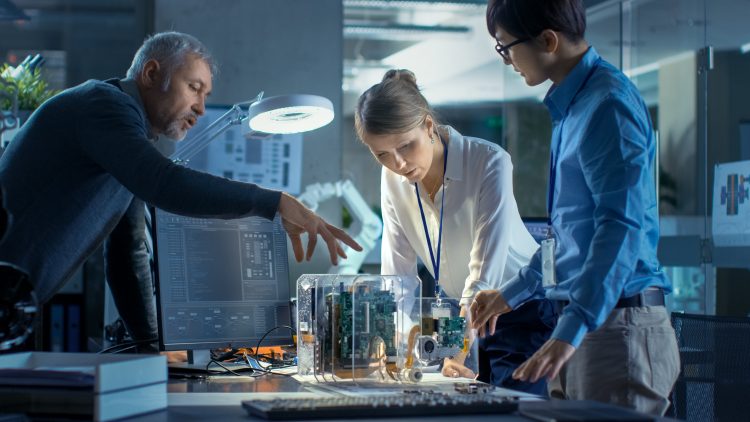 If you've been in a motor vehicle accident, dealt with a loved one's death or (yes) lived through a pandemic, you've survived through adversity — and your experiences are likely of interest to the scientific community. Yet the most interested researchers may never hear your story.
Human resilience researchers study the kind of experiences that touch nearly every individual's life: from trauma and tragedy on the scale of wars and natural disasters, to the stressors of daily life. Because so many individuals experience adversity, the scale of resilience researchers' work can be measured across civilizations. But a technical challenge has hindered many researchers from making new discoveries: there is no secure way to share data from researcher to researcher. Instead, after researchers collect data from a set of localized survivors, it is "siloed" — stored on a local server, where it may never be accessible to another researcher.
A team of UCCS researchers, made up of both resilience and cybersecurity experts, is working to change that.
The team is comprised of Shouhuai Xu, Gallogly Endowed Engineering Chair in Cybersecurity; Charles Benight, Professor of Psychology and Executive Director of the Lyda Hill Institute for Human Resilience; and Yanyan Zhuang, Assistant Professor of Computer Science. Together, they aim to create a secure, practical, end-to-end cyberinfrastructure that could accelerate the pace of scientific discovery in human resilience research.
Their proposal — Assuring Cyber Security and Privacy for Human Resilience — has been funded with $499,000 from the National Science Foundation. Using the award, Xu, Benight and Zhuang will work to develop and test a prototype of a safe, effective cyber system to collect data from scientific studies and make it available to human resilience researchers worldwide.
"Citizens live in a world of prevalent adversities, ranging from childhood trauma, to domestic violence, war, flooding, hurricanes, wildfires, terrorist attacks, acute physical injuries, motor vehicle accidents and pandemics," the researchers write. "Human resilience researchers study how to help survivors of adversity recover and get back to their normal lives as quickly as possible. Unfortunately, the scientific discovery process is hindered by the lack of cyberinfrastructure support for secure, privacy-preserving and policy-complying data sharing that would foster collaborative research."
Their proposal, the first of its kind in the field, could "revolutionize" human resilience researchers' scientific discovery process.
"This research will break new ground in the field of trauma resilience research by providing critical opportunities for disaster and other mass trauma researchers to safely share data while maintaining privacy," Benight said. "This will help break the cycle of each researcher working independently, severely limiting our collective research capacity."
"The project is exciting because it shows that privacy-protection can actually promote productivity in scientific discovery, rather than the commonly observed opposite," Xu said. "We look forward to helping the human resilience research community to leverage the cyberinfrastructure we envision to accelerate their research."
Xu, Benight and Zhuang hope to make data accessible worldwide to advance the human resilience research field. Yet they don't plan to stop there. The results of their project will be disseminated at scientific conferences and in journals, incorporated into their own research activities and courses, and even woven into UCCS' existing cybersecurity initiatives, which work to engage K-12 students in future cybersecurity careers.
Learn more about Xu, Benight and Zhuang on the UCCS website.
About the Lyda Hill Institute for Human Resilience at UCCS
The Lyda Hill Institute for Human Resilience at UCCS is a research institute focused on advancing human resilience to adversity by designing evidence-based solutions through interdisciplinary research, healing therapies, and community training and empowerment. Through scientific discovery and strength-based innovation, the Institute empowers individuals and communities to build resilience and heal from trauma. Learn more about the Lyda Hill Institute for Human Resilience at UCCS.
About the UCCS College of Engineering and Applied Science
The College of Engineering and Applied Science enrolls more than 1,700 students and offers 23 engineering and computer science degrees, ranging from bachelor to doctoral. The college is a Department of Homeland Security / National Security Agency Center of Academic Excellence in Cyber Defense and works closely with the National Cybersecurity Center and with more than 250 aerospace and defense, information technology, cybersecurity and engineering organizations in the Pikes Peak region. Learn more about the College of Engineering and Applied Science at UCCS.