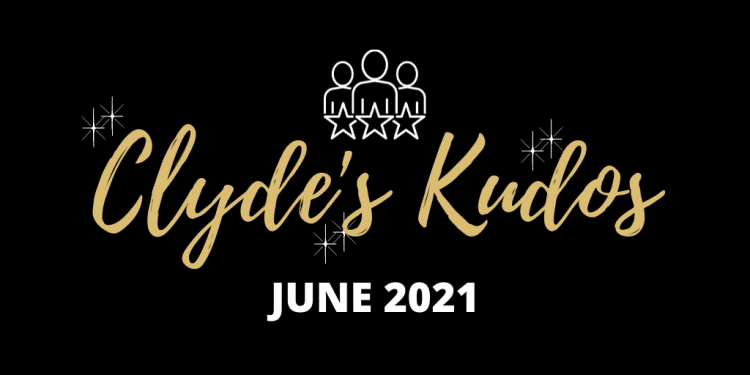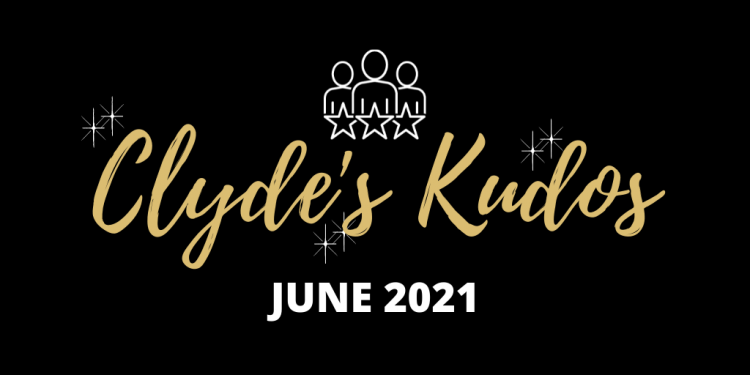 Clyde's Kudos are celebrated each month on Communique. Nominations are also recognized through a variety of forums including the Staff Association website, the Staff Association newsletter, event shout-outs, handwritten cards and other methods of distribution.
Clyde's Kudos: June 2021
Featured this month:
Teams:
COVID-19 Vaccine POD Volunteers | OIT Help Desk | UCCS Primary Care Support Staff
Individuals:
Alex Baker | Alex Baker & Sarah Long | Alexa Salstrand | Chuck Litchfield | Claire Ami | Danny Pape | Diane Dickerson | Erika Perry, Kane Lemasters, Alex Kirby & Sahmyah Kelley | Gabby Hensley | Jacob Guilez | Jacob Guilez & Jina Fagerburg | Jayme McGuire | Joyner Atiles-Lopez | Lauren Shakes & Kristina Coggins | Missy Sernatinger | Sam Frank | Sheldon Gaskell & Andrea Wenker
Teams
To: COVID-19 Vaccine POD Volunteers
From: Stephanie Hanenberg
While this is a little late, I still wanted to thank everyone who volunteered their time to assist with both of the large-scale COVID vaccine PODs. We were able to vaccinate over 500 individuals on those two days which was instrumental in helping us reach herd immunity. We couldn't have done it without all of your help.
To: OIT Help Desk
From: Wang Chao
Many of our incoming international undergraduate students are completing their enrollment steps but unable to get to their UCCS email account. UCCS OIT Help Desk has been so helpful in helping these foreign students navigating through the steps (first name vs given name, last name vs family name, father/mother's name/ surname, different formats of dates on date of birth) and getting them into their UCCS accounts. THANK YOU SO MUCH! You all rock!
To: UCCS Primary Care Support Staff
From: Anon.
Kudos to Ana, Sam and Natalie. This team has gone above and beyond to make patients feel special and cared for. The clinic is short staffed right now. Ana, Sam, and Natalie work hard at maintaining positivity, energy, and compassion toward every person they encounter. They are truly appreciated!
Individuals
To: Alex Baker
From: Sarah Harring
I want to thank Alex for his leadership this past year as Staff Association President. It was anything but a normal year and I know Alex was always advocating/being the voice that staff needed. Enjoy your retirement!
To: Alex Baker
From: Stephanie Hanenberg
Thank you for your dedication as the university staff association president during an extremely difficult year. You led with grace, compassion, and spent countless hours checking in with staff from across campus to make sure they were doing okay through it all. You are a true blessing to UCCS and those you serve.
To: Alex Baker & Sarah Long
From: Anna Squires
Congratulations and a HUGE Kudos to both Alex and Sarah for their Staff Association leadership during the COVID-19 era. Neither of you could have known you were signing up to serve as campus leaders during the wildest year in living memory, but you rose to the challenge with grace — and relentless energy and drive. Thank you for all of the time, effort and love you put into your roles this year. Onwards and upwards!
To: Alexa Salstrand
From: Lori Unruh
Alexa agreed to work in COE in a temporary role due to vacancy and until we could do a formal search. She arrived seemingly knowing what to do, or perhaps just made it appear that way as she learned. She is extremely motivated and positive…and very ethical! Even when a family event occurred she was somehow still present at meetings and working through her daily tasks — often taking on other projects as well just to help out. She has been a wonderful addition and will be missed when she has to leave her temporary role.
To: Chuck Litchfield
From: Jen Furda
Kudos to Chuck for his COVID Response. Chuck put an Emergency Management Team together that represented the WHOLE campus. He thoughtfully listened, he asked for ALL voices to be heard and he made VERY calm thoughtful decisions in a VERY chaotic time. If UCCS did not have Chuck at the helm of the COVID Response team…UCCS would be in a VERY different place today…and not in a good way!
To: Claire Ami
From: Joanna Bean
Claire did a wonderful job promoting the EDI grant opportunity to anyone and everyone she interacts with, and beyond. She was encouraging about the grant program and brought a true passion to the possibilities that the grant could mean for various departments on campus.
To: Danny Pape
From: First Year Experience Team
Danny is an amazing team player and also a wonderful colleague with a wonderful listening ear. Looking forward to all of the partnerships we have planned for the year and continuing to learn from you. Your passion for career is palpable!
To: Diane Dickerson
From: Joanna Bean
Diane was a huge help in getting our EDI Grant gift fund setup form filled out correctly — meaning she filled it out for us, with all of the codes, rules and numbers that I am not familiar with. Thank you Diane!
To: Erika Perry, Kane Lemasters, Alex Kirby & Sahmyah Kelley
From: Residence Life & Housing
We want to say a huge welcome to our new staff members in Residence Life and Housing! Erika, Kane, Kirby, and Sahmyah, we are so excited for you to join the team and to work with you in the days to come. Welcome to the Mountain Lion Pride!
To: Gabby Hensley
From: Tiyana Hardney Vela
Gabby is always a pleasure to work with and is willing to provide guidance on design pieces I'm working on. She recently helped me enhance a design for an event and I was more than appreciative to have her insight and edits. Thank you, Gabby!
To: Jacob Guilez
From: Crayton Daniel
Kudos to Jacob for always being willing to step up and help out!
To: Jacob Guilez & Jina Fagerburg
From: Tiyana Hardney Vela
Jacob and Jina have been incredible colleagues to work with on the Faces of UCCS: Impact Stories. Jacob developed the Faces of UCCS a few years ago to spotlight outstanding student employees in Auxiliary Services and we connected to expand the spotlights for scholarship recipients. It has been a pleasure working with Jacob and Jina brings the graphics to life with beautiful illustrations. Thank you both!
To: Jayme McGuire
From: Crayton Daniel & Anna Squires
A huge Kudos to Jayme for celebrating her first month as assistant director of communications! We are so grateful for all you've done and we appreciate your leadership. Bright days are ahead! Welcome to the Mountain Lion Family!
To: Joyner Atiles-Lopez
From: Crayton Daniel
A huge shout out to Joyner Atiles-Lopez, the new M.O.S.A.I.C. coordinator! I've been collaborating with Joyner on a few different projects this month and it has been great! Joyner, thanks for all of your help and I look forward to collaborating on projects ideas in the future.
To: Lauren Shakes & Kristina Coggins
From: Tiyana Hardney Vela
Lauren and Kristina planned a wonderful Unstoppable Women's event for the KPWE scholarship program. They both pay close attention to details and plan events being thoughtful of the impact and the experience for guests. As always, great work from both of you!
To: Missy Sernatinger
From: Anon.
Missy brightens the lives of everyone around her. She's incredibly knowledgeable, and I always learn something important about how to serve students from working with her. Plus, she's always positive, and interacting with her makes any day better! She serves as such a great example of what it means to do our work with positivity and by acknowledging each other as individuals. Thank you, Missy, for the never-ending care you show to our students and for all the important ways you teach us as your colleagues.
To: Sam Frank
From: Laura Chandler
I can never thank Sam for all of his assistance over the years. He always answers my questions and I value his opinion and expertise. Sam has also jumped in and helped me when I cannot do all the web stuff by myself. I appreciate Sam as a great staff colleague!
To: Sheldon Gaskell & Andrea Wenker
From: Gretchen Bliss
HUGE thank you for your amazing creativity and grace with rhetoric to make the UCCS Cybersecurity POWER Strategy a work of art! The CPO office truly appreciates all the time an attention you gave this "extra" work to ensure we had a consistent, integrated and focused message. Your willingness to tackle an unknown area was inspiring and provided a level of connection we could not have had without you.
Want to celebrate your colleagues? Submit kudos anytime through the Staff Association website. Communique publishes Clyde's Kudos on the first business day of each month.