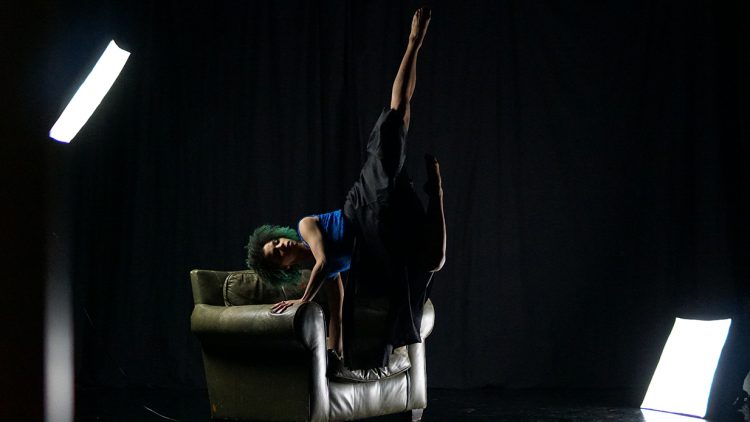 The UCCS Galleries of Contemporary Art (GOCA) will offer a series of free, live performances during Colorado Springs' First Friday Art Walk event on Friday, July 2 as part of the U Ok? Exhibition at GOCA Downtown. Artist Kailani Dobson will perform at 5:30, 6:30 and 7:30 p.m. at GOCA Downtown, 121 S. Tejon Street, Plaza of the Rockies, Suite 100. No registration is needed, but limited seating is available. 
U OK? is an exhibition featuring works from seven Colorado-based artists whose art addresses individual coping and communal perseverance in the wake of physical, spiritual, and mental burnout from the Covid-19 pandemic. The exhibition features art in a range of media that is emotive, absurd, humorous, heartbreaking and hopeful. Artists featured include Katy Batsel (Denver), Koko Bayer (Denver), Jonah Brock (Colorado Springs), Kailani Dobson (Colorado Springs), Trey Duvall (Denver), Moe Gram (Denver), Margaret Kasahara (Colorado Springs).
The exhibition is guest curated by UCCS alumnae Stephanie Von Fange '14, GOCA's exhibition and events manager, and Christine Flores '20, who works as community coordinator for the Concrete Couch organization. Both graduated from the College of Letters, Arts & Sciences Visual & Performing Arts Program.
About the Performance
Dobson has a background with dance and movement-based art and believes that art is a community-driven endeavor that "benefits greatly from a conglomeration of multiple different artforms." The performances will be from the artist's "Descent Series," titled "Irkalla."
"Irkalla" tells parallel stories, each examining the dual nature of isolation and fallow time. Through meditative movement and interactive video elements, Dobson seeks to create a trance-like space to reflect on the ranging emotions the past year has brought and how our community interactions — big and small — seep into our everyday lives and become important landmarks to help us tell that time has passed.
About UCCS Galleries of Contemporary Art
GOCA is a regional hub of contemporary art, culture and conversation. By featuring world-class artists, hosting artist and expert talks, and offering meaningful events, GOCA engages UCCS students, faculty, staff and Pikes Peak Region community members in contemporary culture and life. GOCA is a contemporary arts organization with two galleries, one founded on the UCCS campus in 1981 and a satellite downtown location opened in 2010 in the Plaza of the Rockies building. Learn more about current and upcoming digital and in-person programs: www.gocadigital.org