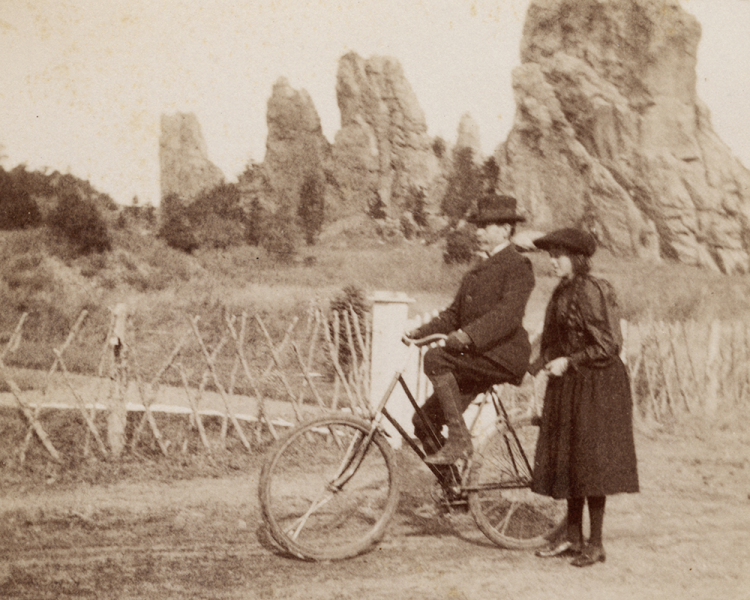 Bicycles are the perfect tool to explore a city — fast enough that you can cover ground, and nimble enough that you can stop at a moment's notice. This month, they're also the perfect way to celebrate Colorado Springs' history.
 In celebration of Colorado Springs' 150th anniversary and Bike Month in Colorado, the UCCS Office of Sustainability will offer a history-themed group bike ride on Friday, June 25 from 2–5 p.m. Learn about the event online.
The 8.5 mile bike ride will begin at The Lincoln Center and loop through the Cragmor Neighborhood, surveying five historical markers along the way.
John Harner, professor of geography and an all-season bike commuter, will speak on each of the stops. One of UCCS' resident urban geography experts, Harner will draw on material from his forthcoming book "Profiting from the Peak: Landscape and Liberty in Colorado Springs," which details the growth and expansion of Colorado Springs and will publish in tandem with the city's sesquicentennial observations.
UCCS' bike tour will explore the following historical markers:
The Lincoln Center
AT&SF Railroad
Palmer Park
Cragmor Sanitorium
Subsidence
Alexander Film & Aircraft
The historical markers — temporary signs located throughout the city's historical districts — are part of the City of Colorado Springs' Pedal Our Past programming. They spotlight notable people, places and events from Colorado Springs' colorful history along five routes throughout the city. Maps of all five routes are available online.
Whether you choose to bike alone or with a group, visitors and residents alike are welcome to take their own historical bike tour of the city. Visit the Bike Month 2021: Pedal our Past website to plan your tour. RSVP for UCCS' Cragmor Neighborhood tour on the Office of Sustainability website.