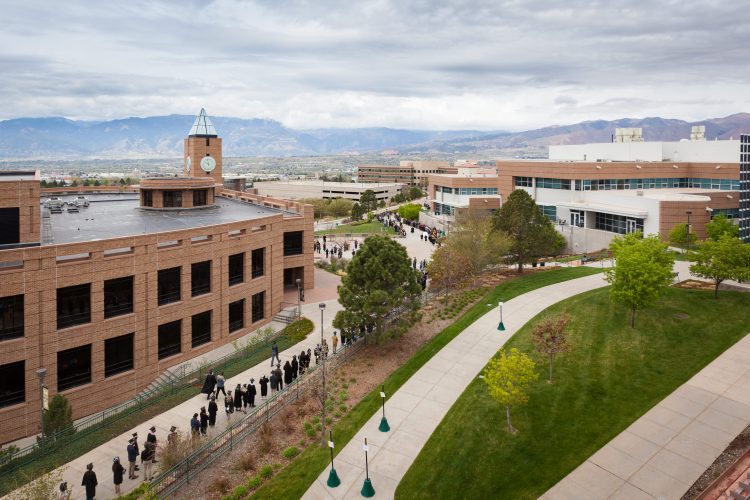 Rows of faculty and staff cheered, clapped, rang noise makers and shook pom poms as more than 500 graduates walked the pedestrian Spine during the first-ever Picture on the Plaza event, which was the in-person portion of the hybrid spring 2021 commencement exercises.
Graduates representing the classes of 2020 and 2021 returned to the UCCS campus to be celebrated in the first in-person commencement event since the onset of the COVID-19 pandemic. The event followed the May 14 virtual commencement ceremony during which degrees were conferred upon the spring 2021 graduating class.
In addition to giving graduates an opportunity to celebrate their achievements in-person, Picture on the Plaza also allowed students the chance to get a picture with the dean of their college or school, as well as hear their names called over a loudspeaker and be photographed in a number of photo opportunities.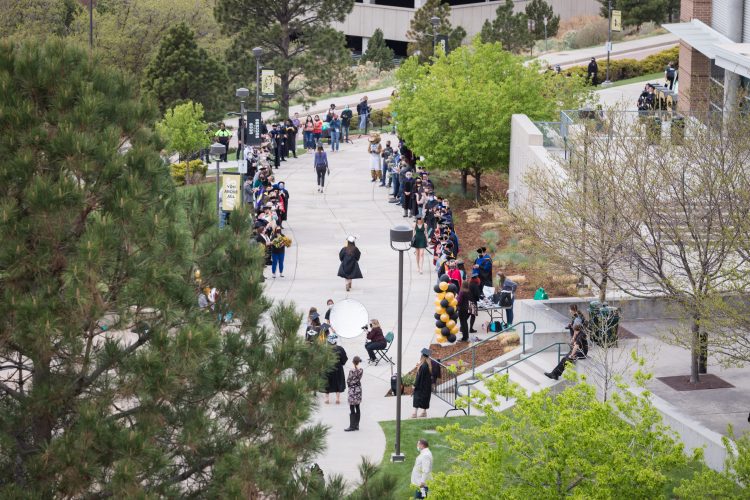 According to Chancellor Venkat Reddy, the day was special for grads and all members of the campus community who had an opportunity to celebrate hard work during a difficult time.
"I am so in awe of their perseverance and their ability to pivot, even though it wasn't an ideal way to spend this past year. They're inspiring to others, and in some ways pioneers to the campus in terms of how we deliver online education to our students," said Chancellor Reddy. "While they didn't get a choice in the COVID-19 pandemic, they found a way to overcome and we're excited to celebrate them."
More than 100 faculty and staff appeared to participate in the walk of applause, which stretched from the entrance of El Pomar Plaza down the pedestrian Spine and past the Osborne Center for Science and Engineering.
Related: