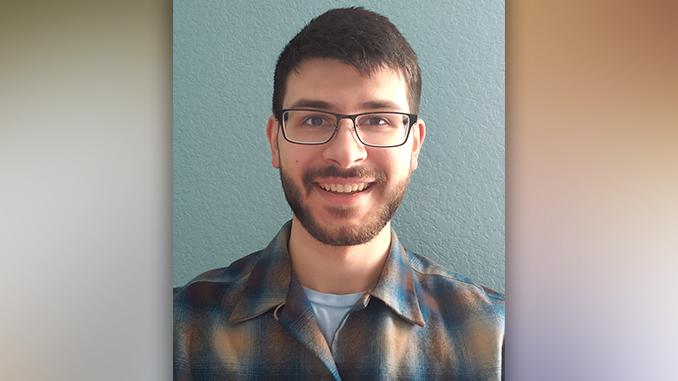 From a young age, David Danis planned out a future that included attending UCCS. A childhood experience taking care of a neighbor's pugs made a career in veterinary science a dream he longed to pursue. After watching three older siblings graduate from UCCS, it was his turn to step onto campus.
Danis, valedictorian of his high school class, entered UCCS as a sophomore with an armful of AP credits. A vibrant academic career at UCCS ensued, with Danis graduating this month summa cum laude and earning a Bachelor of Science as a Biomedical major, Pre-Vet track. He has applied to veterinary school with plans to work with horses as well as household pets.
Danis conquered upper-level biology, chemistry and physics courses at UCCS by having what he calls a "personal curiosity."
"Something about personal curiosity makes a course that much easier," he explains. "Learning the material becomes more of an adventure because it is something you are truly curious about."
While at UCCS, Danis was awarded the Bridge Forward and Reach Your Peak scholarships. At the recommendation of his chemistry professor, Dr. David Weisse, Danis applied for a peer tutor position at the Excel Science Center. He discovered he enjoyed helping others succeed in subjects such as physics, chemistry and math.
"Being a peer tutor at UCCS is one of the most fulfilling jobs I've had," Danis notes. "When you see a student being successful, it brings a joy. You see them moving on in their journey and you get to be a part of it."

Preparing his admissions materials for veterinary school was a big part of Danis' college life. He juggled two different animal care positions to achieve nearly 400 hours for his application that demonstrated his commitment to animals and the veterinary industry.
"My three siblings graduating from UCCS was a motivator for me," Danis notes. "I couldn't wait to get there and have the same experience of getting my degree knowing I did good, hard work to earn it."
While he waits to learn of his application status to vet school, Danis will return to UCCS in the fall as a senior peer tutor. He will also work at a local veterinary clinic as a vet tech assistance. He is eager to remain connected to UCCS where he says he experienced a strong sense of family.
"There's no doubt that I feel UCCS was more than supportive," Danis says. "From my professors to scholarships to academic support, UCCS encouraged me at every turn."
Danis is one of a record-setting 1,624 graduates in UCCS' spring Class of 2021, the university's largest graduating class in history. The virtual commencement ceremonies will take place beginning on Friday, May 14 at 1 p.m. Tune in online. In addition, the May 17 Picture on the Plaza event will mark the first time in decades that UCCS offers an outdoor, on-campus graduation event. 570 graduates are signed up to walk down the pedestrian Spine, hear their names read and receive a diploma jacket and photos. Learn more.