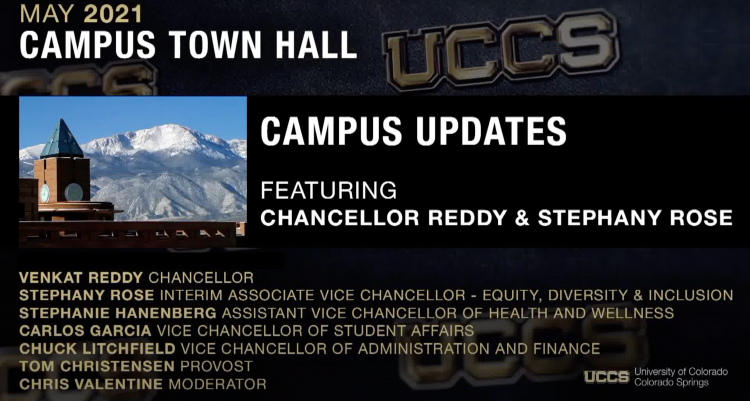 In the final virtual Town Hall for the semester, Chancellor Venkat Reddy and a panel of campus leaders presented updates on plans for the fall semester, the vaccination attestation and exemption process and more.
Chancellor Reddy opened the Town Hall with a presentation that included key takeaways, including a formal recognition of University of Colorado President Kennedy's May 10 announcement that he will soon begin transitioning out of office.
In addition, Stephany Rose Spaulding, assistant vice chancellor of equity, diversity and inclusion, presented updates and recommendations from the equity, diversity and inclusion task force formed in Feb. 2021.
"I want to give a heartfelt thank you to the task force for all the progress they have made, and to Dr. Rose Spaulding, for her leadership on these efforts," Chancellor Reddy said in response to Spaulding's update. "It's inspiring to see the creativity of our campus community in furthering our campus culture of equity, diversity and inclusion. My hearty congratulations to all the awardees."
Chancellor Reddy's Teams background, a stylized illustration of the UCCS campus, quickly became a fan favorite among viewers. You can now download the virtual background online.
Take a look at the key takeaways below.
Commencement
Fall semester planning
Vaccinations and exemptions
Equity, diversity and inclusion
"Looking toward the summer and into the fall, I can finally see a return to some of the activities that bring us joy:  traveling, seeing friends and family, and spending time together in-person," Chancellor Reddy remarked at the close of the Town Hall.
"We have proven, as a community, that we have the resilience to make it through any challenge we face. Have a wonderful summer, and I look forward to seeing you in the fall."
Members of the UCCS community may submit additional questions and fill out a survey response to the event.