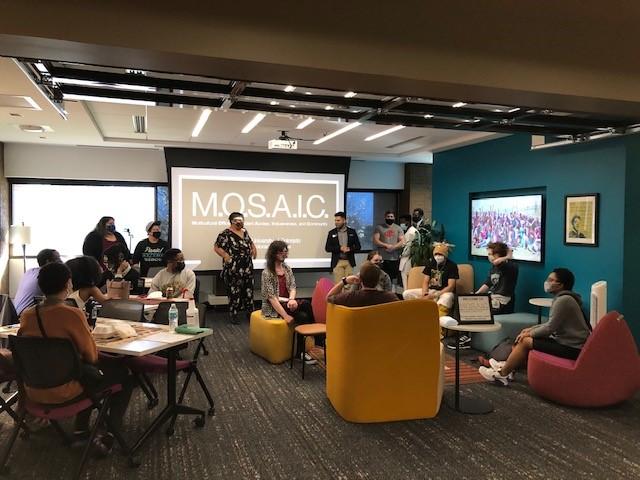 Campus leaders, donors and engaged students met in a mix of virtual and in-person celebration Thursday as the new Multicultural Office for Student Access, Inclusiveness and Community (MOSAIC) opened following a ribbon-cutting ceremony.
Following speeches by Chancellor Venkat Reddy, Anthony Cordova, MOSAIC director, and Irina Amouzou, junior women's and ethnic studies major, the doors to the newly expanded and renovated center officially opened to welcome students back into the space.
"One day, I hope to visit MOSAIC and see it filled with empowered students who know that UCCS has continued to strongly support them," said Amouzou. "I hope to see Black, Indigenous people of the Americas, Asian Americans and many more people of color be embraced in multifaceted ways. I hope to see our LGBTQ+ community, in all intersections, receiving direct and full support. I hope to see all these things, and I know it is not too farfetched. Justice is never too farfetched."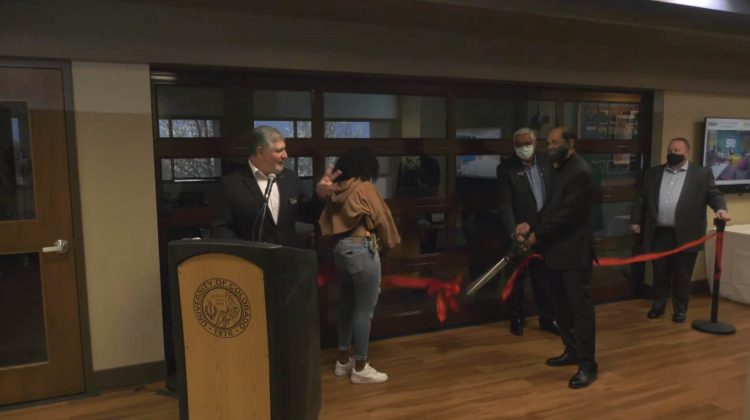 Chancellor Reddy echoed Amouzou's statement, thanking the donors who helped make the space a possibility, including the CU President's Office, which helped to provide initial funding for the expansion project.
"It's powerful to hear what the MOSAIC Center means from one of our students," said Chancellor Venkat Reddy. "It's because of our students that we are able to realize the vision and expanded this space."
Cordova thanked the many people who helped bring along the MOSAIC Center, including Kee Warner, former associate vice chancellor for diversity and inclusiveness, and Jesse Perez, former MOSAIC coordinator. He also gave a nod to the future, welcoming new hires Joyner Atiles-Lopez, MOSAIC coordinator, and DeJae Spears, LGBTQ+ Resource Center coordinator.
"This place is all about community. That is what I want students to know community is vital to their lives. I tell incoming freshmen especially, 'The only way you can fail is if you fail to ask for help,'" Cordova said, noting he was first told that piece of advice as a 40-year-old student. "As soon as I started asking for help, the love came out, the dedication of this community came out. Everybody I asked for help was happy to help me. That's what I want (students) to learn about and to see through this office. And I'm very confident that's going to continue."
You can watch the virtual ribbon cutting below.