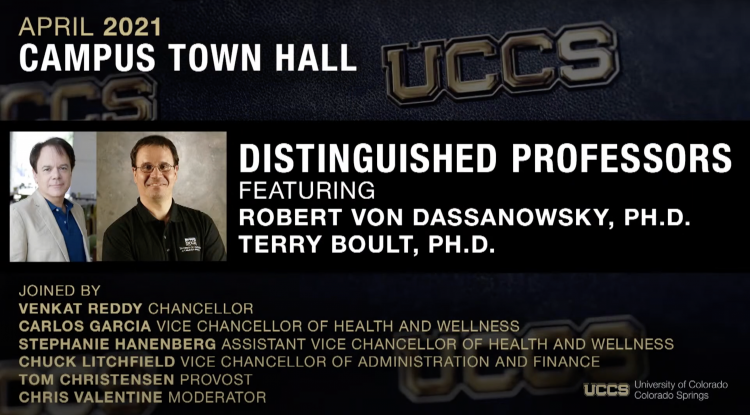 A celebration of UCCS' two new distinguished professors was the focus of UCCS' Apr. 28 virtual Town Hall, along with updates on vaccinations and plans for the fall semester.
Chancellor Reddy recognized Robert von Dassanowsky, distinguished professor of film studies and languages and cultures, and Terry Boult, distinguished professor of computer science, who each delivered short presentations on their scholarly works. Dassanowsky and Boult were both honored with the distinguished professor title by the CU Board of Regents earlier this academic year.
Following the presentations, Chancellor Reddy delivered updates on vaccinations, the tuition buy-down that has allowed UCCS to keep tuition rates flat for the 2021-22 year, planned compensation increases for faculty and staff and plans for the return of many faculty and staff to campus for the fall semester.
Updates presented by the Chancellor and panelists included key takeaways. Take a look below.
Vaccinations
Return to campus planning
Tuition and compensation
Chancellor Reddy closed the session by encouraging faculty, staff and students to take heart.
"I know this will be a time of great change for all of us," Reddy said. "It will require flexibility, optimism and plenty of patience. But we have proven, as a community, that we have the resilience to make it through any challenge we face. So I know we will be just fine."
Members of the UCCS community may submit additional questions and fill out a survey response to the event.