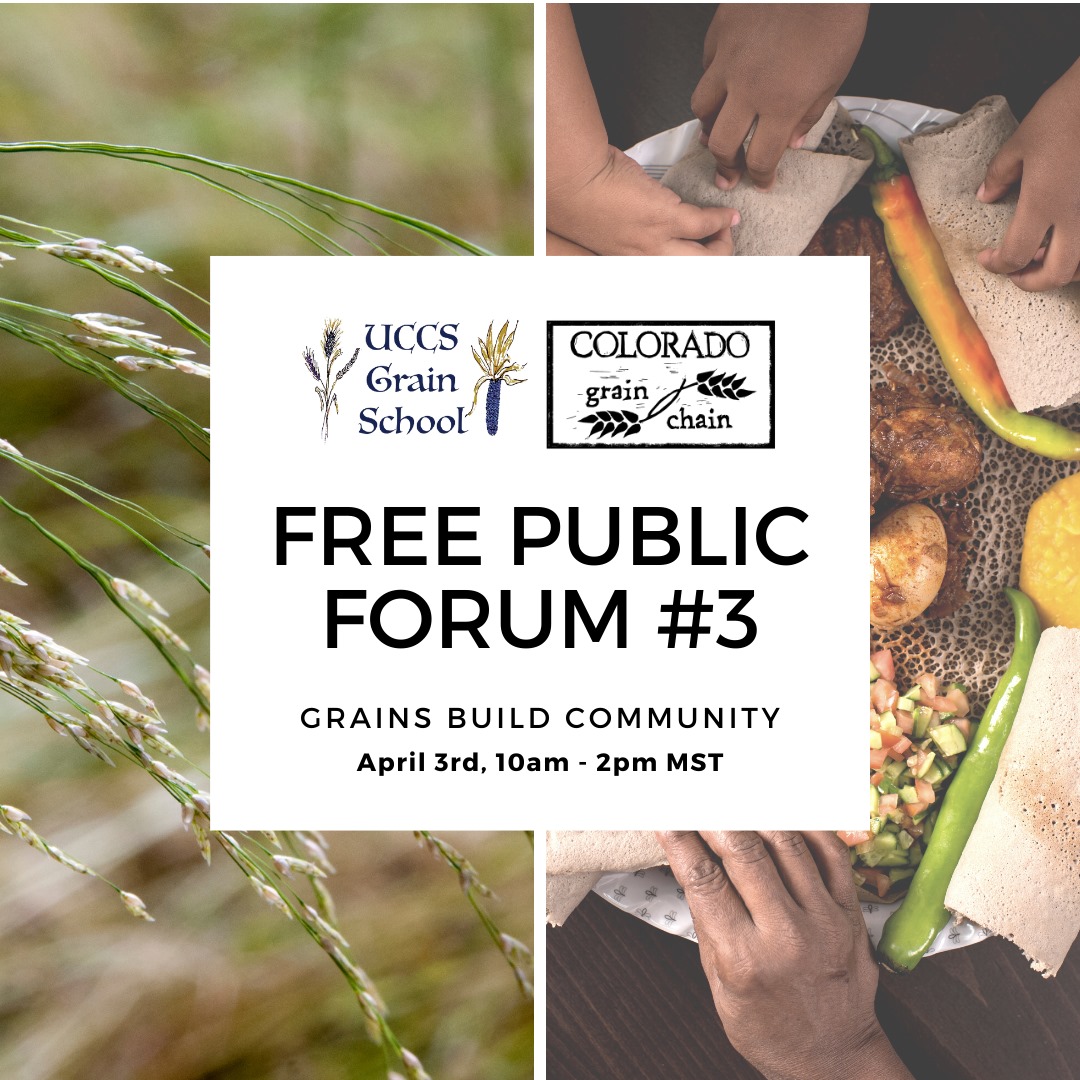 For the last 5 years, Grain School at the University of Colorado Colorado Springs (UCCS) has brought a community together ranging from grain growers, millers, maltsters, brewers, chefs, educators, scientists, and students to share and complement knowledge and skills and build business relations in relevant topics.
These topics have included whole and heritage grains and their relationship to health, nutrition, dietary fiber, and the microbiome, environment and climate change issues related to agriculture, and topics of biodiversity, grain's role in sustainable farming practices, and the newest in crop science to leverage the traits of old varieties of grain for nutrition and flavor in more modern strains.
This year with physical distancing practices in place and the well-being of others top of mind, UCCS is delivering Grain School online.
Grain School 2021 focuses on taking the time with heritage grains to learn, experiment, diversify, collaborate, and celebrate. Three free forums ignite awareness along the grain chain, from farming and milling, nutrition and health, community engagement, to artisan baking and cooking. Each forum is followed by a month-long short course in heritage grains, starting in February. In partnership with Rocky Mountain Farmers Union and the Colorado Grain Chain, UCCS Grain School has fostered a dynamic heritage grain value chain in Colorado over the last several years. This functioning cooperative system is the basis for the rich experiences in teaching, learning, collaboration, mentorship, and business to business engagement and makes Grain School unique, transformative and timely. For more information go to www.coloradograinchain.com
Grain School online is a foundational course that builds knowledge and hands-on practical skills for university students and community participants. University students take Grain School Online as a regular academic course taught in the semester. Community students can register for three different short courses or opt to take all three courses.
"Due to the importance of grain in both people's diets and sustainable agriculture, Grain School Online will be developed as foundational course that allows students to gain the necessary knowledge in grain from production to consumption," shared Dr. Nanna Meyer, associate professor of health sciences.
Grain School Online is organized into three separate courses and is self-paced with exception of live sessions held on Thursdays from 4.30 to 6 p.m.
The individual courses cost $150 each. Each part of this NHPN course is one continuing education unit (three continuing education units total).
Registration for Part 3 (Community) begins March 15, 2021
For more information for the courses and to register use this link: 
https://outreach.uccs.edu/grain